Providing a glimpse into the company's next generation of vehicles, Tata Motors has showcased a stunning range of vehicles at the 2019 Geneva International Motor Show (GIMS). This year marks the 21st year of Tata Motors' association with GIMS.  Tata Motors is the only Indian OEM to participate in this international motor show till date. The journey that began in 1998 with the Tata Safari, Tata Sierra and Tata Small Car Prototype, has continued with innovative technologies and futuristic concepts, showcased every year.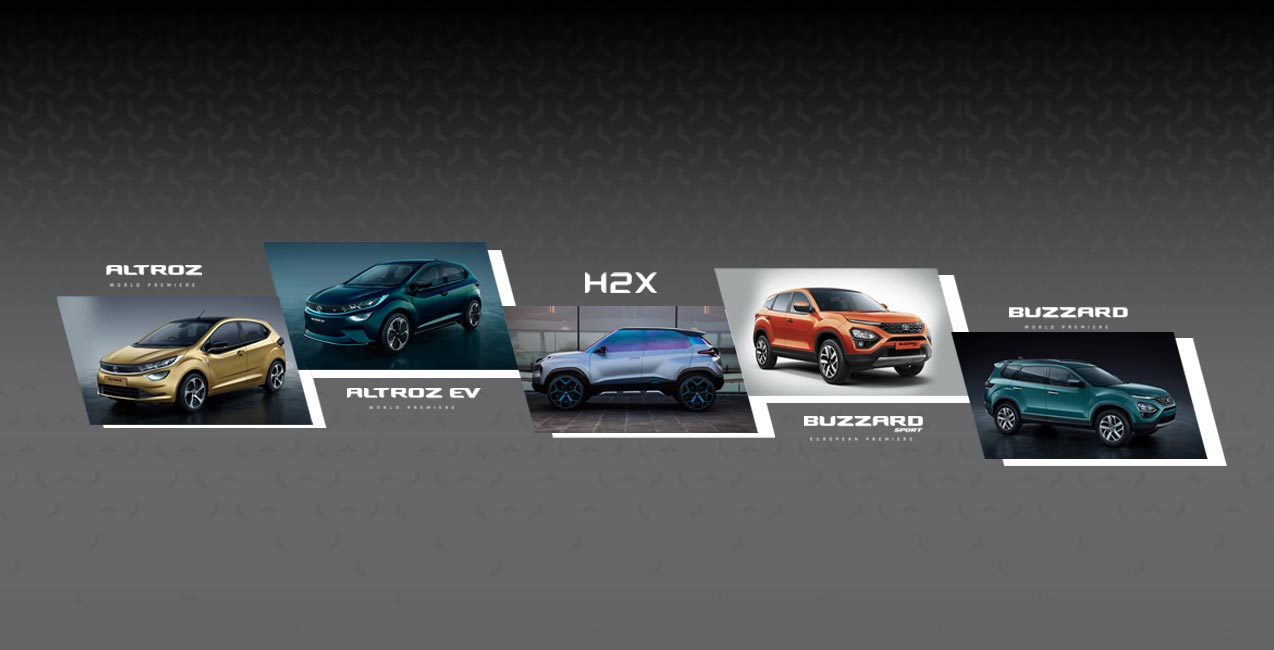 This year marks the global unveiling of the production-ready Altroz premium hatchback along with a new 7-seater SUV based on the Harrier, and few other concepts.
Highlights:

Altroz EV:
Like its gasoline counterpart (read here), the Altroz EV is based on the versatile 'Agile Light Flexible Advanced' (ALFA) Architecture. Key highlights include dual ultra slim LED headlights, sporty silhouette, a seamless cockpit-like interior theme with large colored displays, enhanced haptics and premium materials.
It is powered by an energy efficient permanent magnet AC motor with single speed gearbox. It achieves a charging time of (0-80%) in an hour. The expected range is between 250-300km. The Altroz EV measures 3988mm in length, 1754mm in width, 1505mm in height and has a wheelbase of 2501mm.
Buzzard – Geneva edition:

The Buzzard is Tata's answer to the 7-seater SUV segment. The name which draws inspiration from a fierce hawk-like bird which is known to provide and protect its family, is only exclusive to the Geneva Motor Show, hinting towards a different name during its commercial launch.  The Harrier's 7-seater version is the second vehicle built on the OMEGA (Optimal Modular Efficient Global Advanced) architectural platform, which is derived from Land Rover's renowned D8 platform, and the Impact 2.0 design dialect.
In terms of dimensions, the Buzzard stands 1786 mm tall, is 4661 mm long, 1894 mm wide and has a wheelbase of 2741 mm. It is rumored to be powered by the same 2.0-litre diesel engine from the Harrier, however, in a different state of tune. On the inside, everything is identical with the Harrier, except for the additional third row of seats.
H2X Sub-Compact Concept:
The H2X concept provides a glimpse into Tata's next generation of small SUVs. Expected to be showcased as a production-ready version at the 2020 Auto Expo in Delhi, the H2X concept takes design cues from the H5X concept and condenses them into an attractive package with class-leading space and utility.
On the exterior, the H2X is muscular but athletic, notice the design characteristics. The interior comes equipped with a wide format infotainment system screen that features the latest from Tata's HMI strategy. The H2X measures 3840mm in length, 1822mm in width, 1635mm in height and a has a wheelbase of 2450mm.