ATS ELGI is the largest manufacturer and distributor of Automotive Service Equipment in India with a considerable presence in the Nepalese market as well.  ATS ELGI, under the distributorship of Hitco Pvt. Ltd in the country offers the widest range of garage equipment in the domestic market. To cater to the same, the company has introduced new types of equipment in the Nepalese market for authorized OEM workshops and private garages.
FOUR POST LIFT: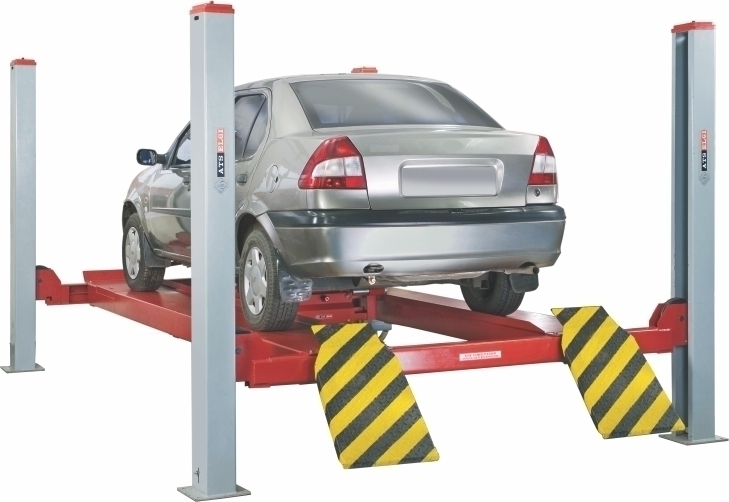 Primarily used for Under Body repairs and Wheel Alignments, ATS ELGI's Electro-Hydraulic Four Post Lifts ensures high safety and stability. The vehicle can be raised to any height up to 6 feet based on the requirement.
Applications: Wheel alignment, Wheel changing, Under chassis inspection, Transmission system inspection
Features:
Extra-wide platforms to accommodate all types of cars
Adjustable ratchet rails- ensure that platforms are completely horizontal
Rears slip plates for wheel alignment purpose
Jacking beam (wheels free arrangement) for wheel changing purpose
Quick and steady raising mechanism
Easily adjustable
Space saving (Can be used for vehicle parking)
WASHING HOIST 4 WHEELER – RAMP TYPE: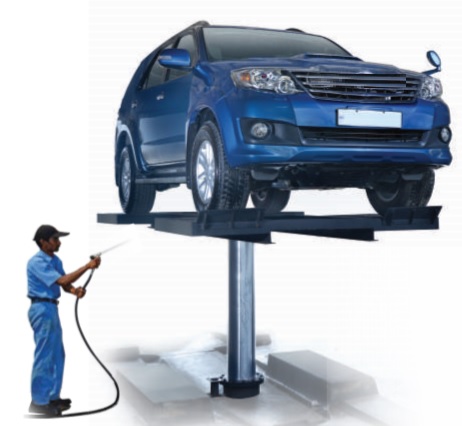 This Platform has been specifically designed to lift the vehicle by wheels in order to prevent fouling of the under chassis with the ramp in case of vehicles with low ground clearance. This platform has been extensively tested for suitability of all models of passenger vehicle and its installation will support both indoor & outdoor operations.
Applications: Washing passenger & light commercial vehicle, Lubricate passenger & light commercial vehicle
Features:
Support both indoor & outdoor installation
Platform (Integral ramp) in place of heavy duty ramps for easy lifting the vehicle with wheels in turn saves time & increase productivity
Uniquely designed wiper rings to prevent the entry of water and dirt particles into the hoist cylinder while raising, servicing & lowering
Gland rings are used in the plungers to increase performance
High-grade steel plungers manufactured to close tolerance with hard chrome plating for high wear-resistant
PLASMA CUTTER: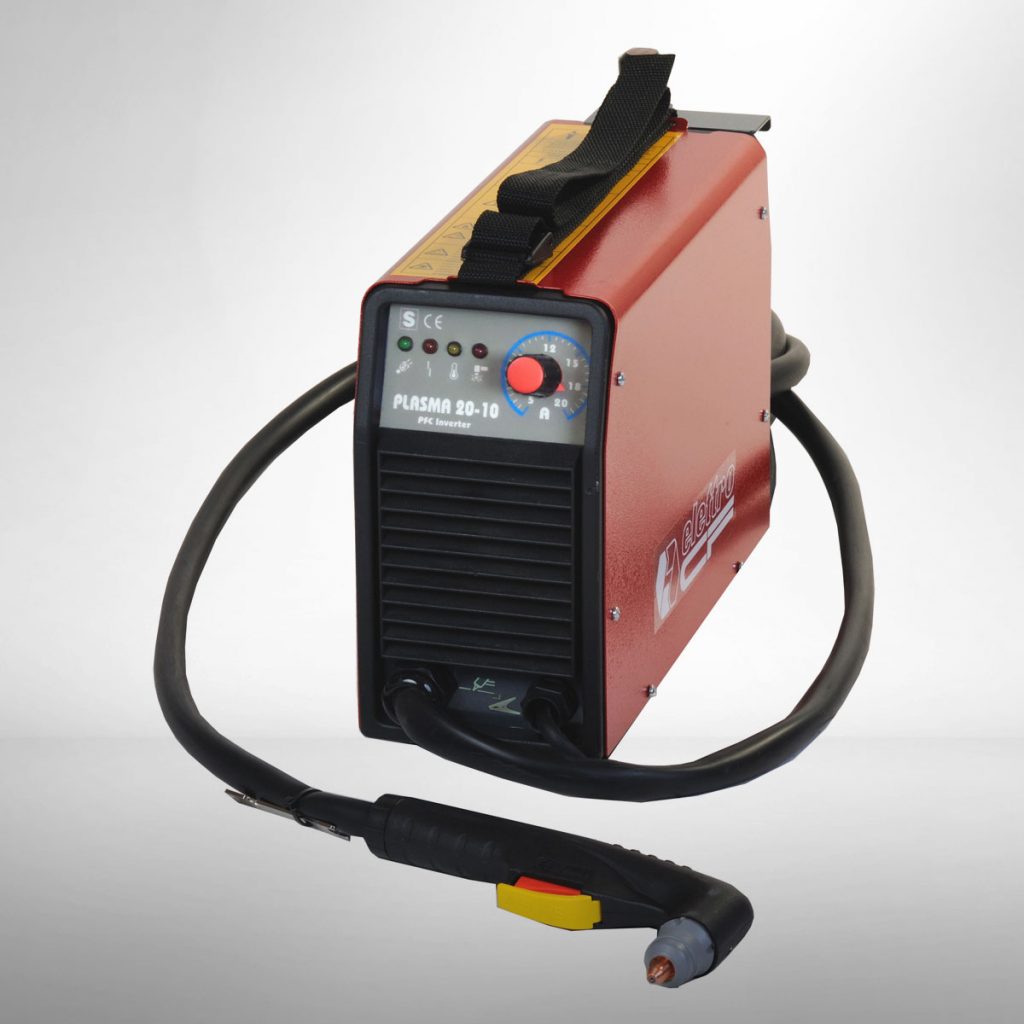 Plasma cutter is used in the body shop for cutting of metals. Plasma is nothing but the fourth state of matter. Pressurized air is made to pass on the job when the electrode (torch) comes in contact with the job an arc is produced which heats up the pressurized gas and creates a plasma which is sufficient to cut the metal.
Applications: Suitable for all models of passenger cars, SUV and MPV, Suitable for jobs with 6 – 8 mm sheet thickness
Features:
Inverter technology
Equipped with a power factor correction device
Pilot Arc to cut painted or coated metals
The pilot arc starts without high frequency – so the machine can be operated next to electronic devices sensitive to high frequencies
Microprocessor-controlled cutting parameters and functions
Precise cutting and removing of damaged parts
4 meter-long P25 torch – comfortable to operate
PAINT BOOTH: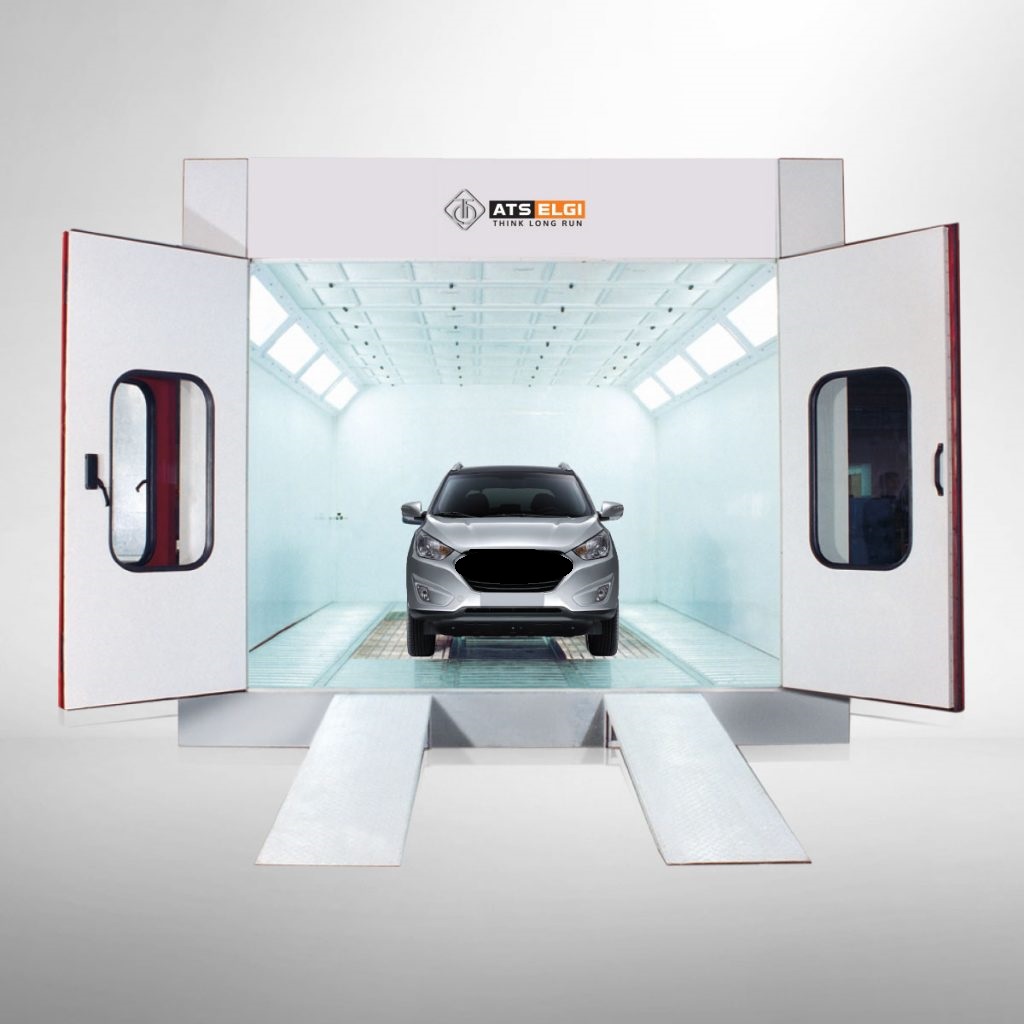 Paint booth has been a piece of mandatory equipment in body shop. They are used to ensure dust free operation during the painting process so that the quality of the painting is improved. It has a paint baking facility for proper drying of the painted area. This helps in getting a factory finish paint quality. It prevents the operator from inhaling the hazardous paint fumes.
Applications: CARS / SUV/MPV/LCV, Suitable for all types of painting applications, Baking/drying of paints, All parts can be painted inside the paint booth
Features:
Downdraft type
Dust free painting chamber
Better velocity for the exhaust of paint fumes
Puff insulated panels for longer life and better heat insulation
High capacity burner for quick drying of the painted area
Service doors for easy access (only in 7 Meter)
Arrest paint fumes on base filters which controls pollution
Extractor unit (only for 7 meters, available on request for 6 M and 6.75 M)
FULLY AUTOMATIC ACRU: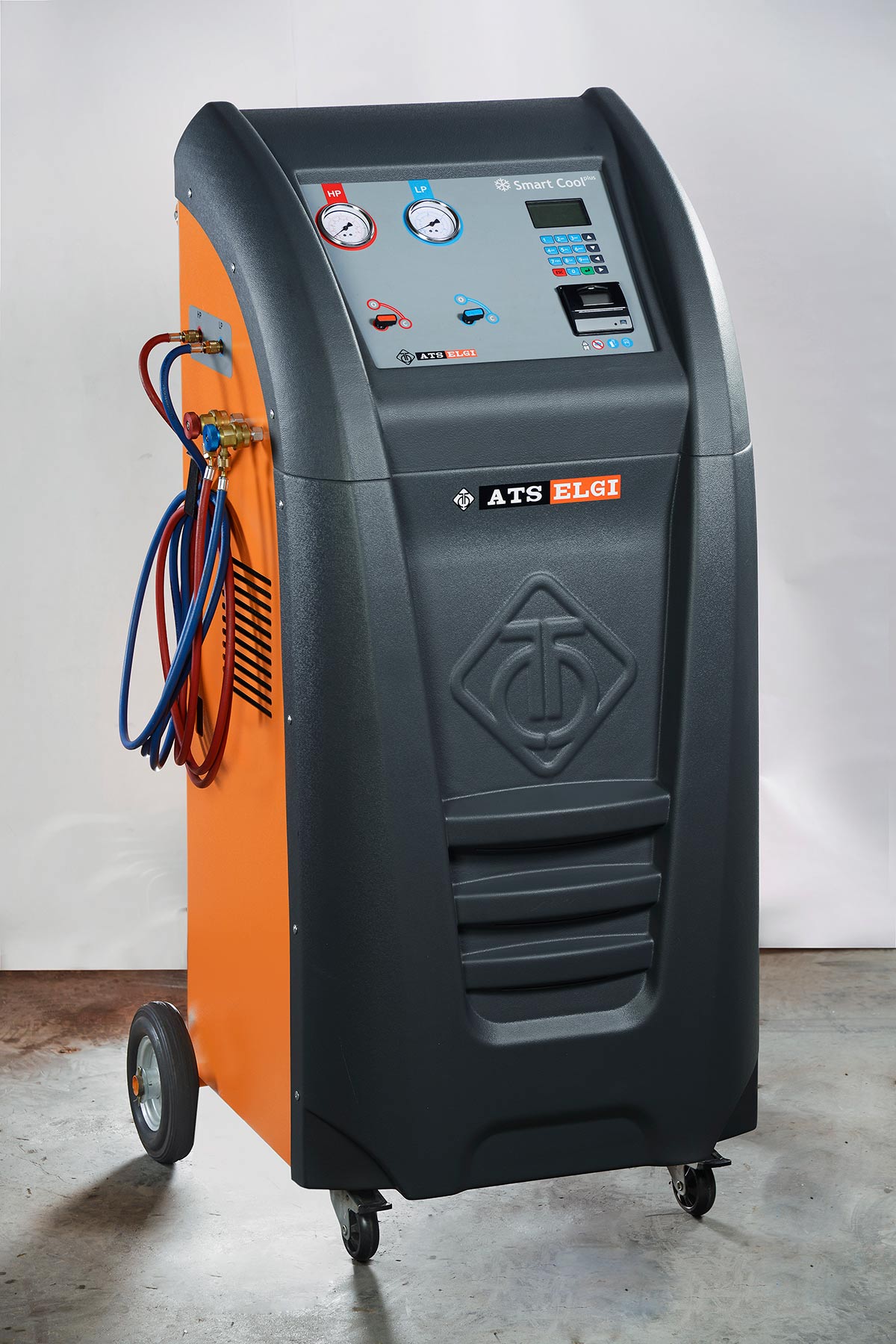 The ATS ELGI Smart Cool Plus is a Fully Automatic Single gas station for Recovering, Recycling and Recharging R134a refrigerant.
Applications: Passenger Vehicle Segment (PV), Light Commercial Vehicle (LCV), Tractor /off-road vehicles, Tyre shop
Features:
ALARMS: High Pressure, Full Bottle, Empty Bottle
SERVICE ALARM: Acoustic And Visual For Maintenance And Filter Replacement Request
ONBOARD BOTTLE FILLING: Automatic
Automatic Leak Check Following Vacuum Phase, Alarm On Leak Detection
Automatic Discharge Of Non-Condensable Gases From The Bottle
Database Advanced: Integrated Vehicle Database, Allowing The User To Enter New Vehicle Models
Electronic Weighing Scale For Used/New Oil
Simplified Refrigerant Management System
NITROGEN TYRE INFLATOR: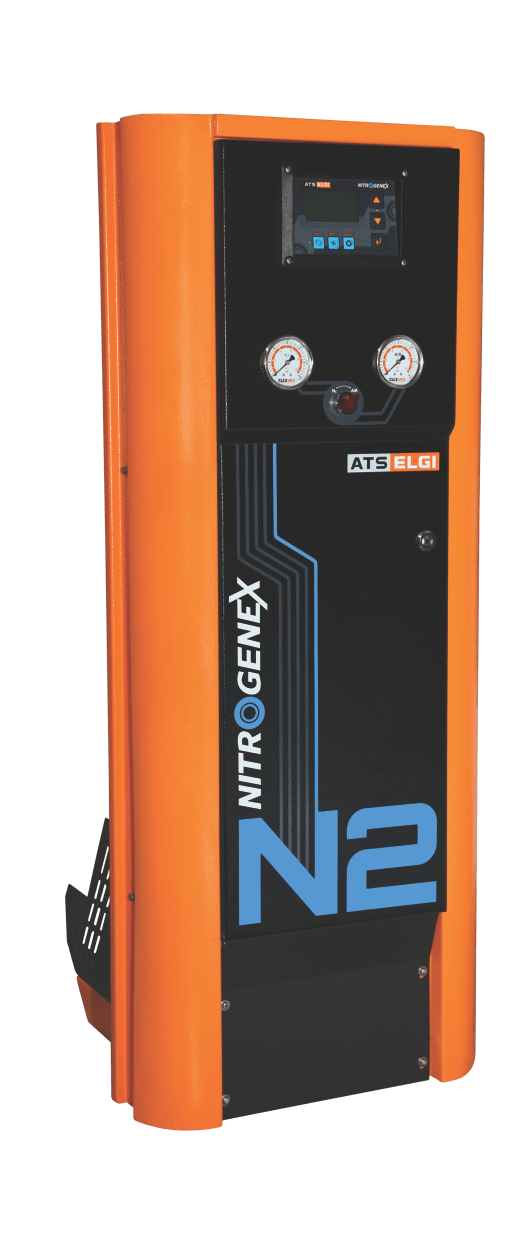 ATS ELGI's Nitrogen tyre inflator is the most widely used tyre inflator across India. It produces up to 97% pure Nitrogen at a rate of 3500 liters per hour. Equipped to inflate two tyres at a time with a pressure range of 0 to 120 bar, this product is designed to suit the user's needs and improve tyre life.
Applications: 2W, PCV, LCV and Tyre Shops
Features:
Automatic Nitrogen tyre inflating systems
Generate Nitrogen by Pressure Swing Adsorption (PSA)technique
Integrated storage tank for nitrogen gas
Integrated vacuum system for removing the air out of tyre before inflating with nitrogen
High-grade filter separation unit
Nitrogen/Air – dual filling system
In-built digital counter
On-demand real-time purity indicator
Inlet & outlet pressure indicator
3D WHEEL ALIGNER: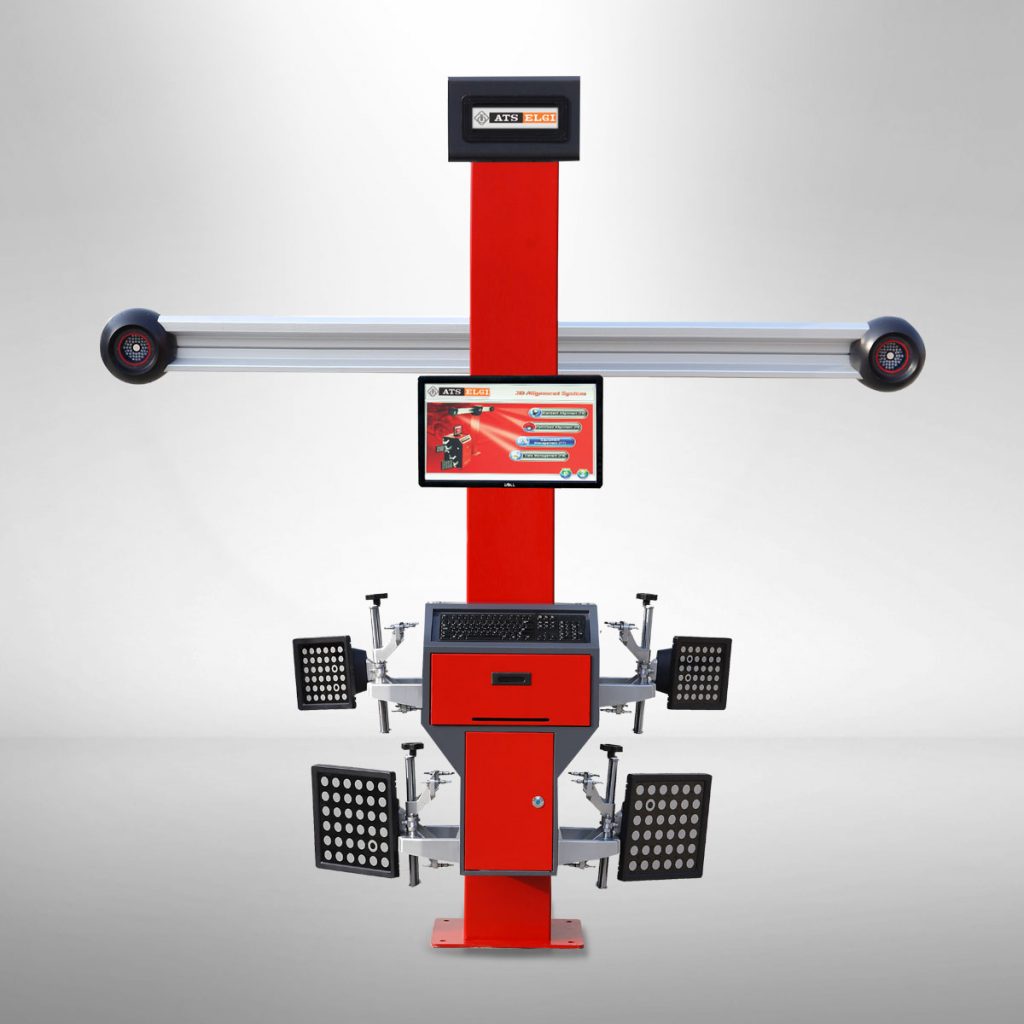 The key to proper alignment is adjusting the angles of the tires which affect how they make contact with the road. The ELEGANT-SP has been made to make this process more factual and precise. Features like Non-electronic target plates and indicative industrial cameras put the ELEGANT-SP at par with the latest technology.
Applications: Passenger Vehicle(PV), Light Commercial Vehicle (LCV), Tyre shop
Features:
Variable Height Camera Support
Vehicle Orientation directional Indicator, located on camera beam
Advanced Customer Database
Advanced Alignment Measurements
Custom Vehicle Specifications
Front/Rear/All/Zoom Readings
Individual Camber, Caster & Toe
Initial/Final Print outs in Graphical & Text
Easy to operate, complete conventional basic parameters within two minutes
Many installation methods like Pit, Ramp, Lift, etc.
AUTOMATIC TYRE CHANGER: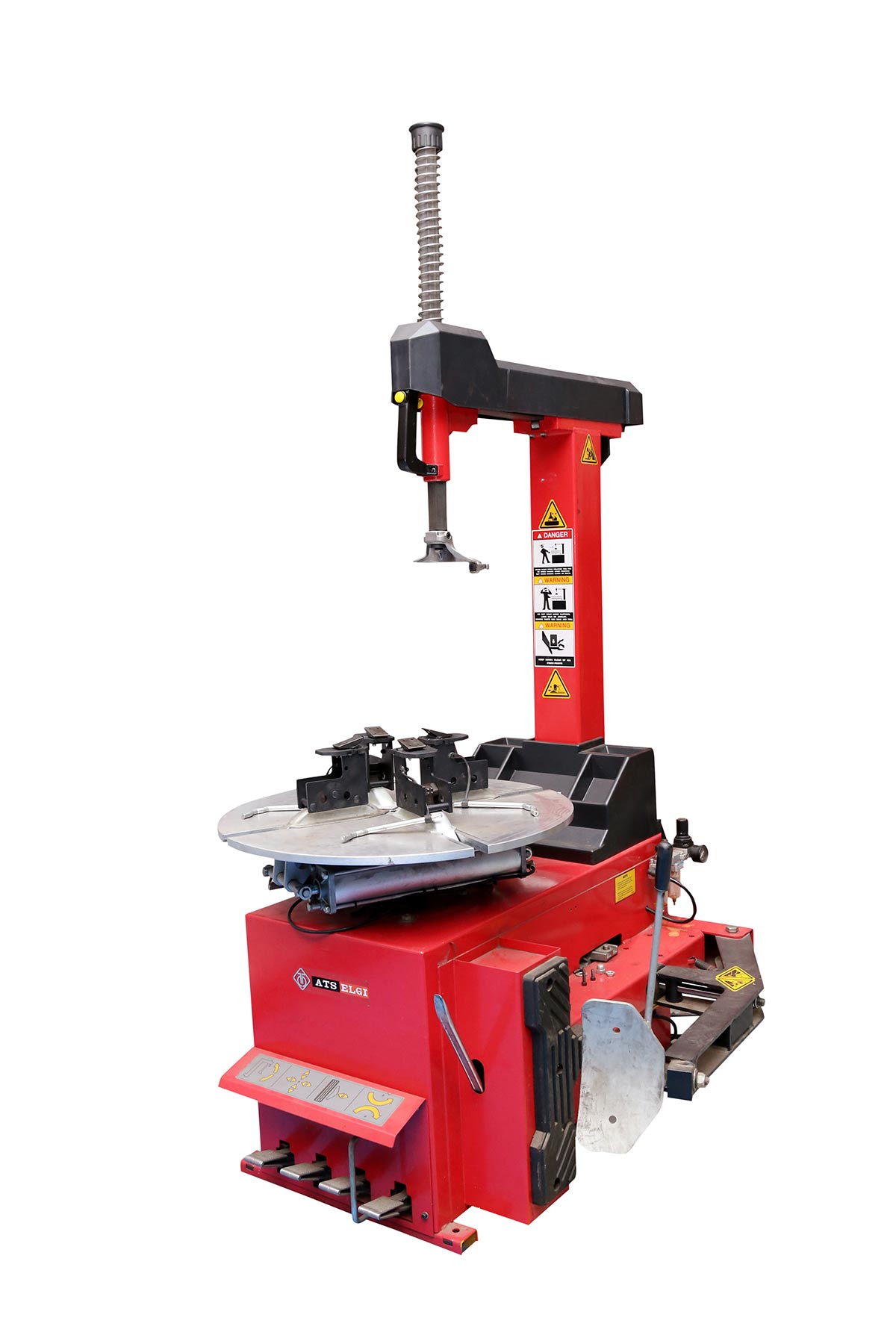 This Automatic Tyre Changer is packed with several user based features to ease up the process of tyre changing. The carefully designed parts are durable and fail-safe.
Applications: Passenger Vehicle(PV), Light Commercial Vehicle (LCV), Two wheeler(2W), Tyre shop
Features:
The detachable protective cover makes the maintenance more convenient.
The diameter of the quadric shaft and hexangular shaft is increased. This enhances the strength of the tire dismounting/mounting. It is also equipped with rolling bearings which guarantee the shaft not easy to be crushed for along time of use.
The tool head of special material is not easy to be deformed and cracked. This can effectively guarantee the life of the use.
The turntable is equipped with the protective cover improving the level of the machine and makes it more attractive and the scale is equipped on the protective cover.
DIGITAL WHEEL BALANCER: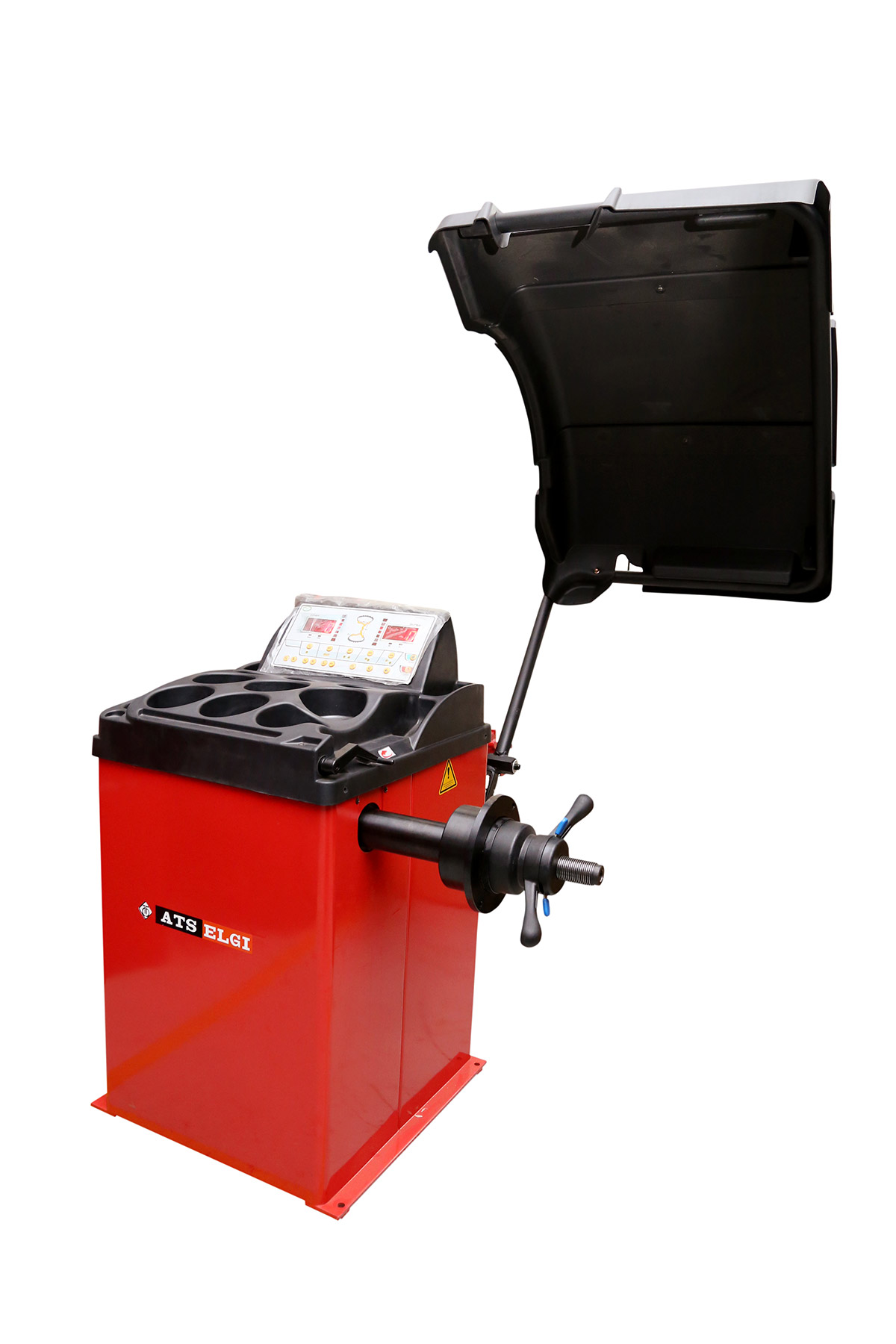 The Digital Wheel Balancer is a compactly designed and capable equipment which is widely used in major Tyre shops. It has numerous features like Optimization program and Static unbalance reduction to provide better uniformity.
Applications: Passenger Vehicle(PV), Light Commercial Vehicle (LCV), Tyre shop
Features:
Optimisation program for tyre and rim unbalance
Automatic minimization of static unbalance
WHEELS FREE DOUBLE SCISSOR LIFT: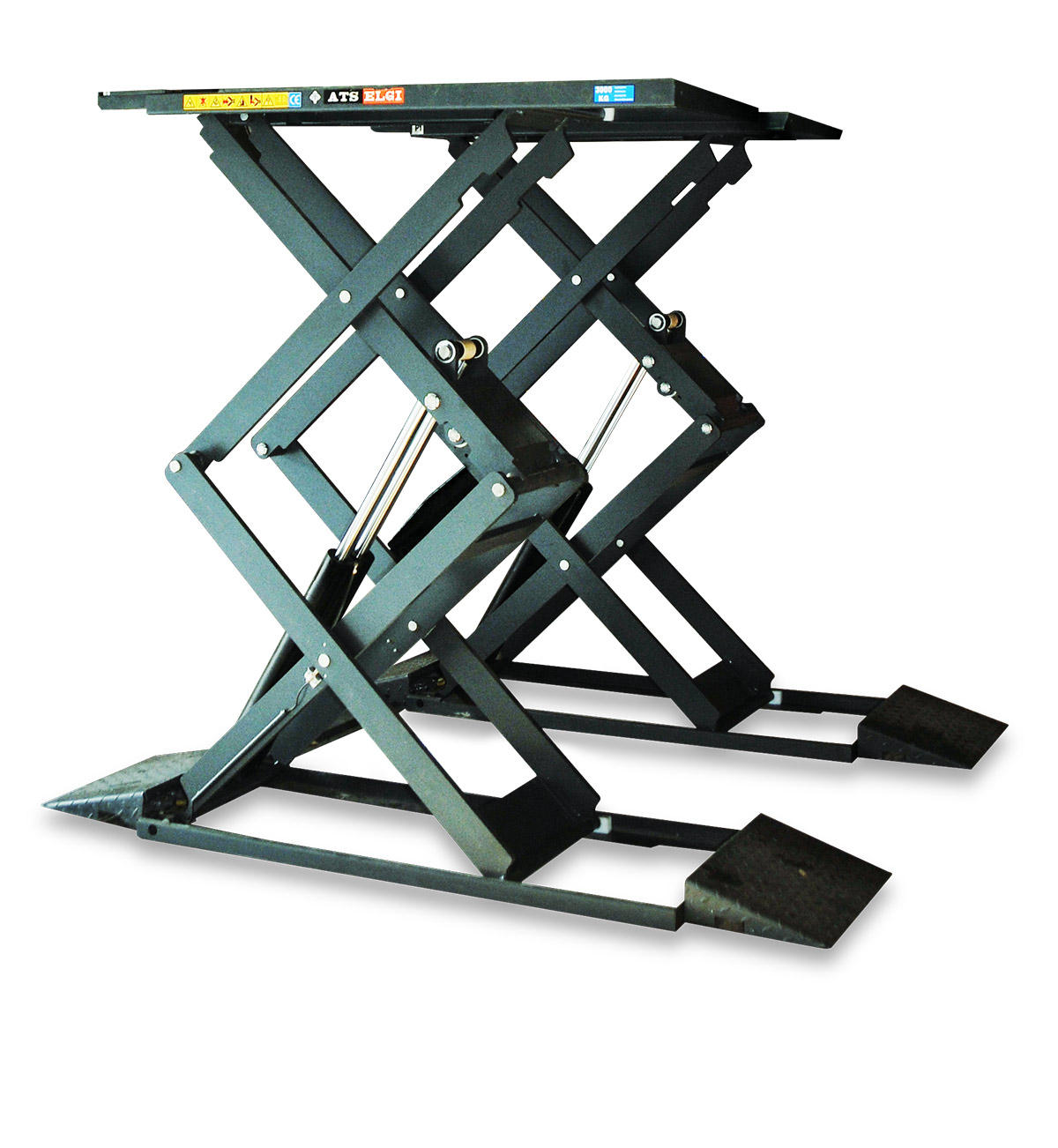 Ideal for Quick Repair Bays and Inspection bays, Wheels Free Double Scissor Lift has a lower footprint and ensures higher productivity.
Applications: Quick inspection bay, Wheel Changing, Under Chassis Inspection Transmission System Inspection
Features:
Dual cylinder with Master-Slave technology ensures hydraulic synchronization between platforms.
Traditional mechanical system with pneumatic release or manual release has been eliminated by introducing hydraulic lock.
Velocity fuse has been used for protection against sudden leakage like hose burst.
Limit switch for maximum lifting height to avoid motor over run.
Manual Lowering through unloading valve – easy lowering even in power is off.
Rubber pads are used for lifting the vehicles.
HYDRAULIC TWO POST LIFT: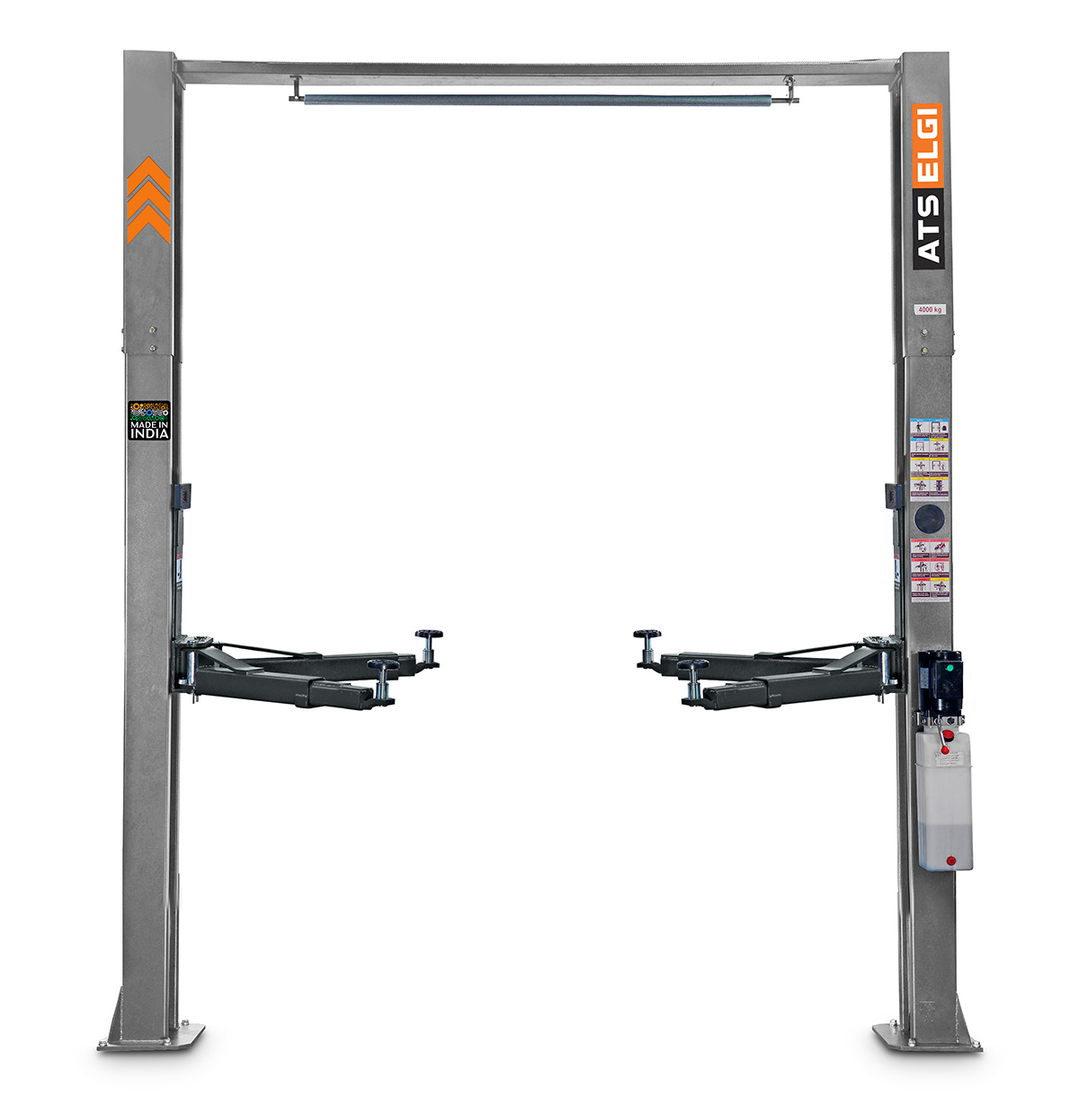 ATS ELGI's Electro-Hydraulic Clear Floor Lifts are the most popular lifts in the Passenger Vehicles Segment. Used for lifting vehicles to any comfortable working height up to 6 feet, leaving headroom for complete under-chassis access.
Applications: Muffler repair, Rustproofing operation, Transmission repair, Any other repair calling for a wheel free condition
Features:
Clear floor design- Makes working beneath the vehicle easy
Arm resistant on each arm engages when the vehicles is lifted
Manual release locking system for two sides
Two full stroke cylinders- One in each column
Rubber pad for door opening protection
Telescopic Arm pads for quick and easy vehicle contacts
CAR WASHER TRIPLE PLUNGER: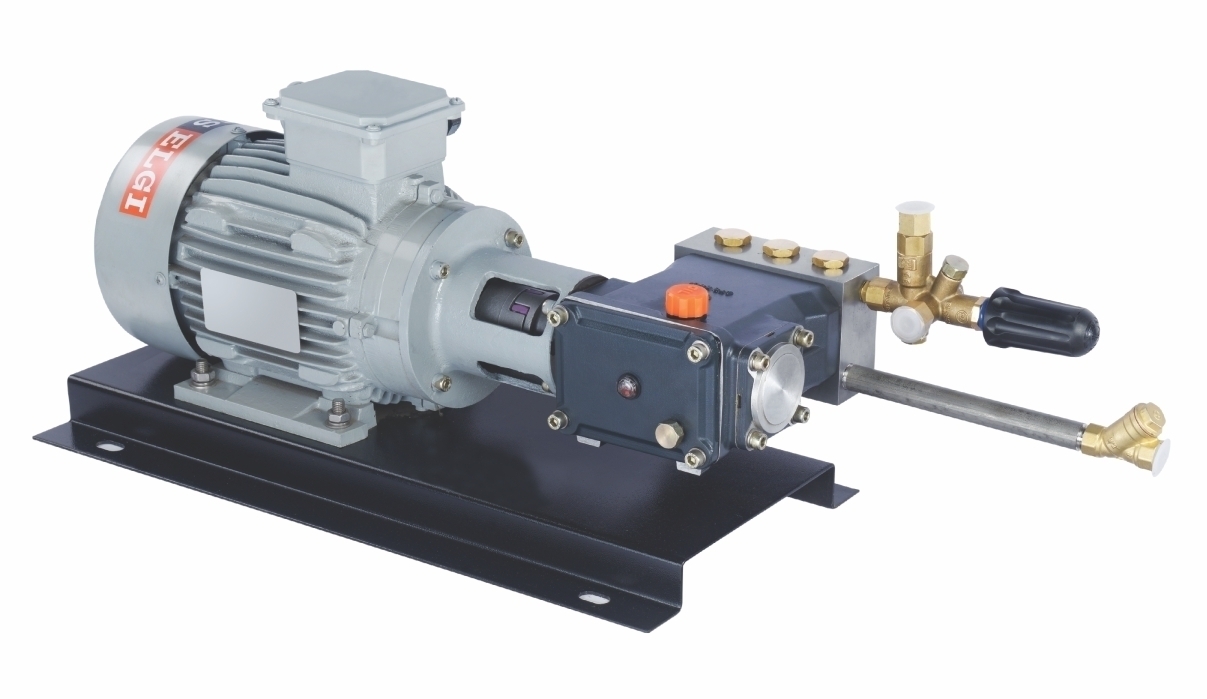 Triple Plunger Washer developed for day-to-day use in Automotive Garages, Construction, Industrial, Mining & Agricultural applications. Triple Plunger washers are specially designed for high pressure application like CV, Construction Equipments & Dumpers washing requirements.
Applications: 2W, PCV, CV, Wash Station, Mining, Industries/Others
Features:
Triple Plunger washers designed for higher mechanical efficiency and ensures better cleaning
Trigger gun to reduce impact pressure at different applications
Direct driven
Positive suction pump
Triple Plunger washers specially designed for high-pressure washing
Minimum maintenance and service requirements
For more information, contact:
Hitco Pvt. Ltd
Chakrapath, Kathmandu
985-1033448