In yet another instance, the Department of Transport Management (DoTM) on Wednesday issued a fresh public notice to take action against ride-hailing firms, ruling that it had violated the existing law. This decision came after hundreds of taxi drivers protested outside the DoTM yesterday against the ride-hailing services which offer rides that undercut taxi prices.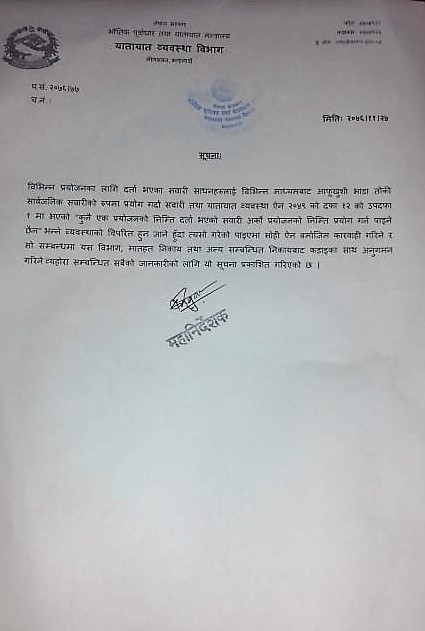 Popular ride-hailing services like Pathao and Tootle have faced regulatory and legal setbacks repeatedly.  The same thing happened last year. In November 2019, the authorities had imposed a similar ban, but the decision was reverted later because Prime Minister KP Oli himself intervened to allow the use of such services.

The current law prohibits private vehicles from car-pooling or any other commercial services. Section 8 of the Motor vehicles and Transportation Management Act 1993 states that private motor vehicles cannot be used for public transport services. Similarly, according to Section 12, vehicles registered for one purpose cannot be used for some other purpose.
While Nepal Meter Taxi Entrepreneurs' Association (NMTEA), an umbrella organization of registered taxis, has welcomed the move, this decision is likely to disappoint commuters who regularly use such services, known for being cheaper and better.
Official guidelines for ride-hailing services like Pathao and Tootle are still awaited.