The Indian government announced in 2016, their rather ambitious project to have an all-electric vehicle fleet by 2030. Even for a country like ours, where the Prime Minister has promised us our own ships and trains yet the conditions of the primary entry to the most important highway have been in shambles for ages, the idea of India going all-electric felt a little far-fetched.
Apart from the policy frameworks and infrastructure demands for such an enormous project, what primarily struck a chord with us petrol-heads at Nepal Drives was the dreadful proposition of our Indian counterparts forced to drive around in silent, slow-moving, boring electric vehicles. Not everyone is going to be able to afford a Tesla or a Vazirani Shul, so does that mean they'd be subjected to resort to mediocre electric transport?! Worse yet, will Nepal try to mimic the Indian Government and try to replicate a similar all-electric vehicle project? Does that mean we'll be riding transistors on wheels?!

We were able to find a little respite after India's more realistic target of 30% e-cars by 2030. Nevertheless, the ultimate electric future seems eminent. So, does that mean us average income earners are headed to a boring automotive future?
This has been a nagging quandary that has been in the back of our head, and it was not very different when we headed out to test drive the newly introduced, all electric Hyundai Ioniq. For probably the first time ever, we were not in as positive of a mindset as we'd like to be. With the odds stacked against it, the Hyundai Ioniq had a grand task at hand.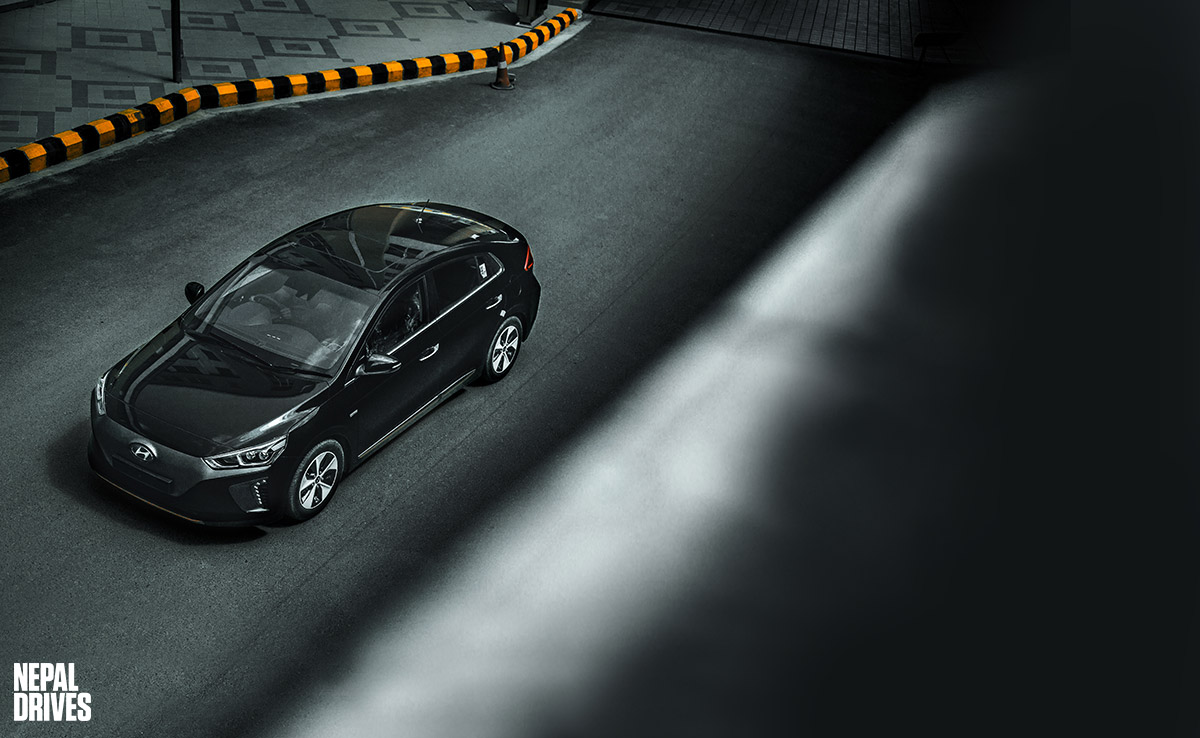 EXTERIOR

Considering the futuristic nature of an electric vehicle, the Hyundai Ioniq is not as modern as you'd expect it to be, which is quite a surprise because Hyundai have been bold with their styling ever since the introduction of their fluidic design language. It does not scream that it's a hi-tech electric car, instead it blends in with the crowd of fossil fuel propelled vehicles.
The Ioniq has a lot of generic body lines that work well to give it a subtle stylistic design. HID lights with LED light flank the full blacked out grille. The headlight unit is also equipped with Dynamic Bending Light, which moves the HID headlights when you turn the steering so that you can see through dark corners better.
The sloping nose and rounded off rear end aids to make the Ioniq more aerodynamic. You will notice the back has a split rear window and angular wraparound taillights.We had the Ioniq in black noir pearl, but we think the ceramic white colour scheme looks much better.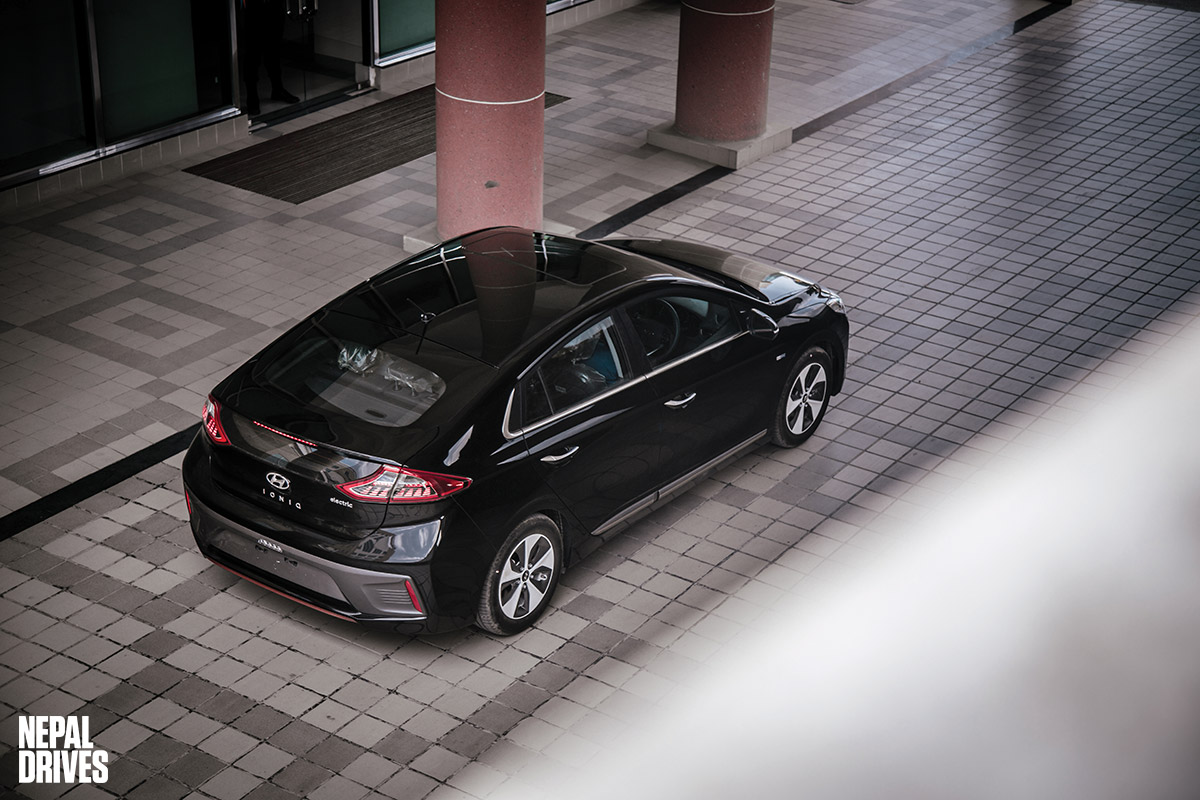 INTERIOR
The exterior might not blow you away, but the interiors will have you smiling from ear to ear.It's not a cabin that overwhelms you with a plethora of fancy thingamajigs, although it has plenty of those. On the contrary, the dash is cleanly laid out with materials that feel good to touch. According to Hyundai, the company incorporated sugar cane fiber as 25% of the raw materials used in the door trim panels, and recycled plastic "combined with powdered wood and volcanic stone," which reduced the weight of "some interior plastics" by up to 20%, so there's a bit of an eco-side to the interior trim.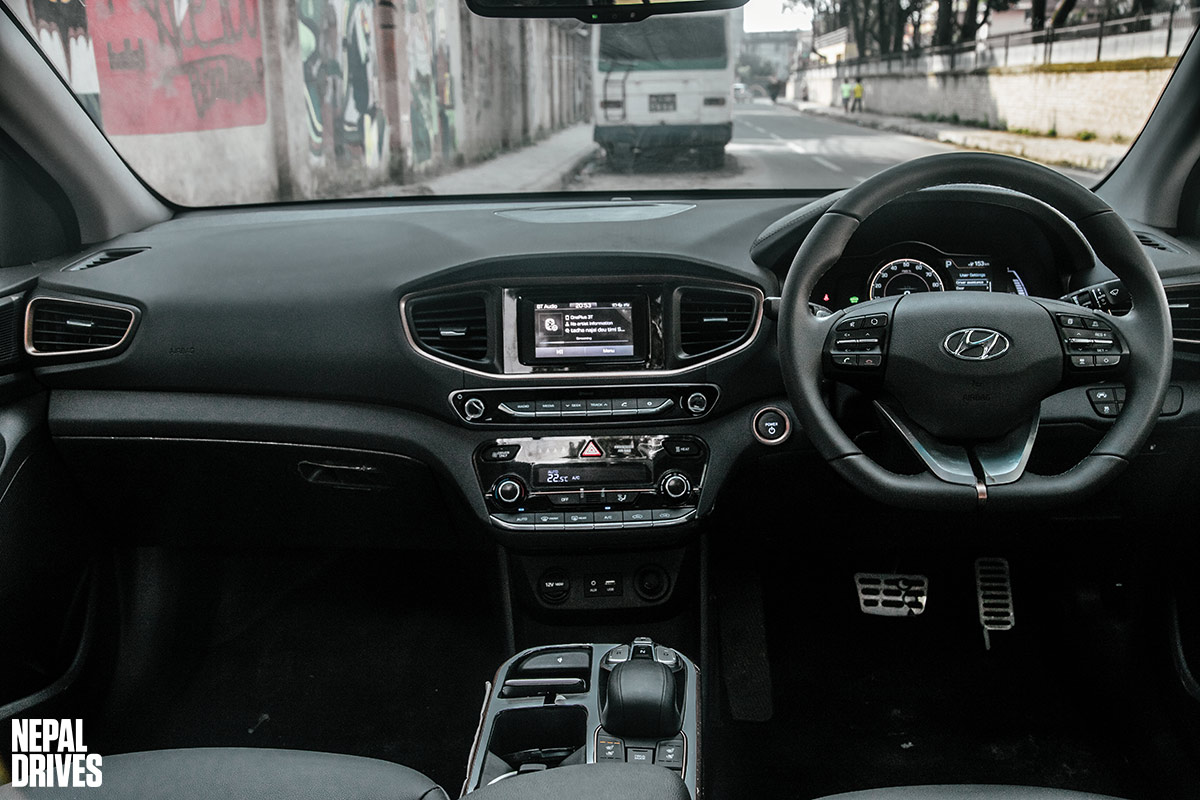 The air con vents are intricately shaped and get chrome accents to add more premium factor to the design. The flat bottomed steering wheel is chunky and feels good to hold with the controls laid out for easy access. Look through the steering wheel and you'll see the instrument panel which gets a futuristic display that lets you know what's going on with the car.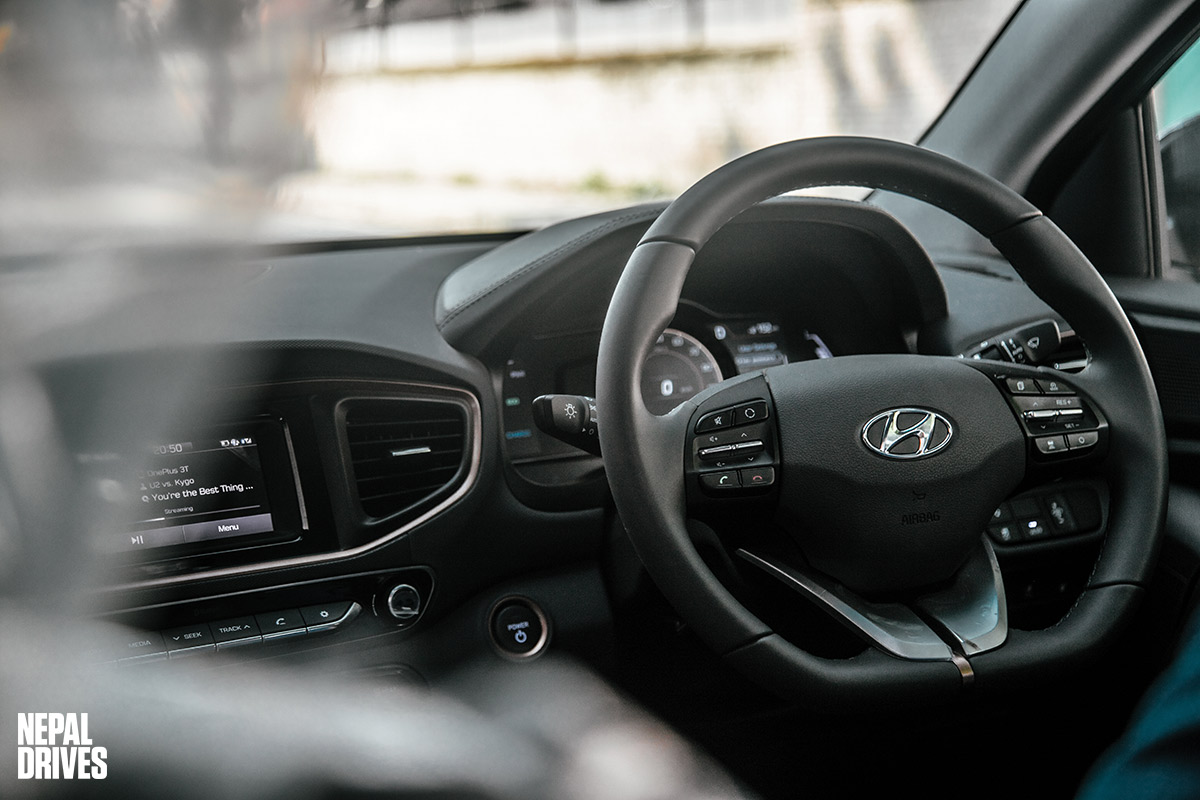 On the gearshift panel you get your driving controls where you can put the car into drive, park, reverse or in neutral at a push of a button. There are buttons that let you heat the front seats or cool them down, you get a switch to for the electronic parking brakes and more buttons to let you choose the driving modes and to switch on auto hold mode. You can even drop your phone into the wireless charging bay on the Ioniq where it will wirelessly charge your phone (if the phone has that feature). The front seats are spacious and comfortable and we can definitely see ourselves comfortably munching miles with the Ioniq. The front passengers also get power adjustable seats.
PERFORMANCE
Complete silence, that's what you're greeted to when you're driving the Hyundai Ioniq, and for people new to electric cars, this is the first thing you'll notice.
On paper, the electric motor of the Hyundai Ioniq makes 118 BHP; a decent number for the Nepali market. But what really impresses are the combination of the 295 NM of torque with the almost nonexistent pause between gear changes.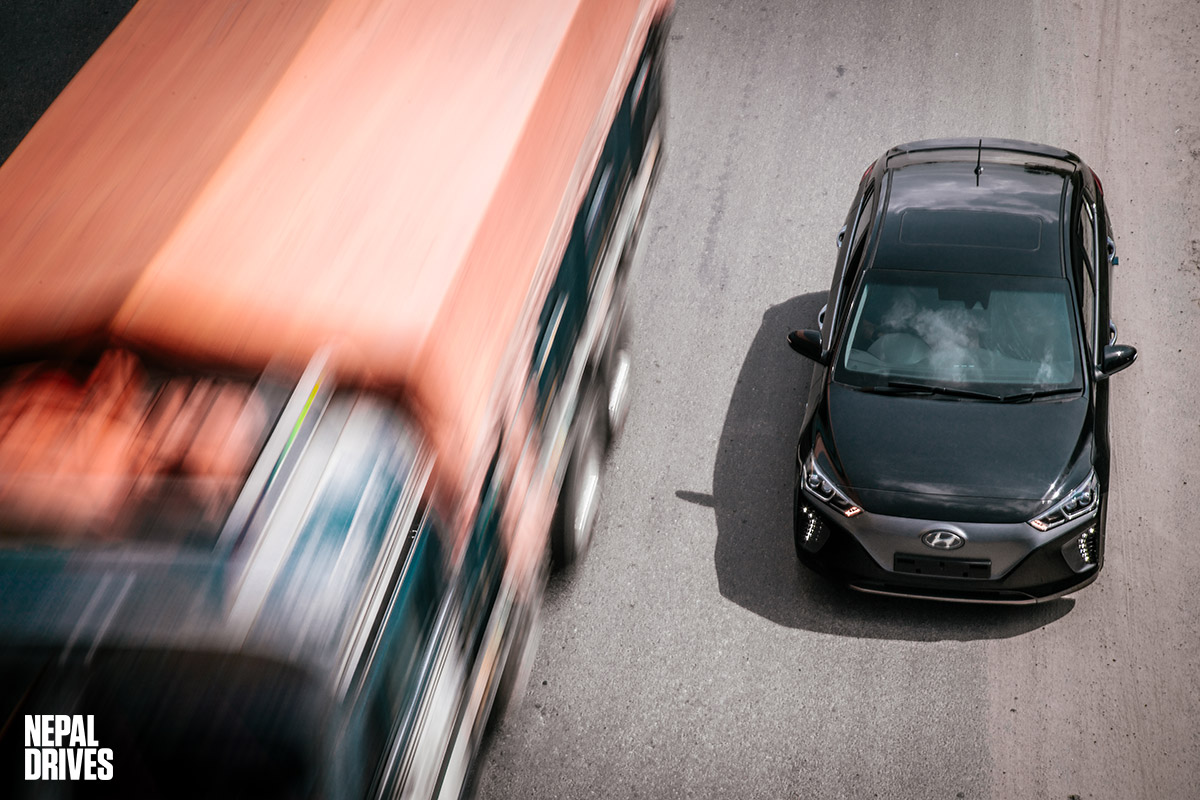 You get to choose from an option of economy, normal and sport mode
As you might have guessed, we were mostly driving in sports mode. This did affect the range by a smidge, but switch into sport mode and stamp on the accelerator with wicked intent and the Ioniq bolts forward like a football being kicked. This means that the driving experience is surreal when you're gunning it through straights. However, with a low central of gravity, thanks to its battery position, and a low curb weight, the Ioniq feels extremely lively. The steering is light but it retains a certain degree of feel to it so that the person behind the wheels enjoys their time there.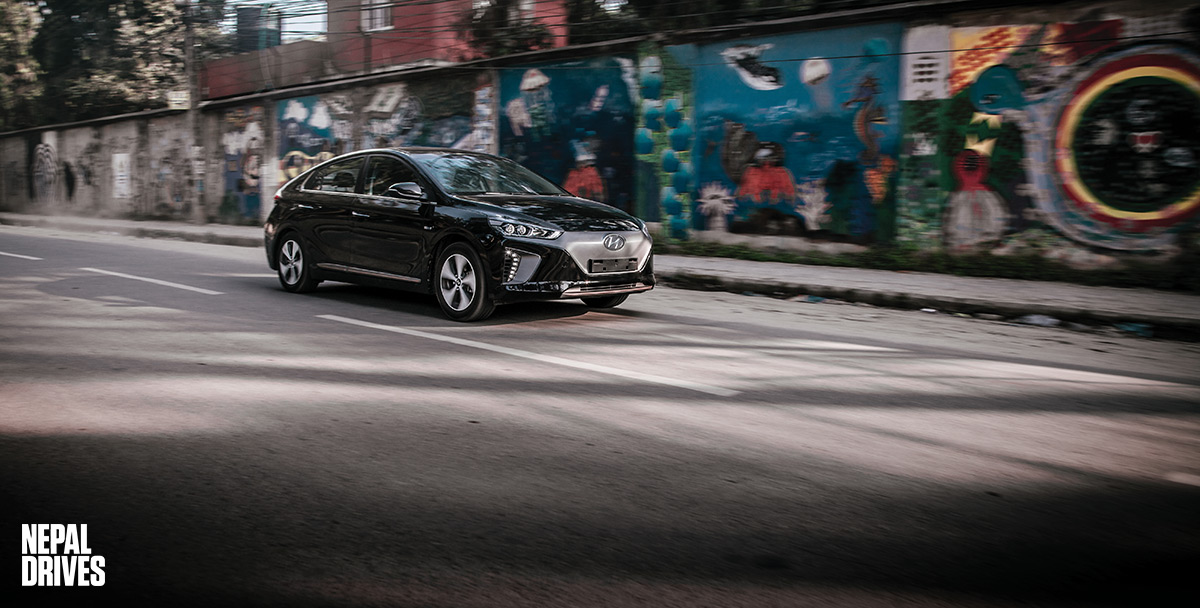 Another feature that we really liked about the Ioniq Electric was the ability to quickly switch between several levels of regenerative braking, via two paddles on the steering wheel
At the lowest setting, the car drove very similar to a conventional vehicle, with plenty of coasting possible when taking your foot off the accelerator, while at the highest level, the regenerative braking feature allowed for a "single pedal" driving style, which meant that as soon as your foot was off of the accelerator, the car started slowing down quite aggressively — not enough to come to a complete stop, but enough that touching the brake wasn't necessary when accounting for curves and slowing traffic.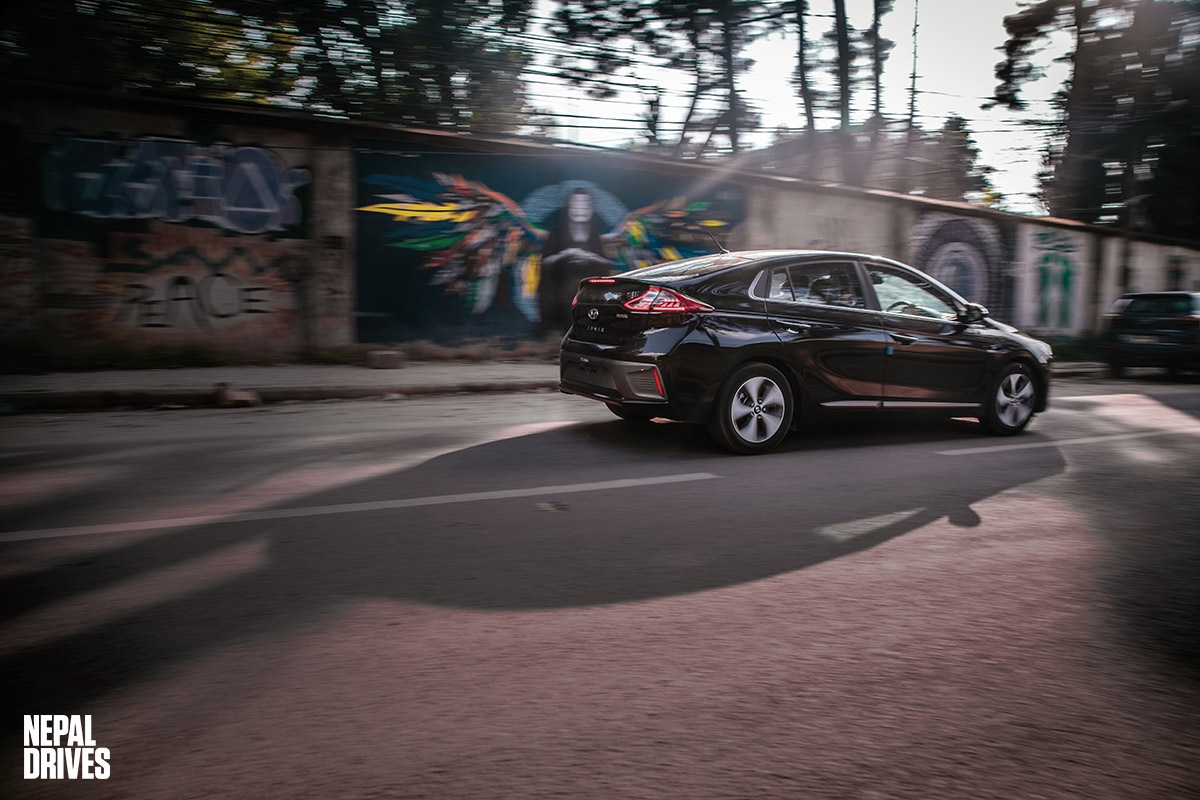 For the Ioniq Electric, with its 28.0 kWh lithium-polymer battery pack, a full charge on a Level 2 charger is said to take about 4 hours and 25 minutes, while a 100 kW charger could deliver an 80% charge in about 23 minutes, and a 50 kW charger could deliver an 80% charge in about half an hour. You will not be subjected to much of the range anxiety that electric car owners can be susceptible to, because the Ioniq has a claimed range of 280kms on a full charge.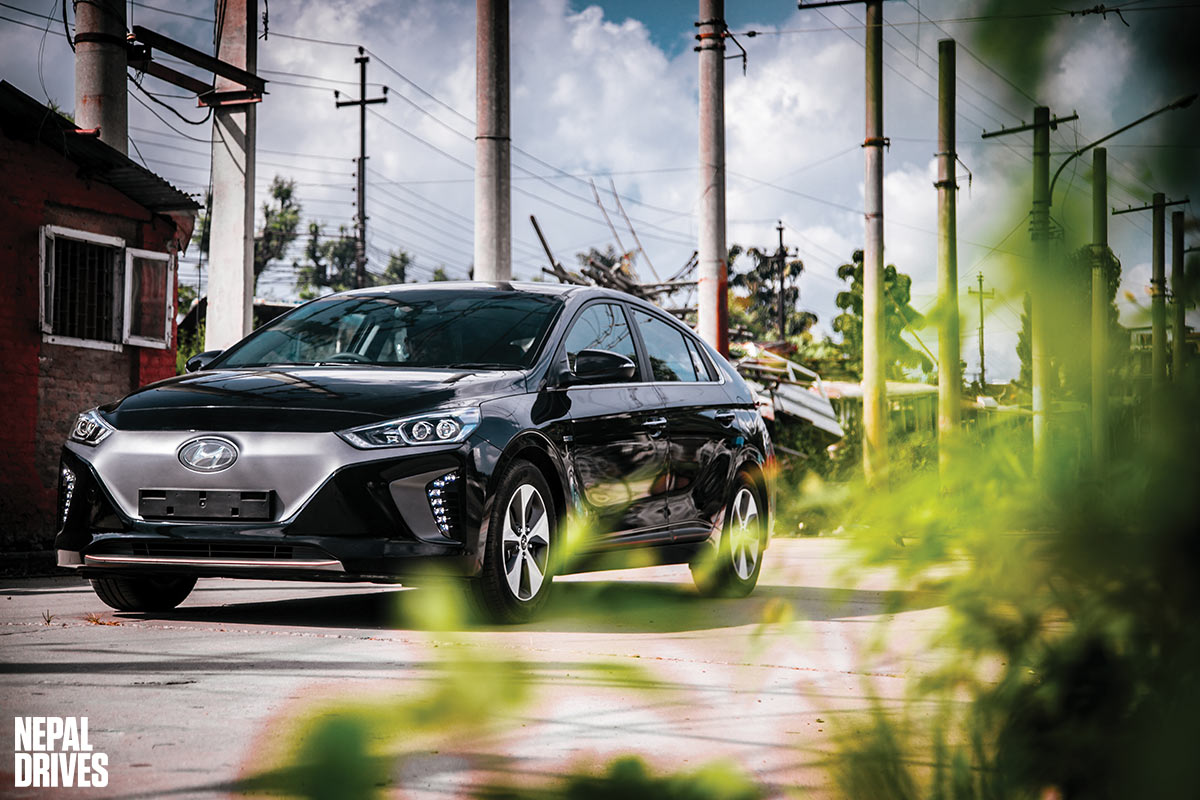 Even when you switch into sport mode and really floor it, you will still have enough juice in it to get you anywhere within the city for the entire day. Depending on where you're headed, you might have to be more judicial with your driving if you decide to take it out of the city.
SAFETY
The Ioniq comes equipped with a full set of required safety features, including electronic traction and stability control, antilock brakes, a tire pressure monitor, a rearview camera and a full complement of airbags, including a driver's knee airbag.
Optional equipment includes front and rear parking sensors, automatic emergency braking and lane-departure warning.
 VERDICT
Let's put aside the actual possibility of an all-electric future for the automobile industry, let's assume it IS going to happen somewhere along the line. But can we see a future where we will not be griping about the lack of performance vehicles for the common folks?
Thanks to the Hyundai Ioniq, we can. The Ioniq is not just a tree-hugging environmentalist. Yes, it is an electric car that goes above and beyond in its endeavors to help save the planet but it is not a boring dud when it gets to the tarmac. It might not be a mad machine but it packs enough silent grunt to be considered a fun car to drive. It isn't a silent creep incapable of exciting even the most mellow of the auto enthusiasts.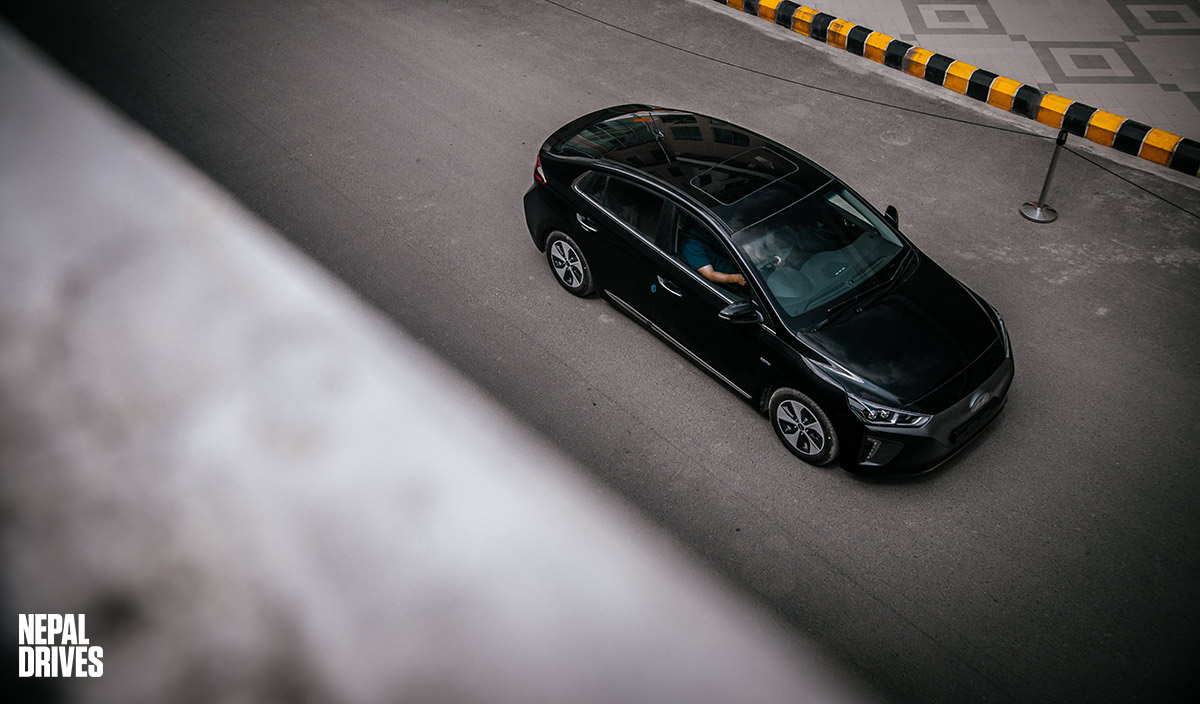 On the contrary, it is a car that encourages the possibilities of an all-electric future for automobiles where you can realistically dream of buying a fun EV. And we desperately needed this ray of hope to help keep us sane.