North of Chobar, a short drive past Pharping is Hattiban. It's not too far away from the Capital but the journey will take you through the bustle of the crowded city, past the winding twisties that get you to Chobar, battling through the battered roads of Pharping and climbing the steep ascent to the pine forests of Hattiban. Once there, the ground swells and heaves to create beautiful and unpredictable undulations. This set the stage for our test drive of the Mitsubishi L200 Sportero. However, this was no simple pickup. Dressed to impress, this particular L200 receives a host of aftermarket accessories to ensure that it looks as dashing as it performs.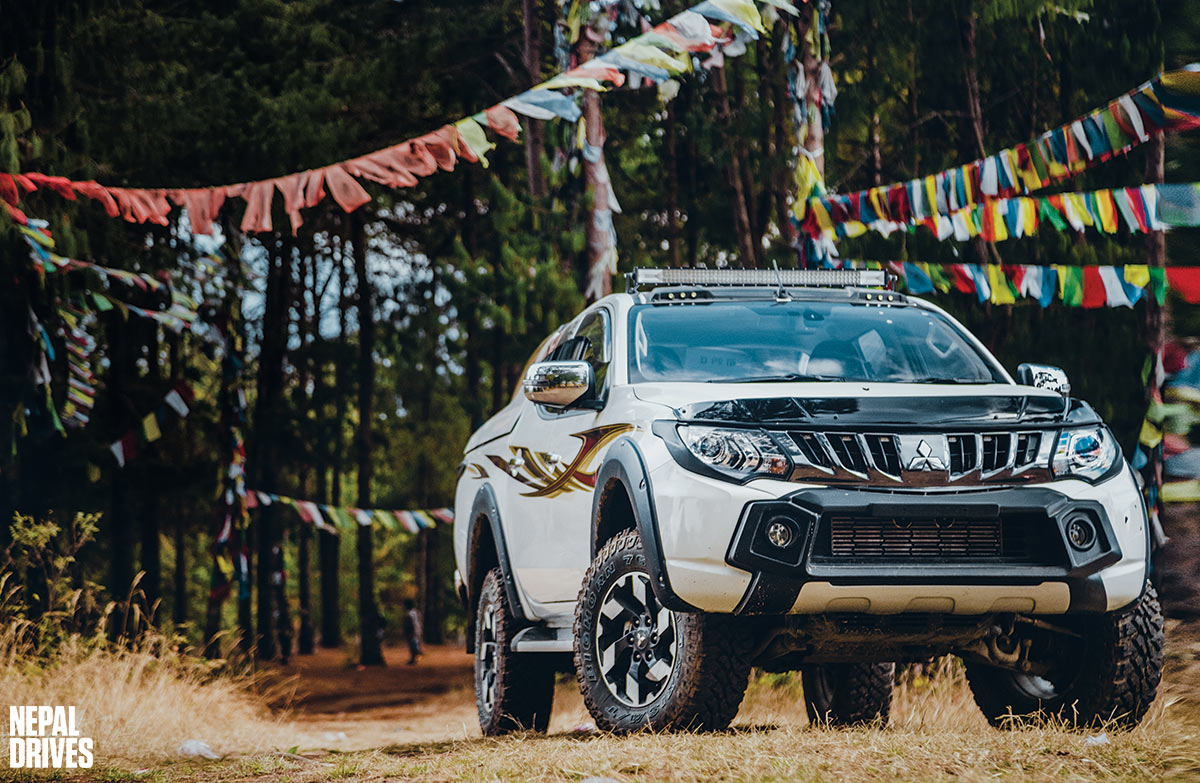 What's there to look at?
The Mitsubishi L200 Sportero is a handsome looking pickup. Designed to serve the purpose of a utilitarian, luxury pick-up the L200 is a machine that serves a significant market in Nepal.
You will have seen a couple of these performing their duties for government offices and NGOs, but this particular one has a couple of aesthetic upgrades that set it apart.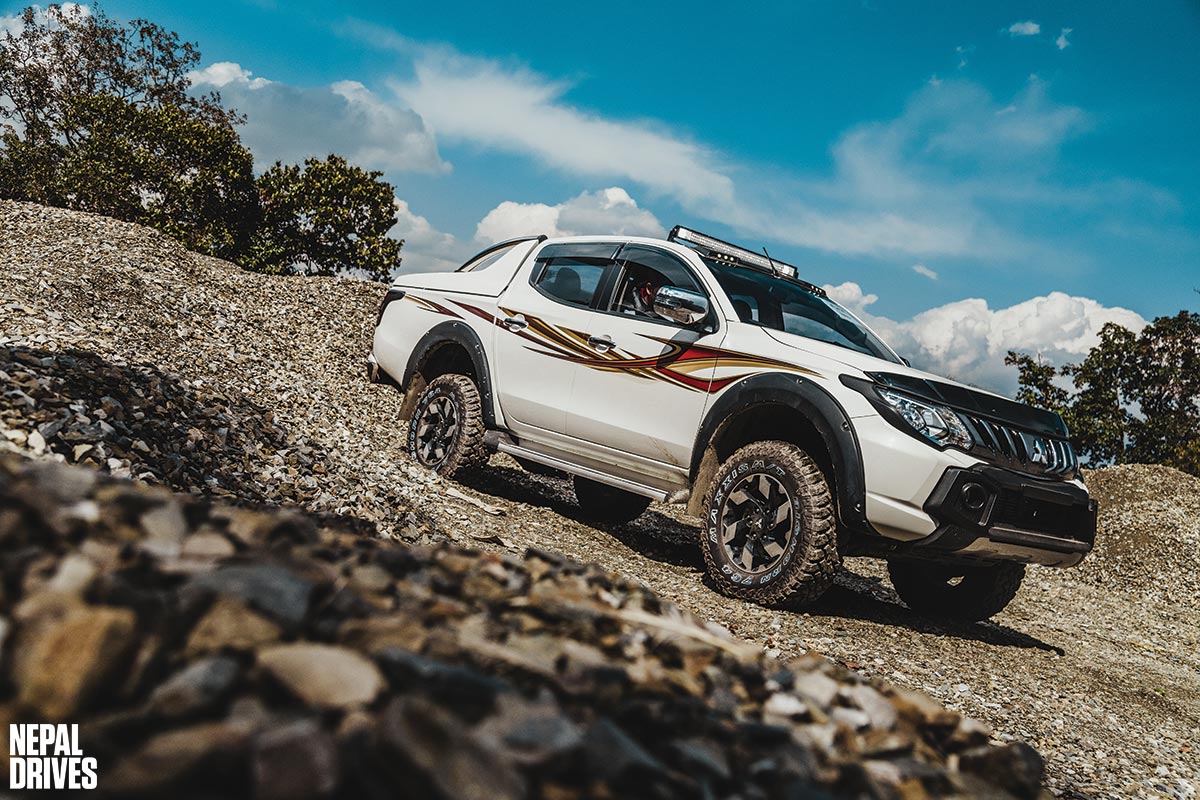 Underneath the upgrades is the basic L200, a massive structure spanning 5120mm in length and 1815mm wide which takes up a noticeable segment of the road. In turn that gives you tremendous road presence and a certain degree of dominance in traffic. Where it differs from the normal L200 is on the plethora of aftermarket accessories that it gets.
The front end still maintains the Paris-Dakar-winning Pajero Inspired front end but turns it up with a front bumper cover, headlight cover, and a bonnet bra. The grille radiator LED lights between the slats provide further style to the front end.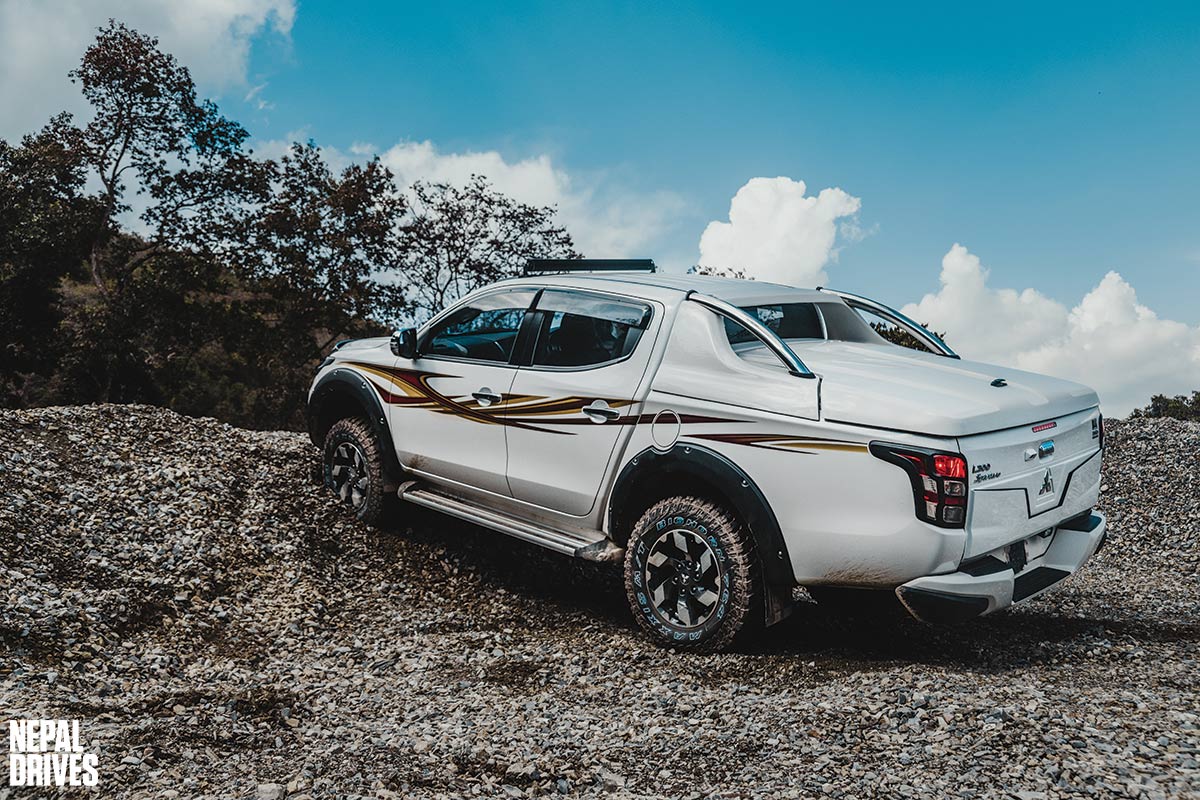 Tyre duties are undertaken by massive 17 inches of all-terrain Maxxis tyres which receive black overfenders for additional pizzaz. Fog Lamp LED light bars on the roof help you see what's ahead and make sure everyone sees you coming from a distance.
When you step inside.
The interior is spacious and gets mostly a black and silver treatment. The steering wheel is chunky and nice to hold and gets the telephony and audio controls.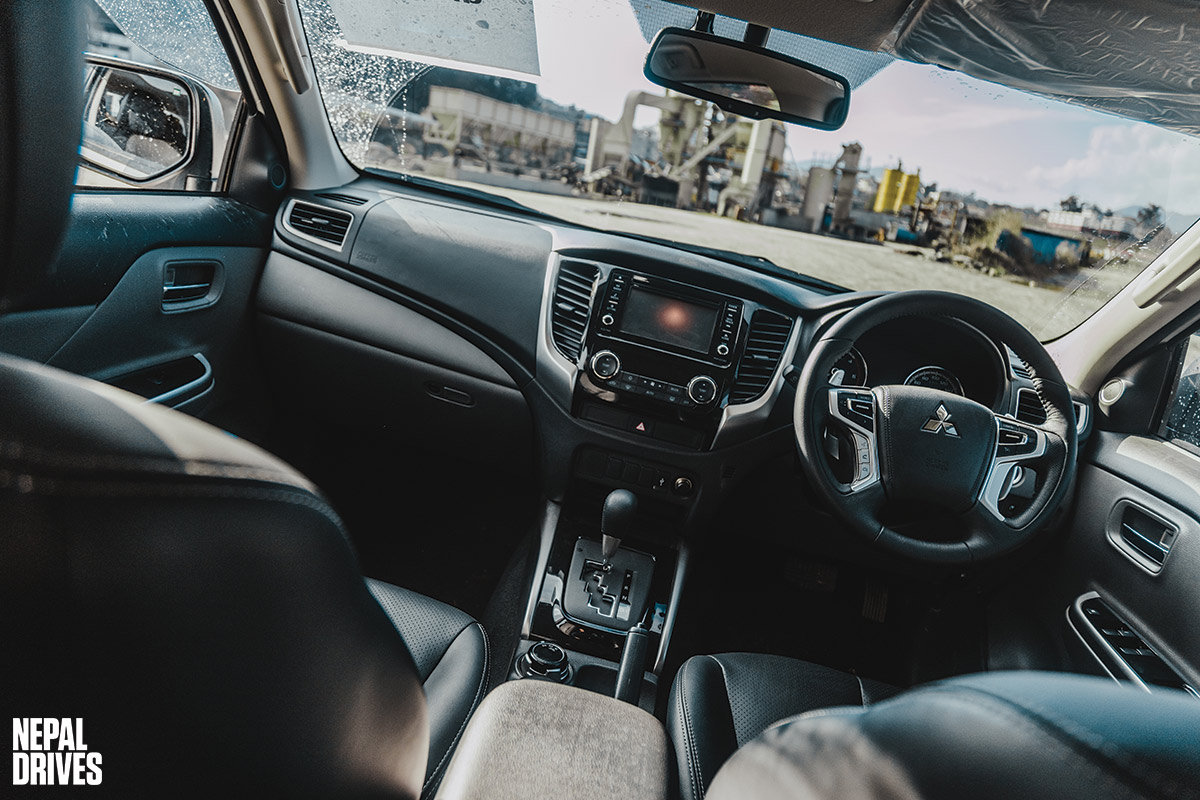 The neat easy Select 4×4 control dial sits behind the gear lever and there's a clear instrument cluster with a clear display showing you which drive mode you're in. Passenger space is decent; you have enough headroom and space for 3 six-foot adults to sit comfortably behind a similarly sized driver.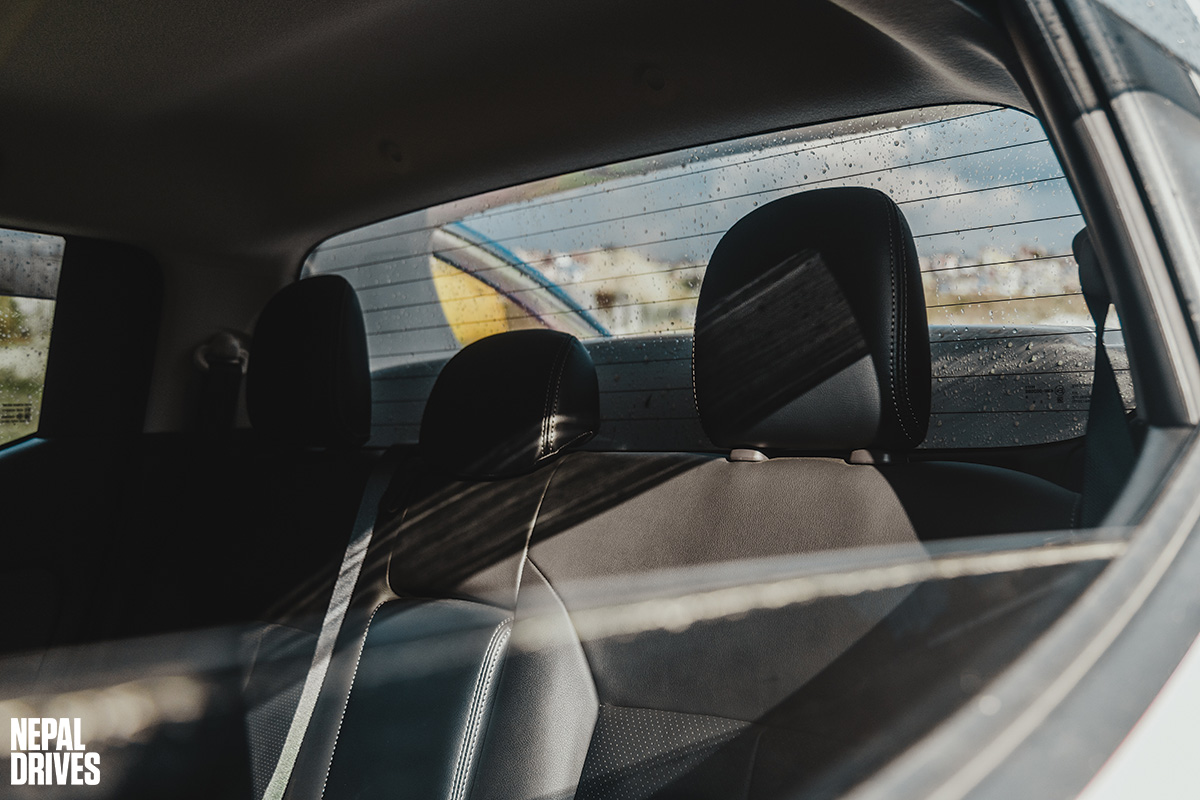 How is it to drive?
Under the hood is a 2.5-litre turbo diesel engine really starts to work when you reach in the middle or higher rev ranges. It is an engine that likes to be worked and prefers a little rough treatment.
It churns out a respectable 151bhp version with 380Nm of torque, more than enough for the Nepali roads. It builds up speed pretty fast and eats up kilometres with enthusiasm.
It isn't the briskest machine on the road. The 5-speed paddle shift automatic works well and suits and allows you to adopt a relaxed driving style when needed. Now, while the L200 does have the great offroad capability, it maintains great on-road capability by refraining from falling prey to the bouncy ride that tends to trouble other cars in this segment. The ride and handling are decent and the body rolls have been kept in check.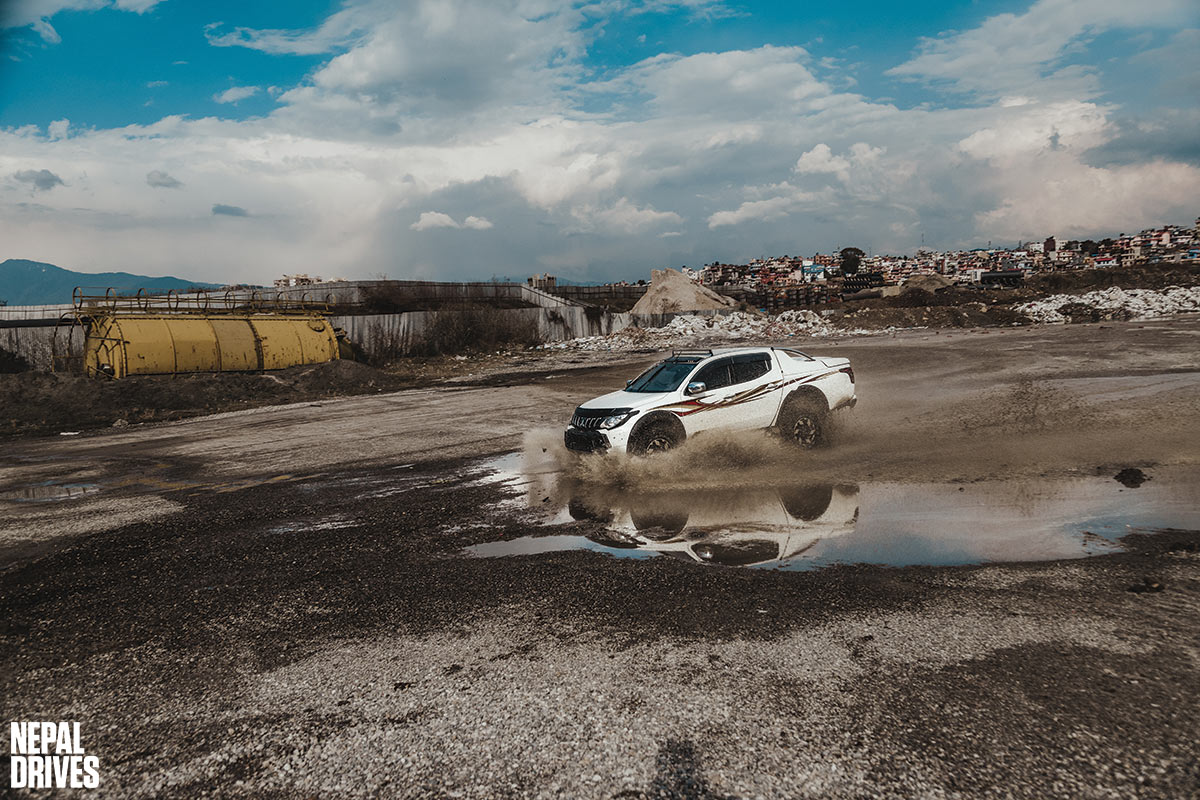 If you have ventured offroad and the going gets a little tough, you can use the easy select 4×4 to switch into 4-wheel drive and conquer anything that comes in its path. The Maxxis tyres played their role well on the tarmac as well as the offroad trails and it paired well with the Iron Man shocks that were fitted into this particular L200.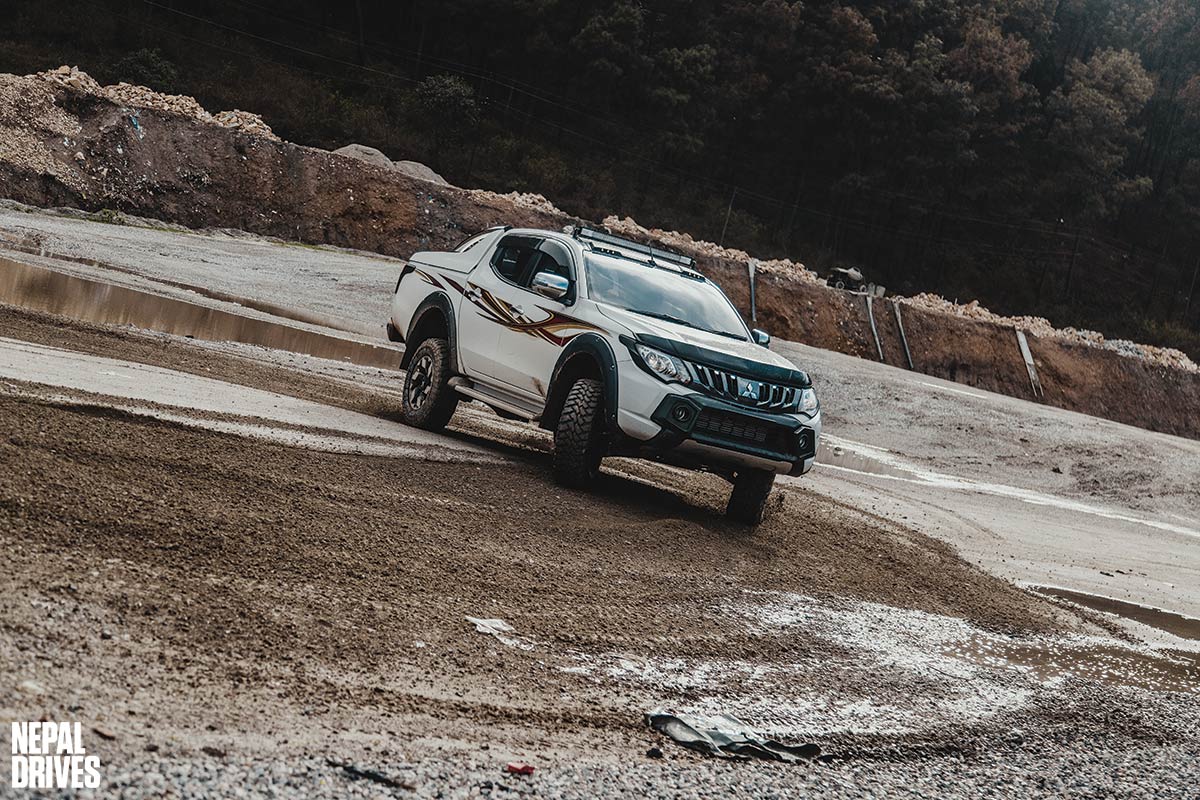 There is a certain character to the burly L200, and it sustains that in the way it drives. The engine rumbles on startup and somewhat quietens as you drive. However, a steady grumble remains which is not a bad thing at all because it reminds you that you're in a hefty pickup, and not in a shy hatchback. We love that the steering provides good feedback and has a sense of weight too it, it helps the L200 stay in character. Flimsy, light steering would have really been a turnoff.
Our say
We had the chance to drive the Mitsubishi L200 a long time back, and as a utilitarian vehicle, it served well. It had a great payload capacity, good space and decent driving abilities. With this one though, you get a lot more to enjoy. The utilitarian purposes take a back seat and fun takes over. Not only is it decked with aesthetic upgrades, but the Maxxis tyres and Iron Man suspensions also make the driving experience amazing.