As always, the NADA Auto Show provides a platform for components and other manufacturers to showcase their products. This year too, the show has a range of batteries, tyres, lubes, automotive components, ancillaries and services being showcased.
Highlights:

GULF Lubricants:
In a spacious and well-laid out booth, Gulf Lubricants  has showcased its wide array of two-wheeler, four-wheeler and commercial engine oils. The company is also conducting a photo contest for the visitors.  Nepal Lube Oil Limited is the sole licensee of Gulf Oil international to manufacture and distribute Gulf Oil products in Nepal. Currently, it is the market leader in the domestic lubricants industry.
Motul is displaying high performance 100% synthetic and technosynthese car and motorcycle engine oils. Motul's product range in Nepal includes engine oils, brake fluids, transmission fluids, gear oils, and coolants, etc.
Delta Tire:

Delta Distributors, the sole authorised distributors for BKT and Deltra tyres, has showcased Delta range of two-wheeler, three-wheeler, and agricultural tyres. Similarly, the company has also displayed Ultramile brand of tyres at this year's show.
PLO Lubricants:
Purwanchal Lube Oil Pvt. Ltd. (PLO), the domestic lubricant brand, has displayed its entire range of lubricants, grease oils, coolants, and brake oil, at this year's show.  The ISO 9001:2000, ISO 9001:2008 certified company currently sells PLO, Star and Mega brand of lubricant and greases in the Nepalese market.
S-Oil and Emtrac Plus:
S-Oil, a Korean petroleum and refinery company and a fairly new entrant in the Nepalese market, has put on display its range of grease and lubricants. Similarly, Emtrac Plus, a high performance battery brand from India, is showcasing its two wheeler, four wheeler and truck segment batteries. Both S-Oil and Emtrac Plus brands are distributed by L.H. Services and Spare Parts, a subsidiary of Laxmi Group, in the country.
Triangle and Hankook Tires:
Triangle tire covers wide variety of tures such as PCR, TBR and OTR tires developed in China. Similarly, Hankook Tire, under LH Services and Spare Parts (LHSS), is showcasing its PCR, LTR, and SUV segment tires. Hankook is the globally leading tire manufacturing brand from South Korea and is currently the 7th largest tire selling brands in the world. The company currently sells Optimo ME02, Dynapro AT-M, Kinergy EX brand of tires in Nepal.
MAK Lubricants: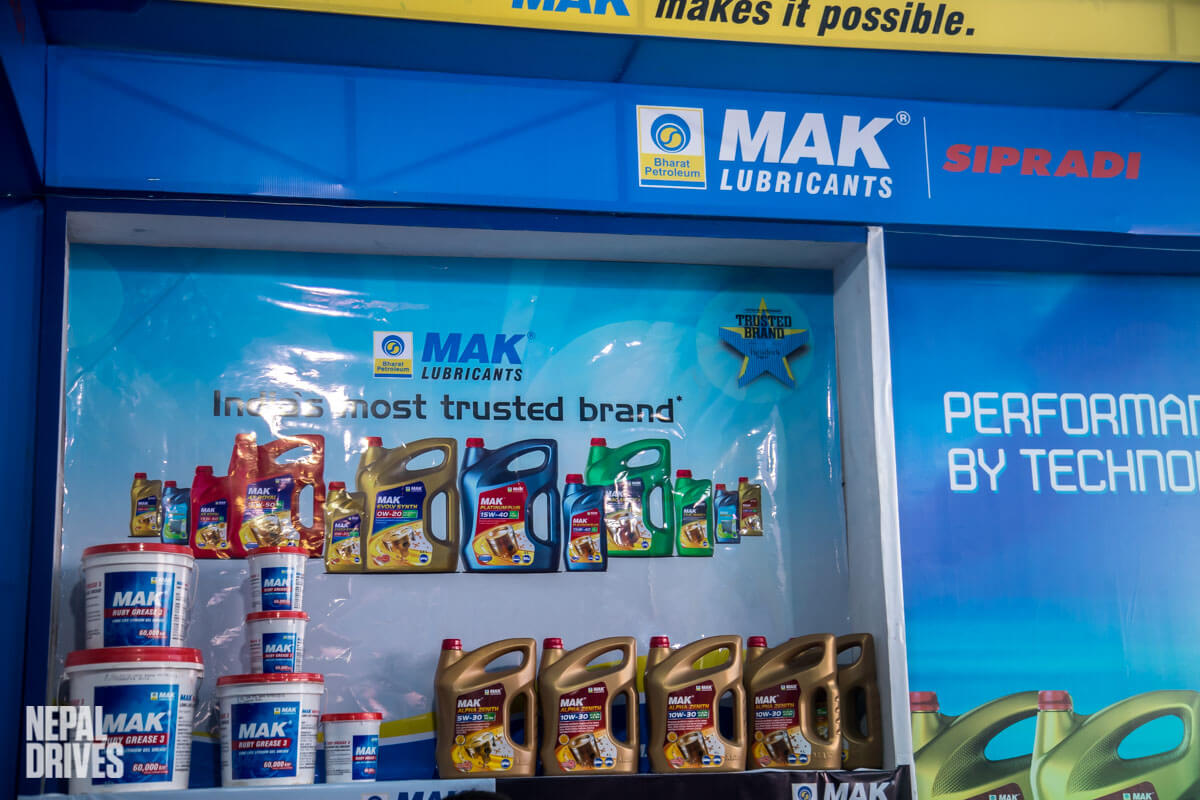 MAK Lubricants Nepal, has launched its new products- MAK Alpha Zenith 5w30/10w30 and MAK Ruby Grease,  specially crafted for passenger vehicle and commercial vehicle. Bharat Petroleum's Mak Lubricant offers a full range of Automotive Engine Oils, Gear Oils, and etc.  Sipradi Trading is BPCL's exclusive lubricant distributor in Nepal.
Lubrex:
Lubrex, a leading lubricants and grease manufacturer from UAE, has on display its two-wheeler, passenger car, diesel engine, gear and transmission, grease, and other oils. Lubrex's products are manufactured using virgin mineral & synthetic base oils of different groups and high quality certified additive packages to meet international standards. UniPetro Nepal is the supplier of Lubrex in the country.
IPOL Lubricants: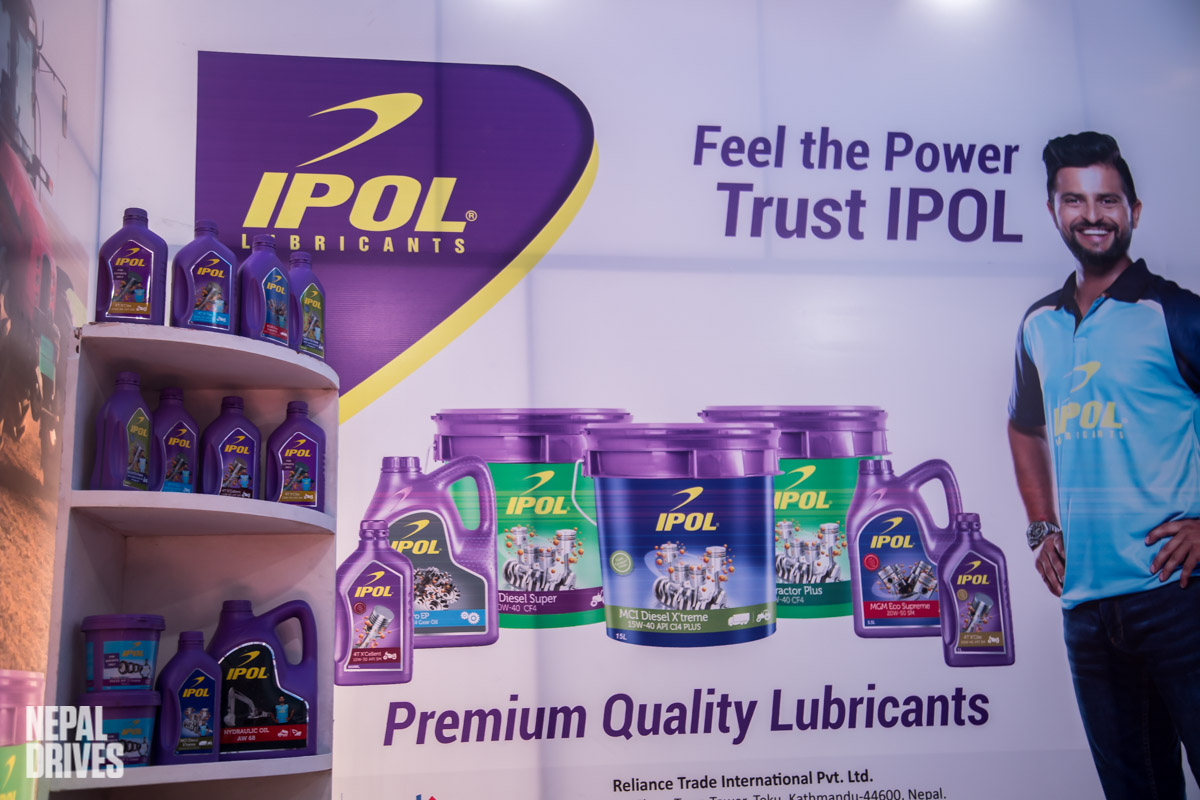 Reliance Trade International Pvt. Ltd., the authorised distributors of IPOL Lubricants, has on display IPOL's scooter, tractor  and diesel engine oils. IPOL is an Indian petrochemical brand which manufactures automotive lubricants, industrial lubricants, process oils, and white oils.
Unocal 76 Lubricants:
At NADA Auto Show 2019, Unocal 76 is displaying premium range of lubricants for all types of vehicles. Marketed by Energy Power Trading Pvt. Ltd, Unocal 76 has its foot prints worldwide covering over 57 countries across 6 continents. Major markets being United States of America, Japan, China, Bangladesh, Nepal, India, Pakistan, and Thailand among others.
Bikeminded:
Bikeminded Pvt. Ltd., the authorised distributor of Shark helmets, Segura, and Bering riding gear, has introduced the 2019 range of Segura and Bering products, which includes full motorcycle riding suit, riding gloves, boots, jackets, pants, and more.  The company is also conducting "Bike Minded Photo Contest" where the contestants will get a chance to win a Shark Ridill helmet, a Bering riding jacket, and a Bering riding glove.
Globatt Battery: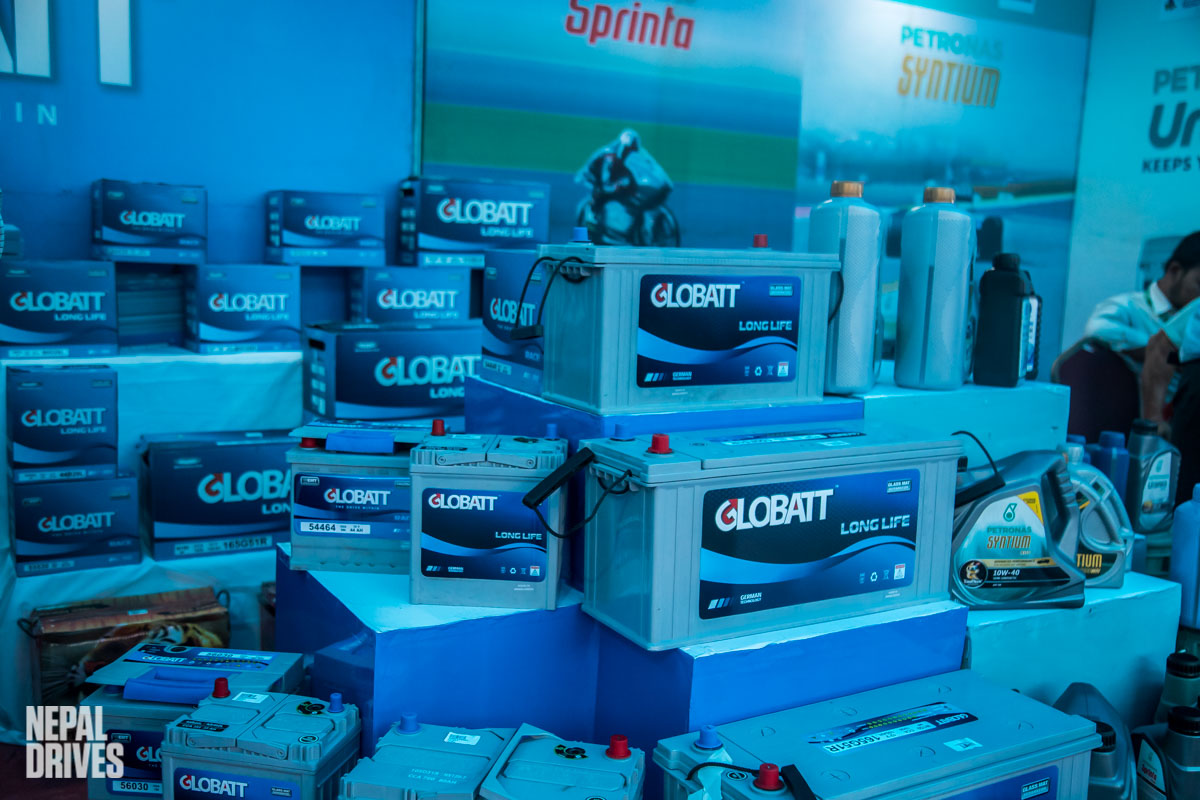 Distributed by Trithunga Trading Concern Pvt. Ltd., Globatt has displayed the batteries for utility vehicles, commercial vehicles and EVs (E-Rickshaw). Similarly, Delta tubular batteries and Lento Solar hybrid pure sine wave UPS and Inverters are also being displayed at Globatt's booth.
TOTAL Lubricants:
Total Lubricants has showcased its wide range of products for various applications. These include cars, construction equipment and mining, industry, motorcycles and scooters, trucks and buses. Total Lubricants is distributed by Laxmi Lube Oil Pvt. Ltd., a subsidiary of Laxmi Group.
ATS-ELGI:
Hitco Pvt Ltd, the authorized dealers of ATS Elgi, Elgi,  Minimax, New Age, Cease Fire, Tech Mech, has showcased its widest range of garage equipment at the NADA Auto Show. The company has also introduced new types of equipment in the Nepalese market for authorized OEM workshops and private garages.
Hitachi Battery: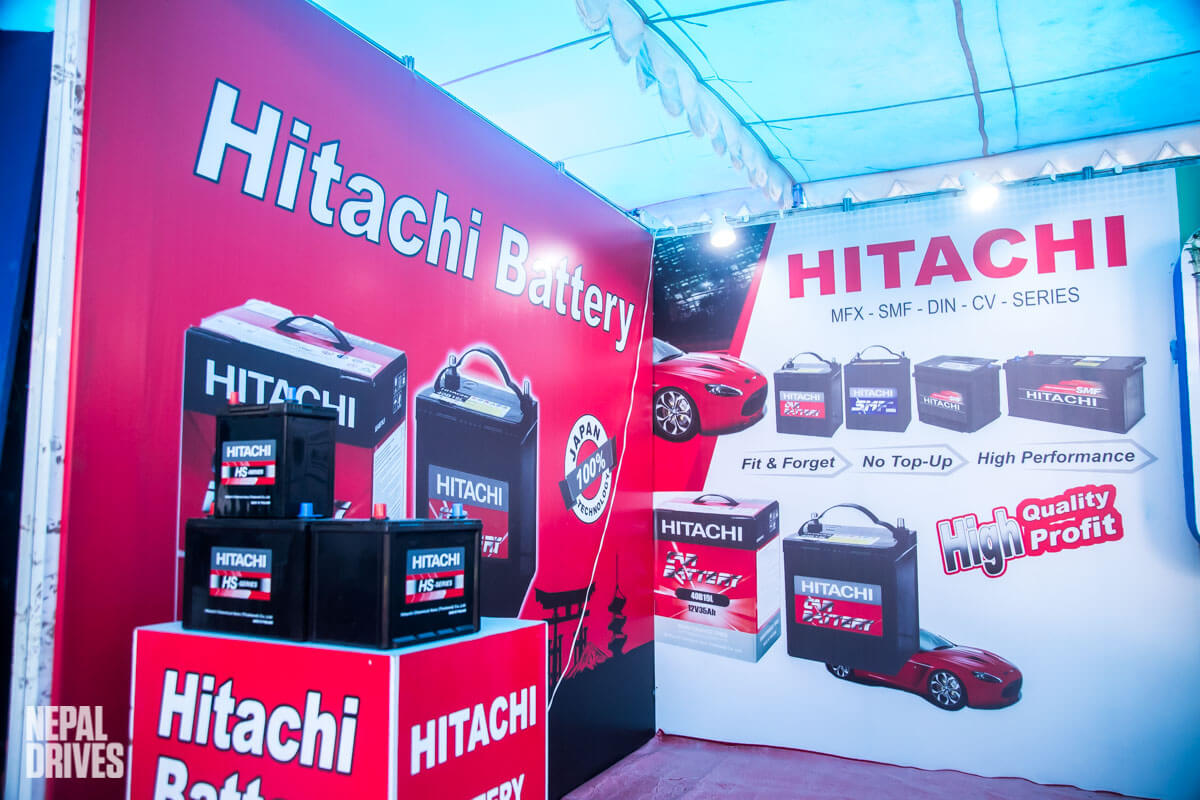 Hitachi Battery has on display its HS, HP, DIN, and CV segment of batteries. Hitachi Chemical is a chemical manufacturer based in Thailand which is engaged in a wide range of areas, including semiconductor and display-related materials, and batteries.
GP Lubricants: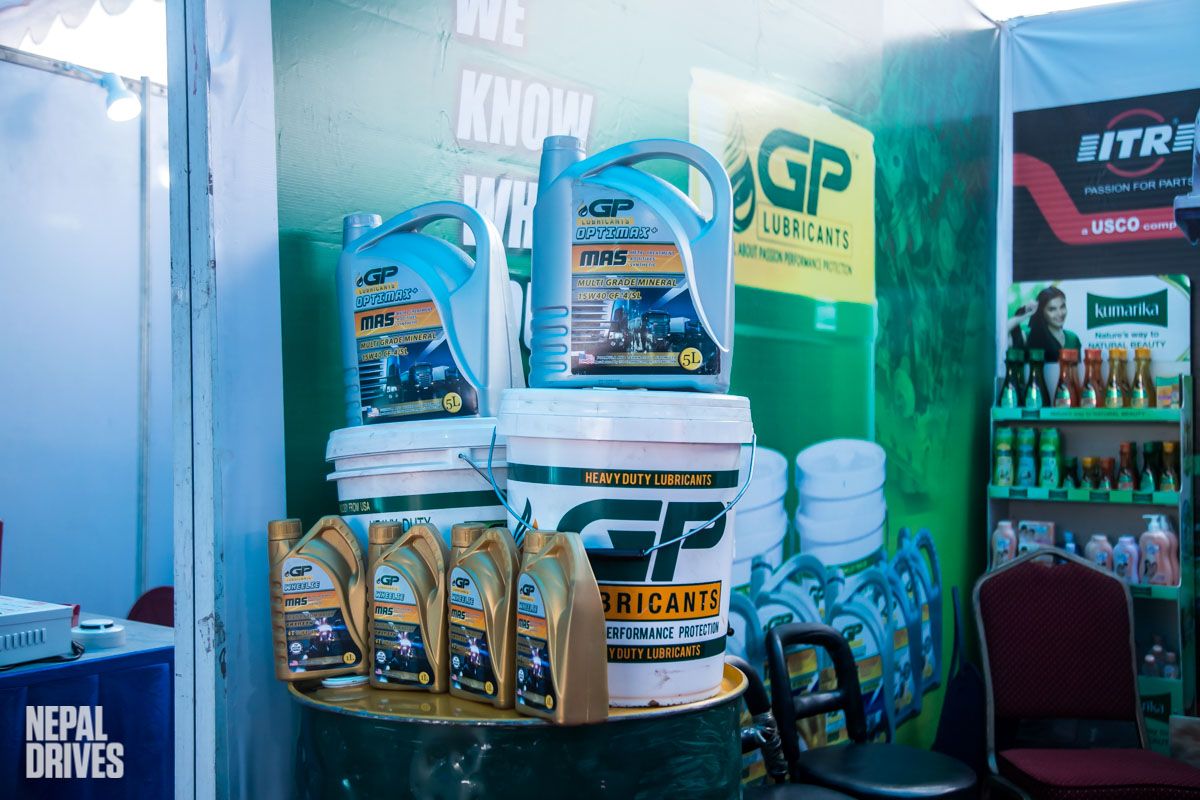 GP Lubricants displayed its engine oil, hydraulic oil, gear oil, and grease. Marketed by Hajurlai Namaste Trade Link Pvt. Ltd, GP Lubricants distributes US formulated MAS technology engine oil to the Asian region.
Eurogrip Tyres:
Eurogrip Tyres serves as the largest supplier for original fitment of all Bajaj two-wheelers and three-wheelers as well as various other two-wheeler brands. The company has on display its 'extra-durable' tyres.
Infratech: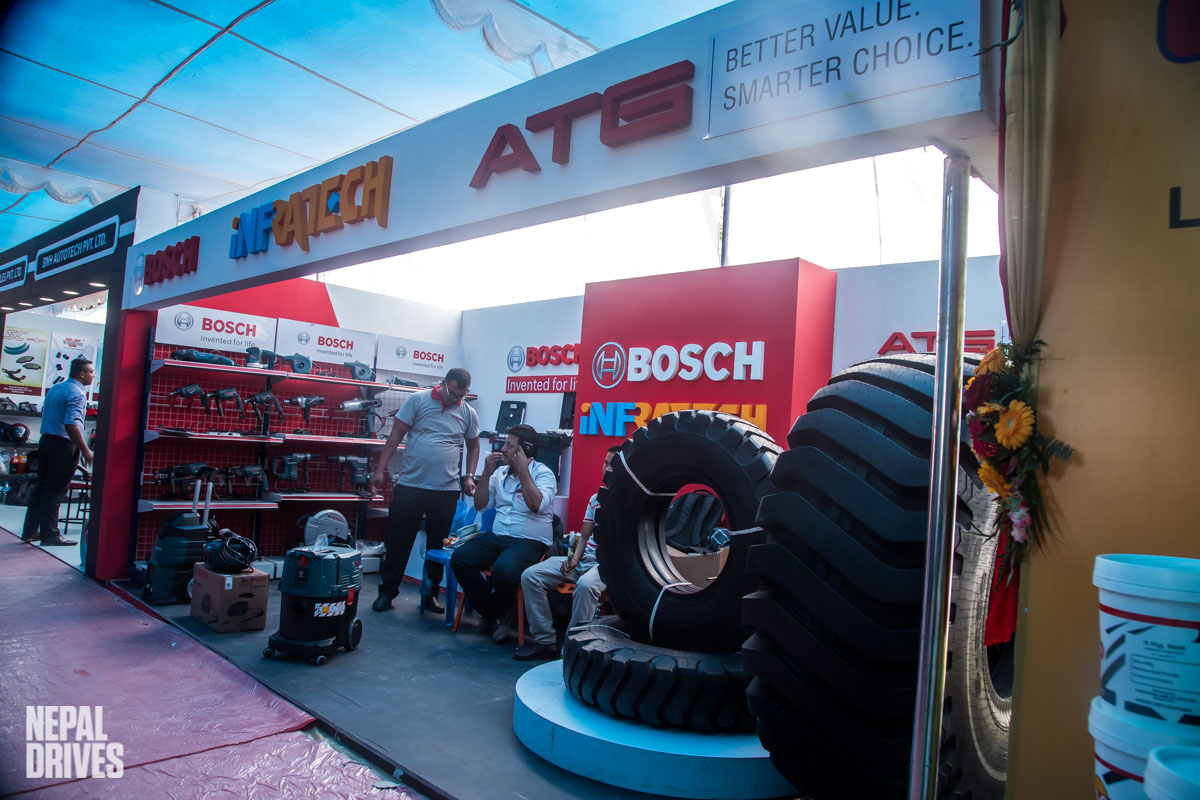 Infratech Pvt. Ltd. has on display high-pressure washers from Bosch, and tires from ATG.
MRD Auto: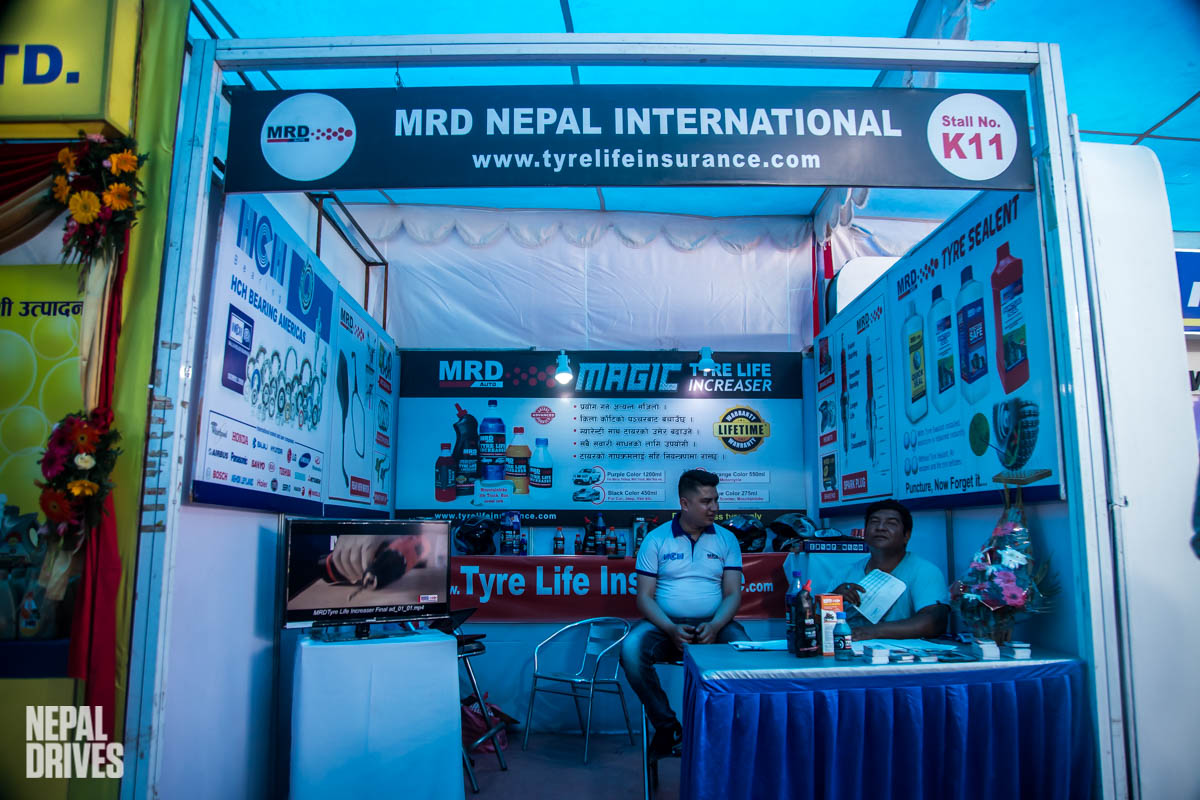 MRD Auto Nepal, has showcased MRD tyre life increaser, which according to the company, is made for cars and bikes.
Index Helmets, Apollo Tyres and Volta Battery:
Subha Shree Pvt. Ltd has displayed the new range of Index helmets, Apollo tyres and Volta battery at the NADA Auto Show 2019.
Livguard: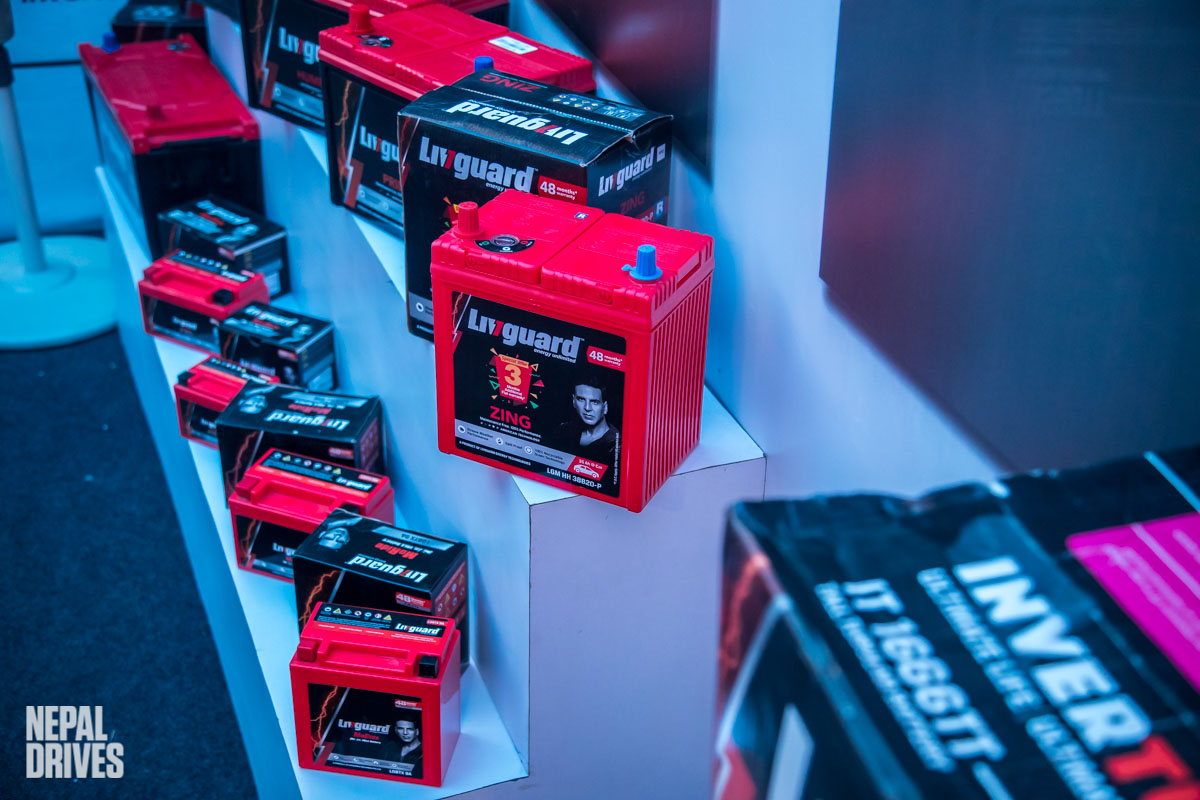 Livguard has showcased its complete range of automotive batteries. Livguard offers automotive batteries, inverters and inverter batteries, stabilisers, and residential solar solutions.
Livfast battery: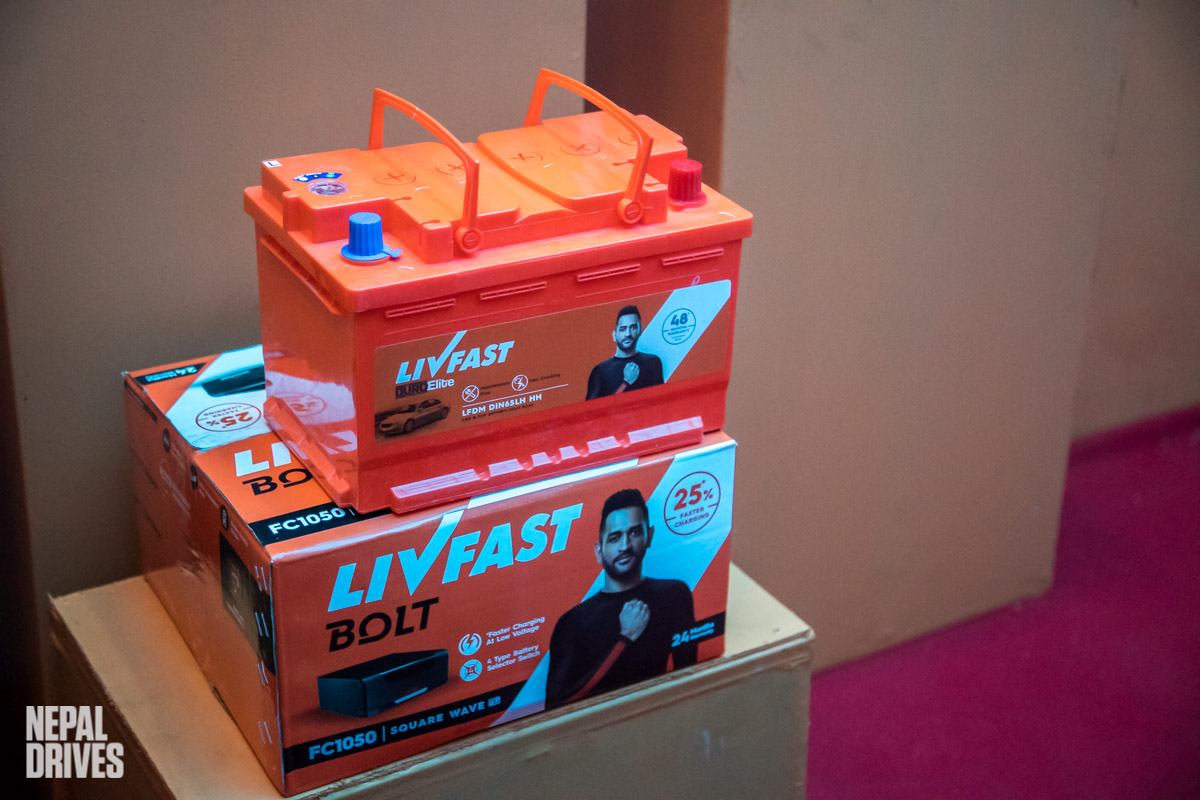 Power Point Nepal Pvt. Ltd, has on display Livfast brand of 4-wheeler, inverter, and E-Rickshaw batteries.
HHO Carbon Cleaner: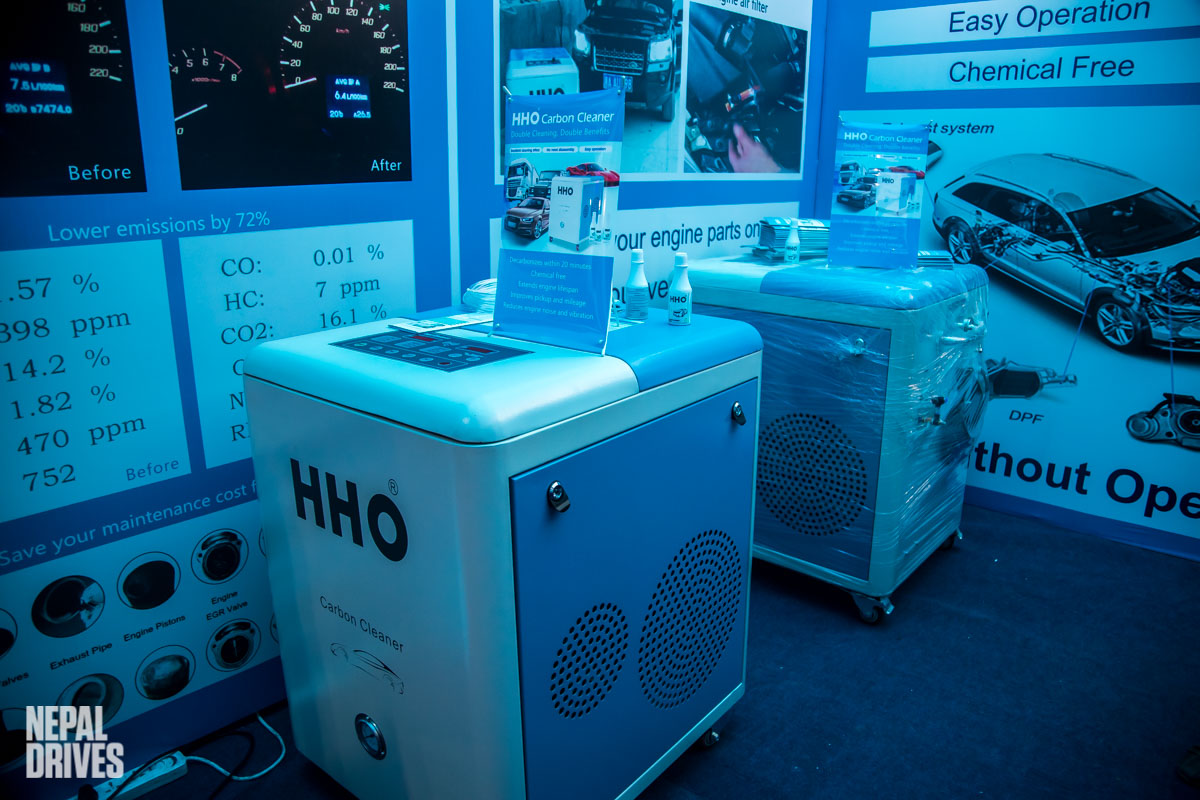 Catalysis Auto Technologies, has showcased HHO brand of carbon cleaner, which according to the company, can clear car engines in 20 mins.
Max: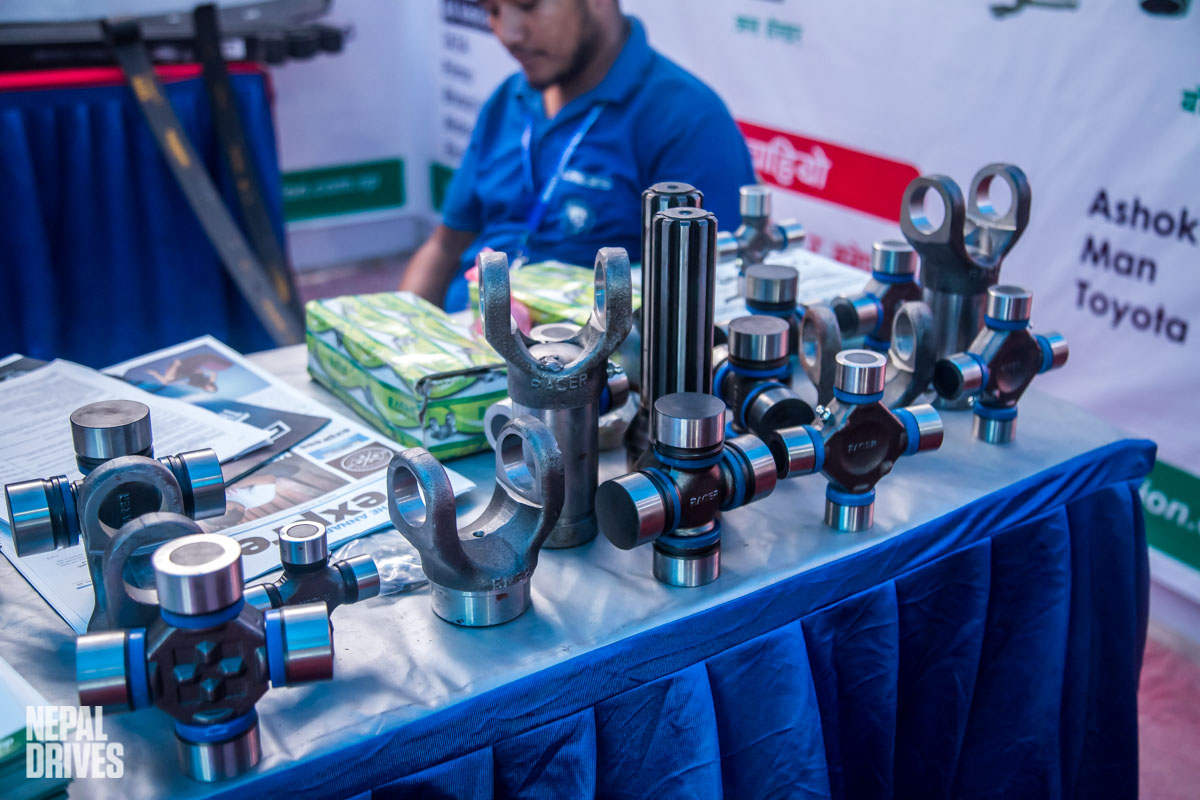 Max Vision Ltd, the distributor of Max spring leafs, has showcased 'Max' brand of spring leafs, UJ cross, cross holder, and teeth yoke.