When we reviewed the Hyundai Ioniq Electric back in 2018 we discovered that the Ioniq wasn't just a tree-hugging environmentalist. It wasn't a mad machine but it packed enough silent grunt to be considered a fun car to drive. Yes, there were things we wished for but it was all easily overlooked as the Ioniq then encouraged the possibilities of an all-electric future for automobiles where you can realistically dream of buying a fun EV.
Two years later, a lot has changed in the all-electric segment and likewise has the Hyundai Ioniq Electric. Hyundai has revealed the 2020 Ioniq Electric, its compact all-electric car, with range and power up for the new model year. The changes are kept to a minimum, less like a complete overall but more like a …. A second skin if you will. Will this change further solidify the Ioniq's place as the goto all-electric sedan? To find that out, we took the 2020 Hyundai Ioniq Electric for a drive.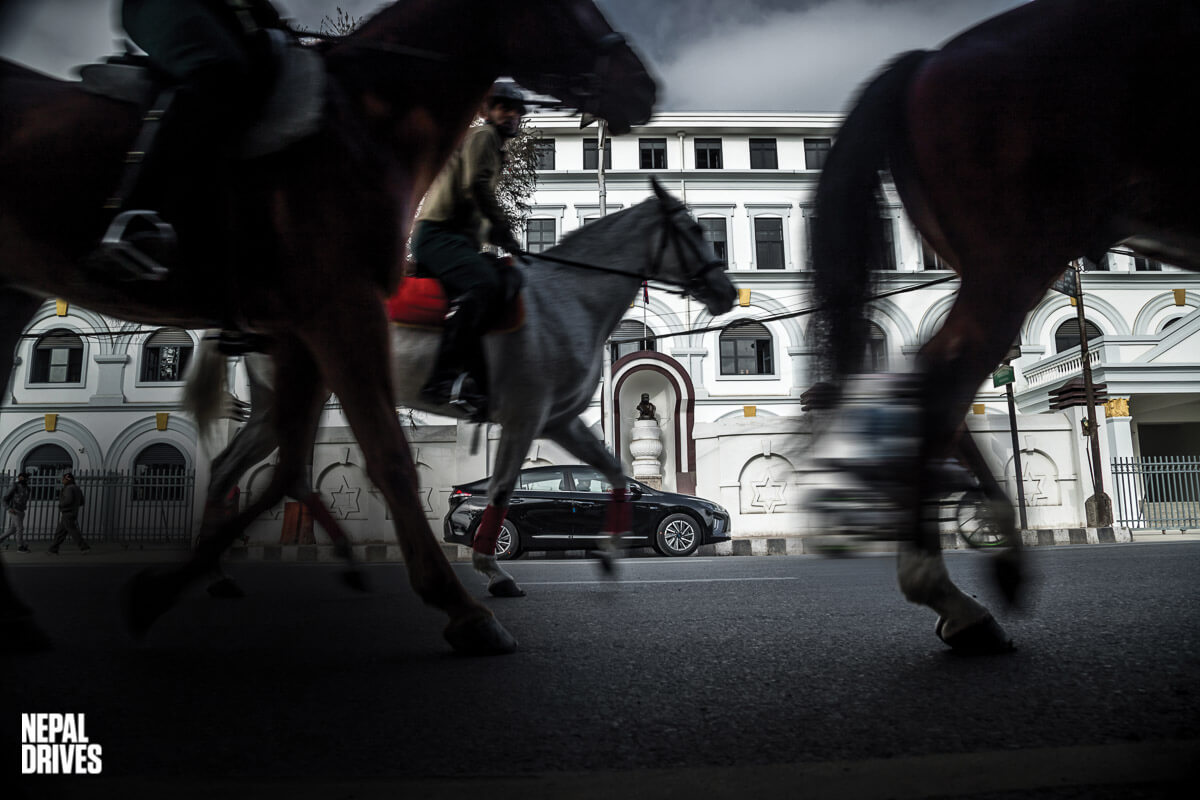 LET'S BEGIN WITH THE MOST NEEDED CHANGE…
The 2018 Hyundai Ioniq Electric was powered by a 28.0 kWh lithium-polymer battery pack which made 118 BHP and 295 Nm of instantaneous torque and claimed a range of 280 km on a full charge. The figures were adequate and we did have a lot of fun but we did wish for more power in the back of our minds. The updated Ioniq addresses that and then some. The Ioniq now gets a bigger battery from 28 kWh in the old Ioniq Electric to 38.3 kWh in this new model which now boasts a claimed range of 311 km. The range isn't the only power-related improvement. Horsepower climbs to 134 bhp, while torque is still unchanged at a healthy instant 295 Nm. Hyundai has boosted the onboard charger too, up from 6.6 kW to 7.2 kW as standard.
The juiced-up figures now result in a drive that is more fun than it already was in the outgoing model. Having reviewed both the old Ioniq and the Kona from Hyundai's electronic stable we can say that, while both the cars can fling you back into your seat without uttering a single sound, both these cars build power rather differently. The Kona Electric is faster to 100 km/h and hastily spins its wheels for an added dose of exhilaration, the Ioniq Electric, on the other hand, is much more subtle.
Yes, electric cars aren't as vocal as their internal combustion cousins, but looking at both the Ioniq and Kona and it doesn't take a genius to tell that the Ioniq is the quieter kid. Dial it into Sports mode, mash the throttle and the Ioniq shoots off into dead space mimicking silence and all you can see is things passing by your window really fast. With top speed capped at 165 km/h, the Ioniq isn't about going hard and fast, it is more about cruising effortlessly. You don't get any wheel spin, the torque is exceptionally contained, the car sits lower to the ground minimizing the ability to tackle bad roads but on the upside, the car feels planted and supremely precise around corners thanks to its accurate steering that has been paired with an excellent suspension system. The Ioniq Electric might be a hair slower to triple-digit speeds but it is perfectly equipped to stay at those speeds for longer… much longer.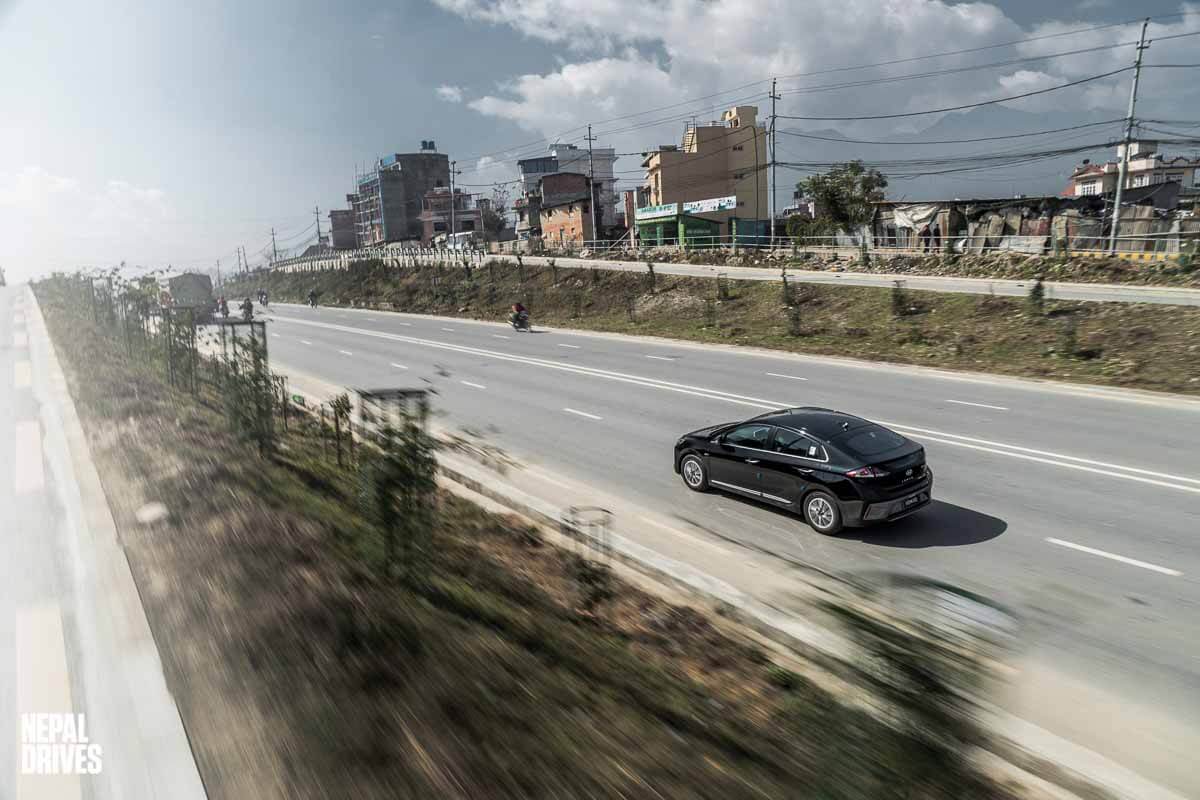 Just like the previous model the Ioniq comes with 3 driving modes, Normal, Eco and Sport with the differences in power to range ratio. The 2020 Ioniq also brings back regenerative braking, the Ioniq has paddle shifters give three levels of control over regenerative braking that captures braking energy that would otherwise be wasted and also allows the driver to override the system's default eco-driving setting and to summon full power for quicker performance. Keeping all the power in check is a host of safety suite that includes a 7-airbags system, Hill Assist Control (HAC), Anti-lock Braking System (ABS), Electronic Stability Control (ESC), Rear Parking Camera and Sensors and many more that we didn't include to save the review from turning into a brochure.
THE INSIDE OF THE IONIQ…
Builds upon comfort. Let's start with where you place your bum. The driver seat is perforated leather that looks great and feels comfortable. You get electronic adjustment with electronic lumbar support which isn't offered by most cars even a couple segments above the Ioniq. Combine the seat adjustment with tilt and telescopic steering wheel and finding the perfect driving position is quick and easy. To amplify the comfort both seats come with heating to help keep your bum toasty during winter and cooling to keep you chilled during summer.
The dashboard has also been redesigned with a more horizontal theme. You get more premium materials on the dash and all about the cabin that feels soft to the touch. You get an 8-inch Display Audio infotainment system with Apple CarPlay and Android Auto and Hyundai's Blue Link connected car system with its counterpart smartphone app for all your in-car entertainment.
The display is smooth and highly responsive. There's also a secondary touchscreen that houses heating and cooling controls, and ambient interior lighting. The only complaint we have with this second touchscreen is that it can get a little too responsive at times with buttons being unintentionally pressed by even a slight graze of your palm or fingers.
The rear seats on the Ioniq are one of the best rear seats, not because they provide enough space and comfort to house 3 adults but because this rear seat comes with heated functionality. While the middle passenger will have to make do with only the rear air condition as a source of warmth, the passengers on either side can enjoy heated seats just by toggling the button placed next to the window switch. Oh and, you also get a small electric sunroof that is easy to forget, but it is definitely there.
Moving all the people and their luggage is the large boot of the Ioniq that comes with a wide opening and a low loading lip that making putting stuff in and taking them out not a strenuous exercise, but as sedans go, be extra careful while loading tall items and make sure to double-check before slamming the boot lid shut.
LET'S ALL JUST LOOK AT IT…
Because the Ioniq looks beautiful. Yes the rugged SUVs and Pick Up trucks, or the extreme supercars have their own "whoa" factor, but the silhouette of a sedan has always been so nuanced, elegant and timeless. The exterior of the 2020 Ioniq comes with a few but noticeable changes.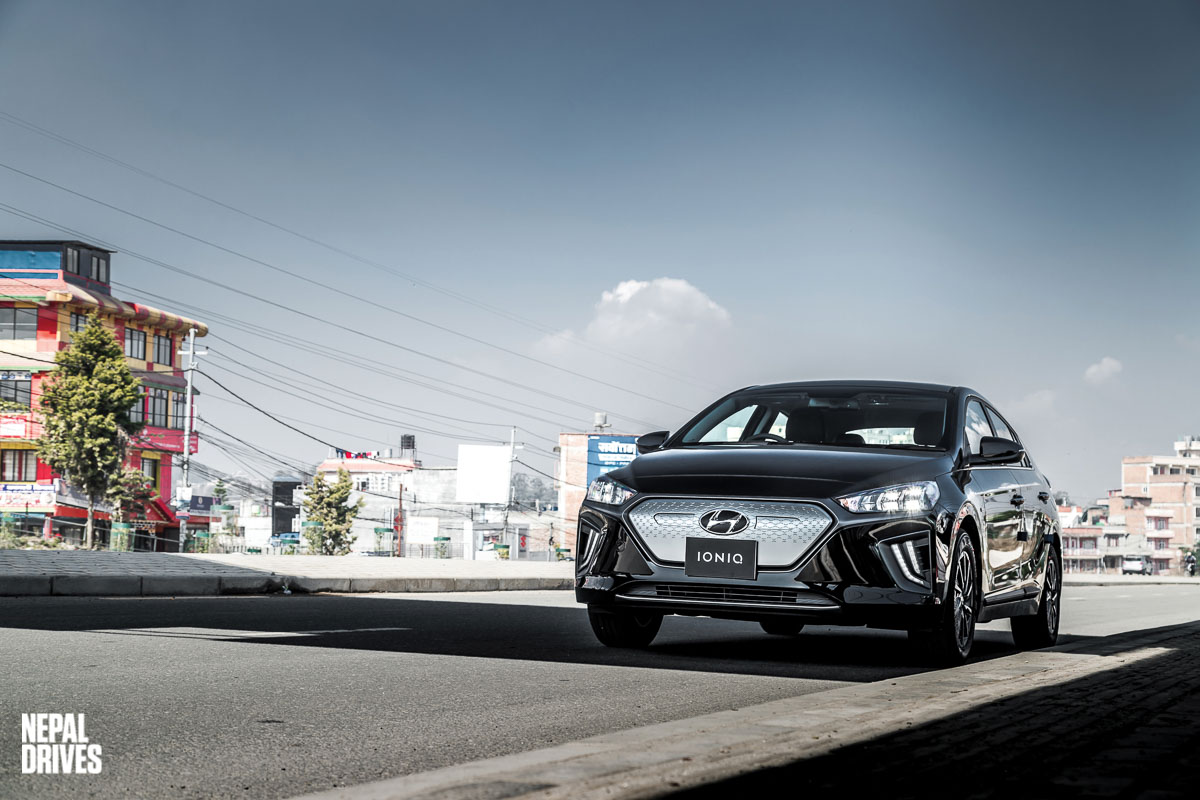 Upfront, there's a new grille with angular inserts in place of the old car's razor-blade-like pattern which gives the Ioniq a distinct face. The fresh front gets equally fresh all-LED headlights that finally look modern and expensive quite frankly. We were getting bored of the outgoing model's projector headlamps.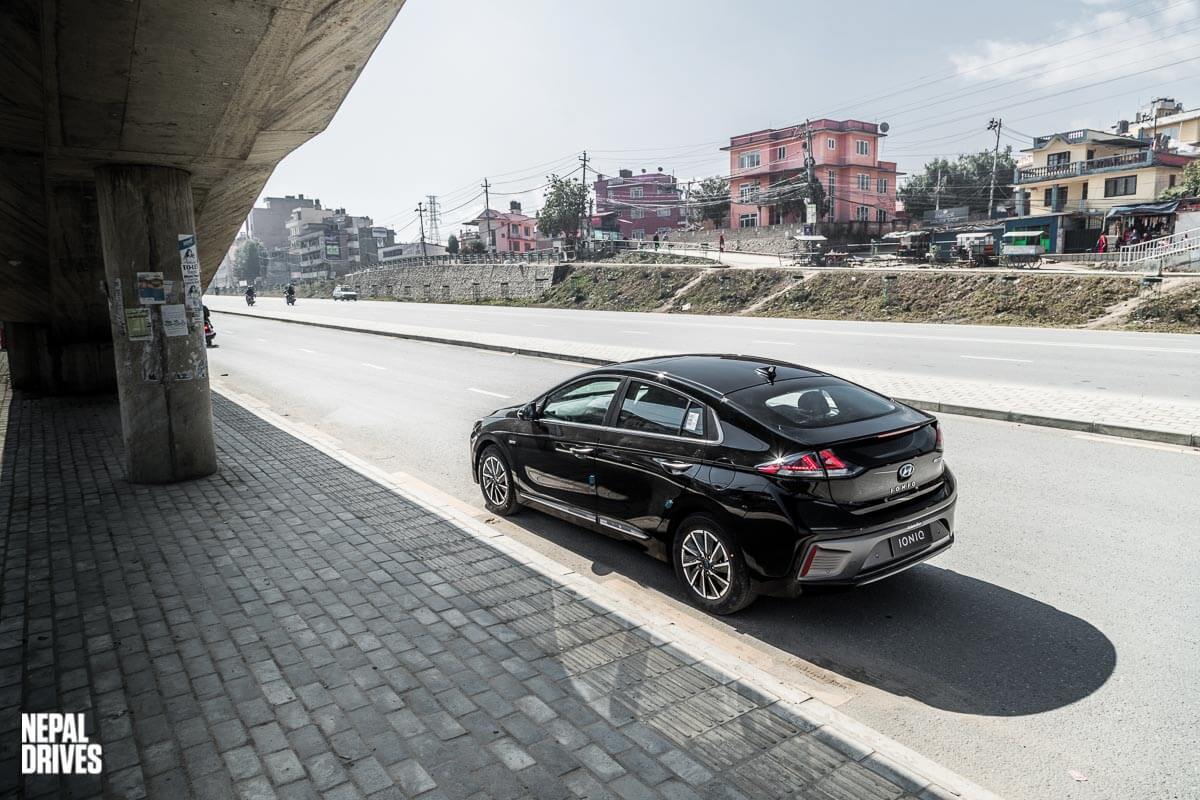 On the side, you get to see the Ioniq's sweeping lines and its tasteful proportions with a smooth flowing bodywork that goes light on creases. The body sits on thick rubber and new sharp-looking alloys that bends more towards luxury than sports.
The rear sees minimal changes with a slightly redone bumper covers and a new pair of all LED taillamps. Completing this overall handsome exterior is a choice of a few new colors.
THE IONIQ IS A CAR…
that deviates away from straight-line acceleration, the 0-100 statistics that other electric car prize so dearly. Instead, the Ioniq blends a great looking exterior and an uber convenient cabin with a performance that emphasizes on comfort rather than sheer speed.
And for its second iteration, the Ioniq has addressed all the nitpicks we had from its predecessor which makes the 2020 Hyundai Ioniq Electric a greater car than it already was and makes it a very desirable car not just in the electric category but in the entire sedan segment.