The Toyota Hilux is one of the best, if not the best-selling pick-up truck in Nepal. The Hilux is a name that has long been associated with utmost durability and reliability and coincidentally Hilux is one of those vehicles that are rare even on the second-hand market. People don't want to sell their Hilux. But as the pick-up truck segment has seen an increase in demands and for the obvious developing-country policies on custom duty the most popular pick-up trucks are all approaching the jaw-dropping 1 crore price tag with some surpassing that line altogether.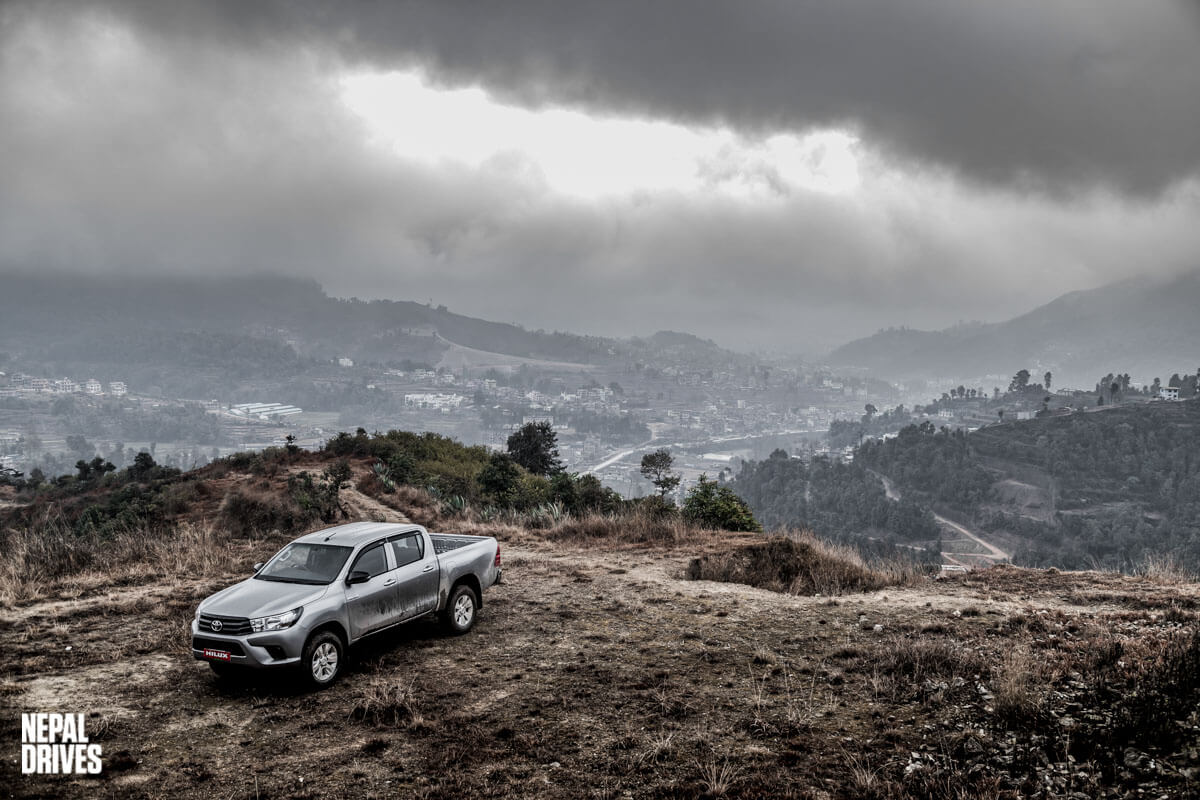 Toyota is also on the same boat with its new generation Hilux speculated to cost over a crore rupees when it launches. With the price tags rising in the segment Toyota has launched the Hilux 2.4L Edition. An affordable Hilux with the same uncompromised reliability that the company is known for. But who is this cheaper Hilux for? does it feel like a downgrade from the regular Hilux? Is it less reliable? We find that out today.

 Still a handsome looker…
Much like the more expensive model, the new Hilux has a body for every purpose. Upfront the Toyota Hilux 2.4L looks like any other Hilux with a few notable and cost-cutting changes.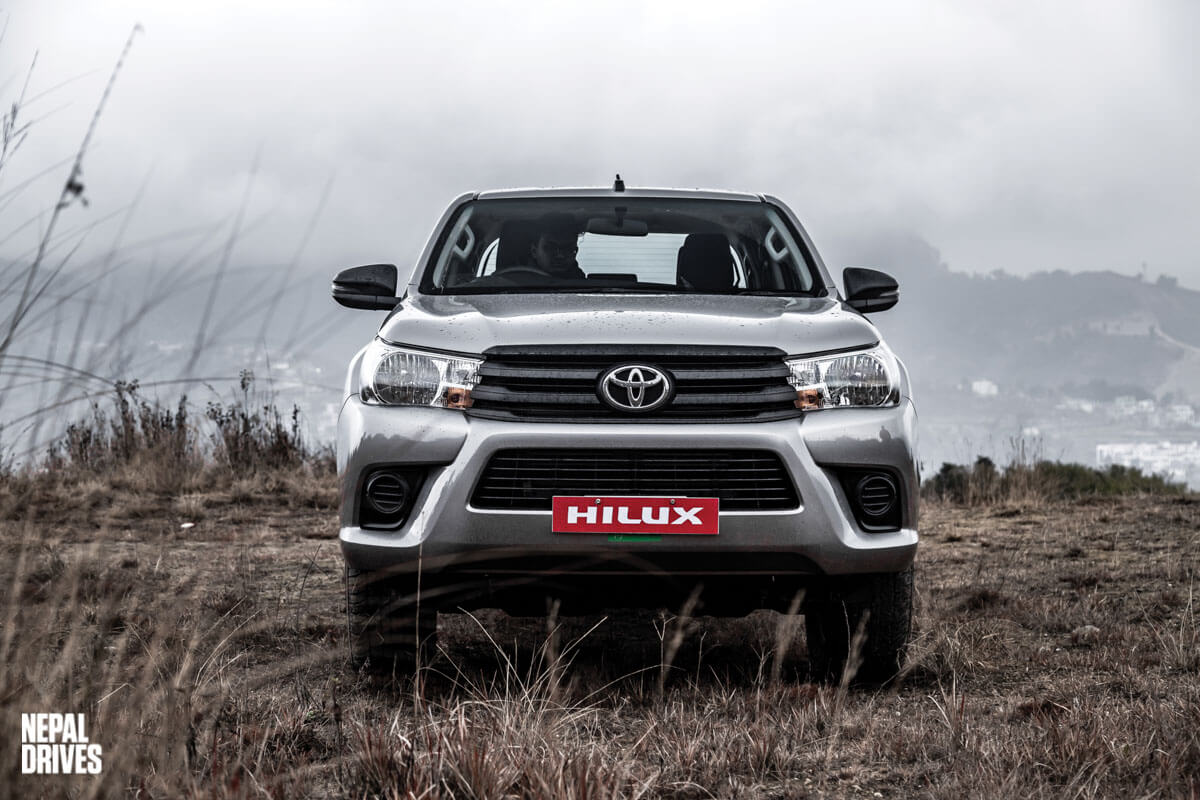 You get bold and an imposing front grille with conventional halogen headlamps instead of an LED setup, the profile of the pick-up truck is muscular with large fenders flanking the single strong character line.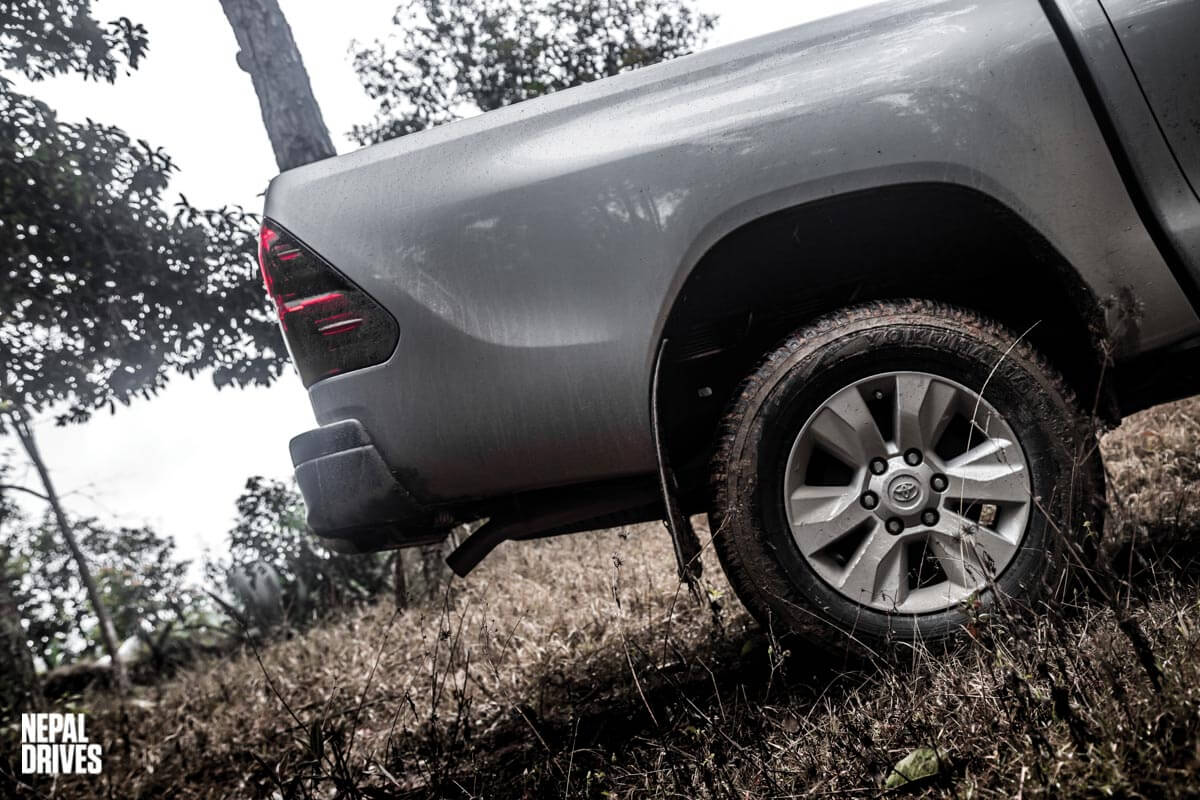 The tail lamps boast a sleek modern design. Other changes include an all-black electrically folding ORVMs and 17-inch all-terrain steel wheels.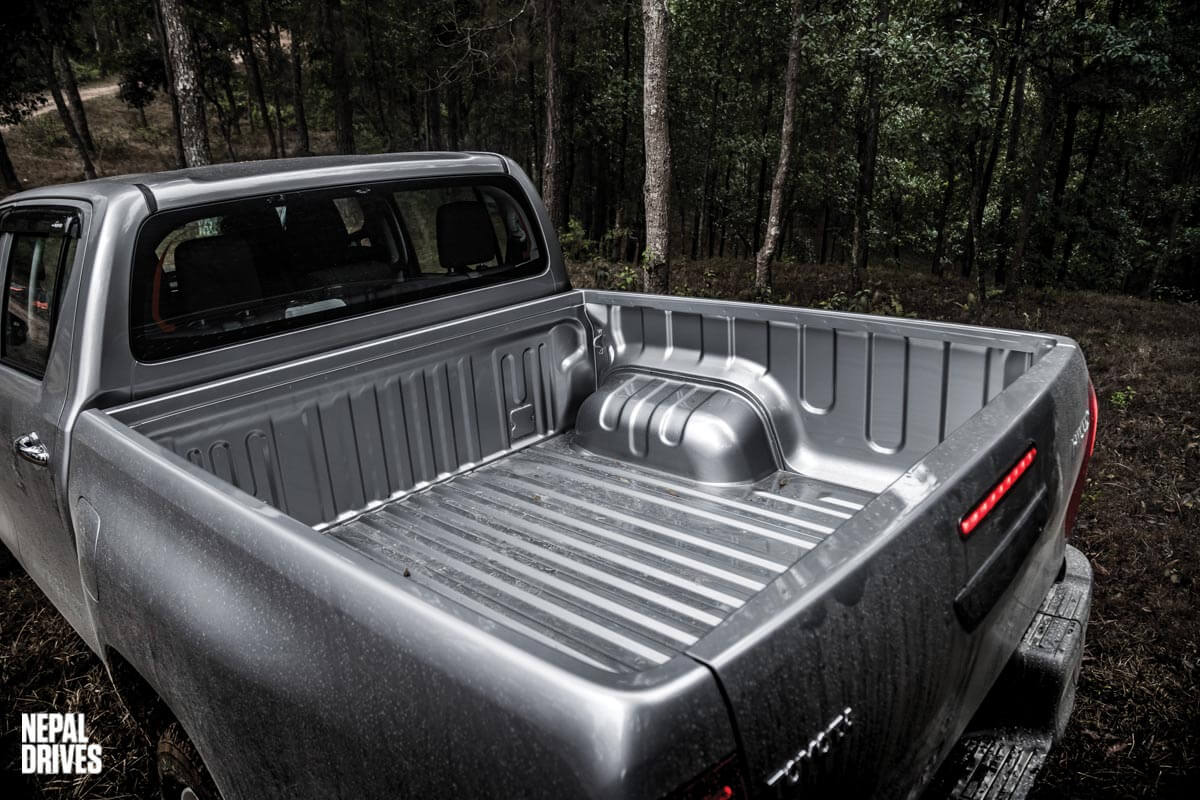 Coming to the pick-up bed, the Hilux boasts the longest deck space in its class, which allows ample space for load and luggage.
The protective bed liner can be fitted to shield the deck from scratches. You get the Toyota Hilux 2.4L in 8 different colors.
The interior has been redesigned…
to provide more space for all passengers. At the front, there's more shoulder room and headroom. The seat adjustment range has also been widened to suit individual body shapes. Plus, increased legroom at the rear means everyone arrives completely relaxed & ready for the next Hilux adventure. This pick-up is all about quality surroundings and attractive, durable materials paired with the latest technology to maximize your comfort.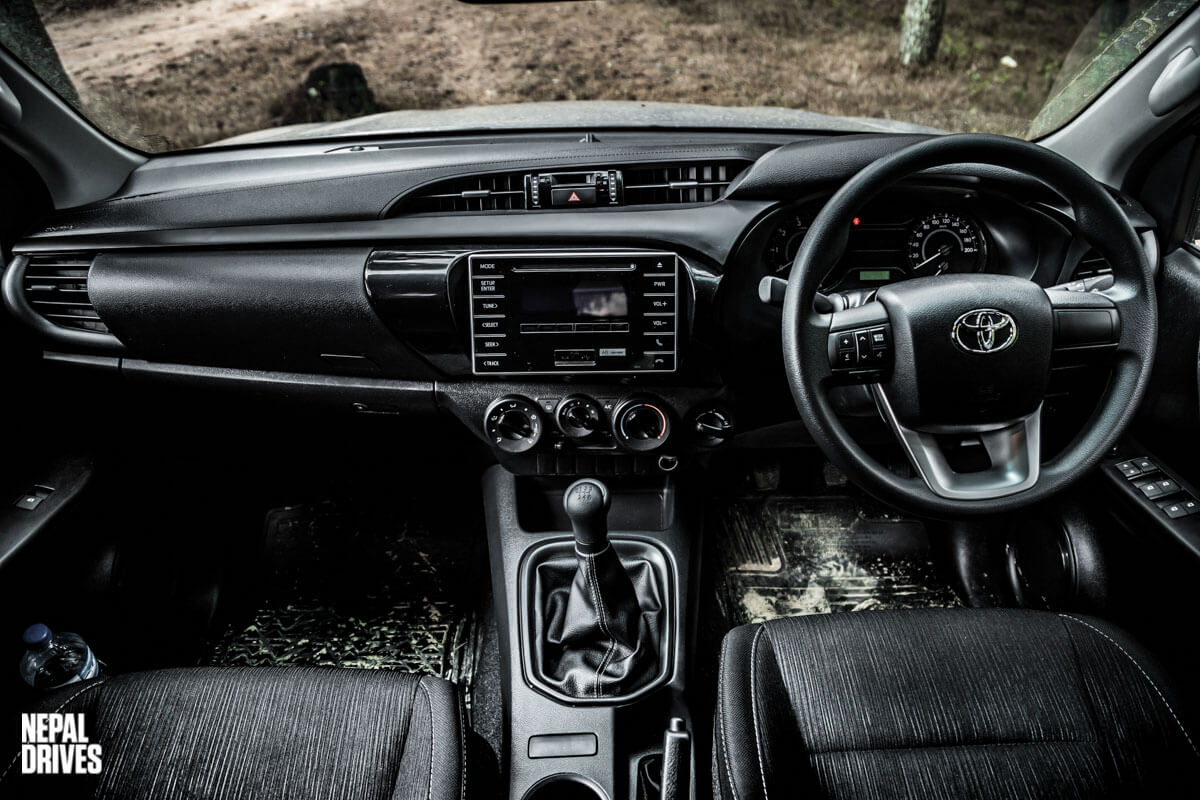 A first-in-class electronic control to reduce body pitch and bounce ensures the ride feels as smooth as in a premium SUV. Equally, the newly designed adjustable High Fabric seats offer greater comfort and support, while the height and depth adjustable steering wheel can be set to your ideal seating position. Air conditioning and a clean air filter are also available and there's even a 220V outlet in the center console to keep your electronic devices charged.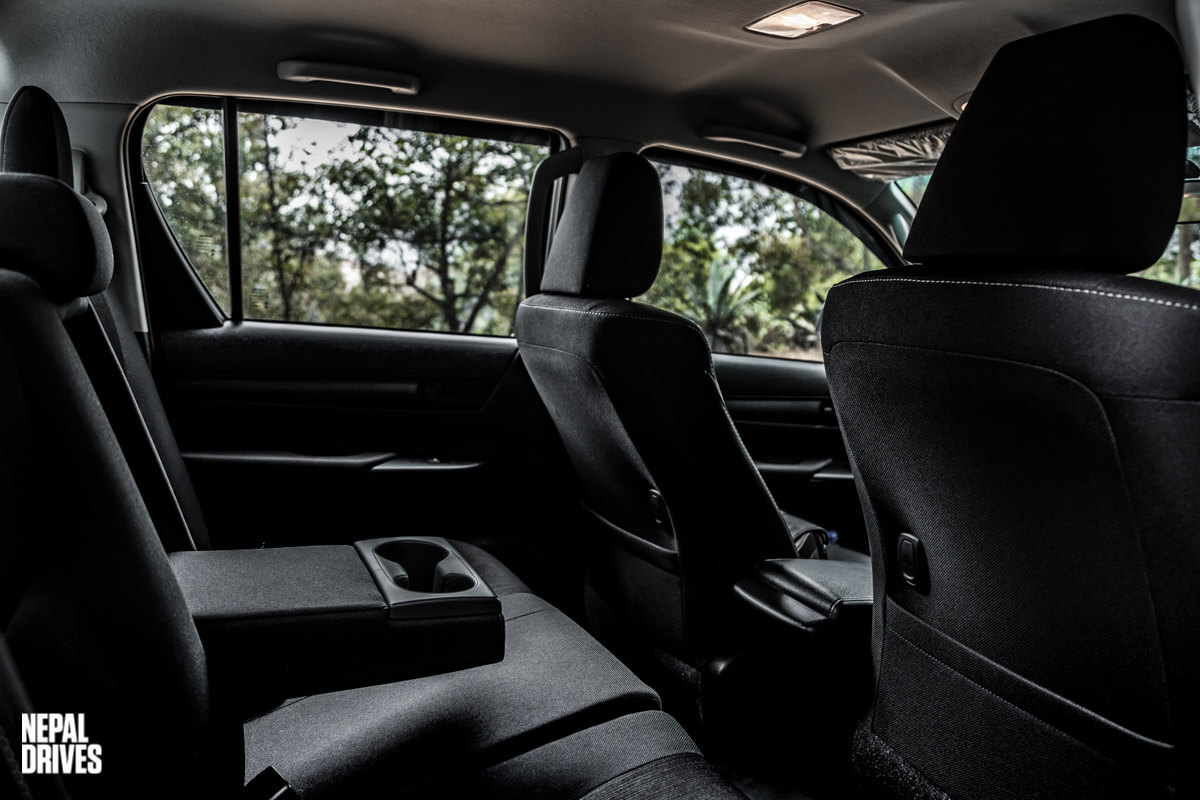 In-car amenities include tilt & telescopic steering wheel, power windows, electrically folding ORVMs, engine start-stop button, high fabric seat material, car audio system and many more.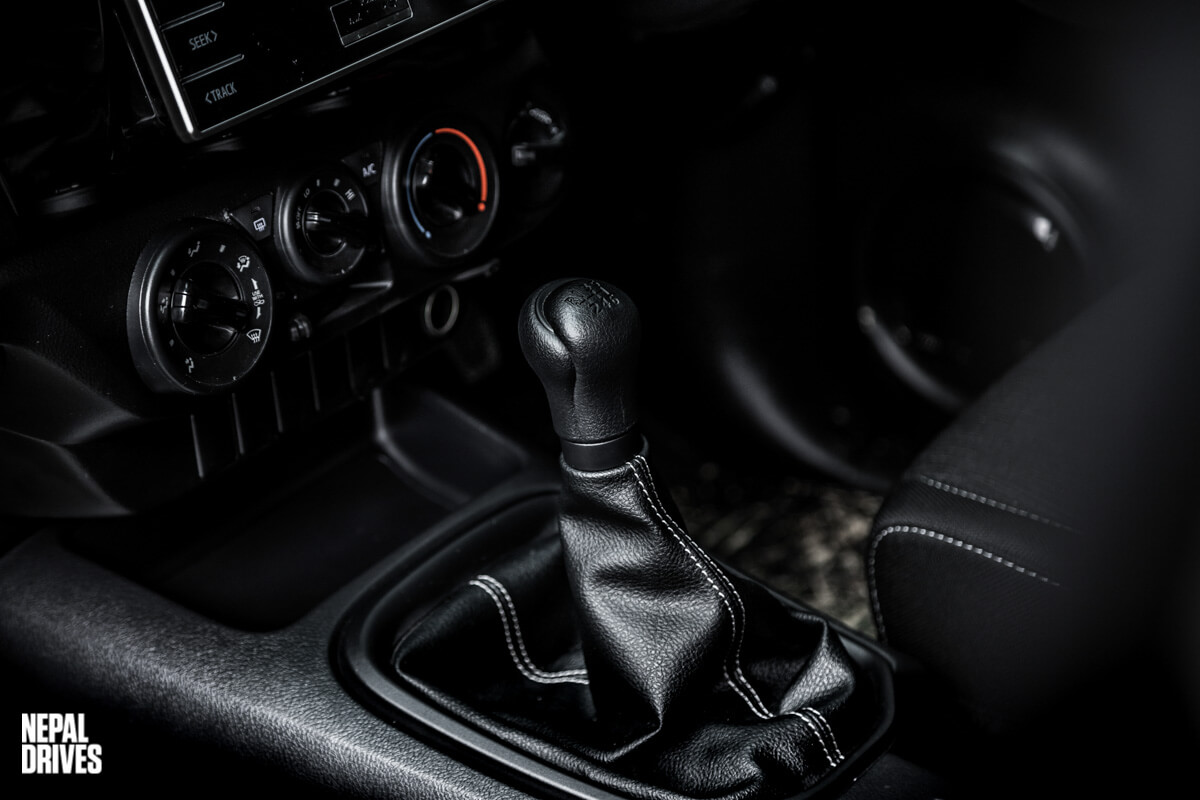 Apart from this, you get 3 airbags (a driver's knee airbag and SRS airbags for both driver and front passenger), ABS & EBD, and a 4WD transfer dial (Easy switch from 2WD to 4WD with just a twist of a knob).
Powering this new Hilux…
is a new 2.4 liter 4-cylinder turbo diesel mated to a 6-speed manual transmission. The High-Pressure Common Rail Fuel Injection System resulting in improved power, fuel efficiency, engine response, and acceleration. The same is true for the efficient new 6-speed manual transmission; it adds to the premium SUV-style driving sensation.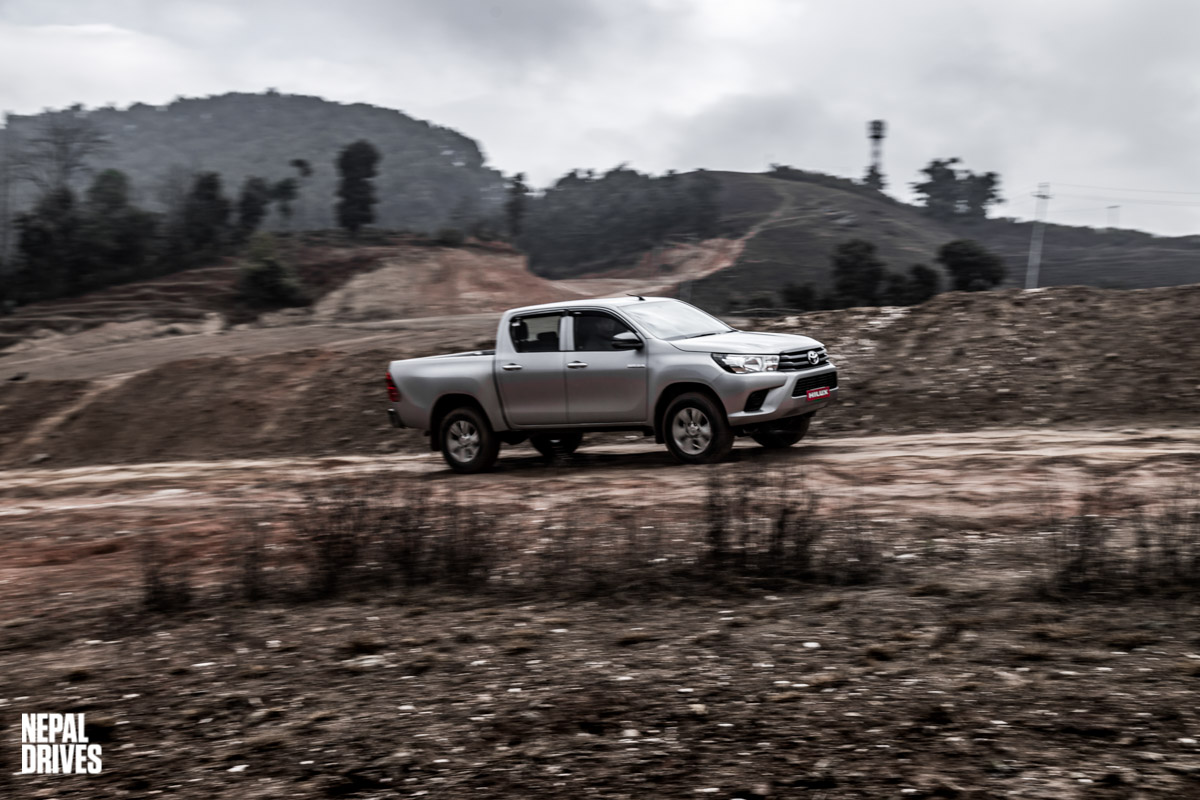 The 2.4 liter 2GD-FTV diesel engine demonstrates excellent performance in particular in low to mid-rpm torque ranges with outstanding acceleration as a result. Fuel efficiency has also been enhanced, while noise levels are kept to a minimum driving sensation. This motor makes 147 BHP and 400 Nm of peak torque.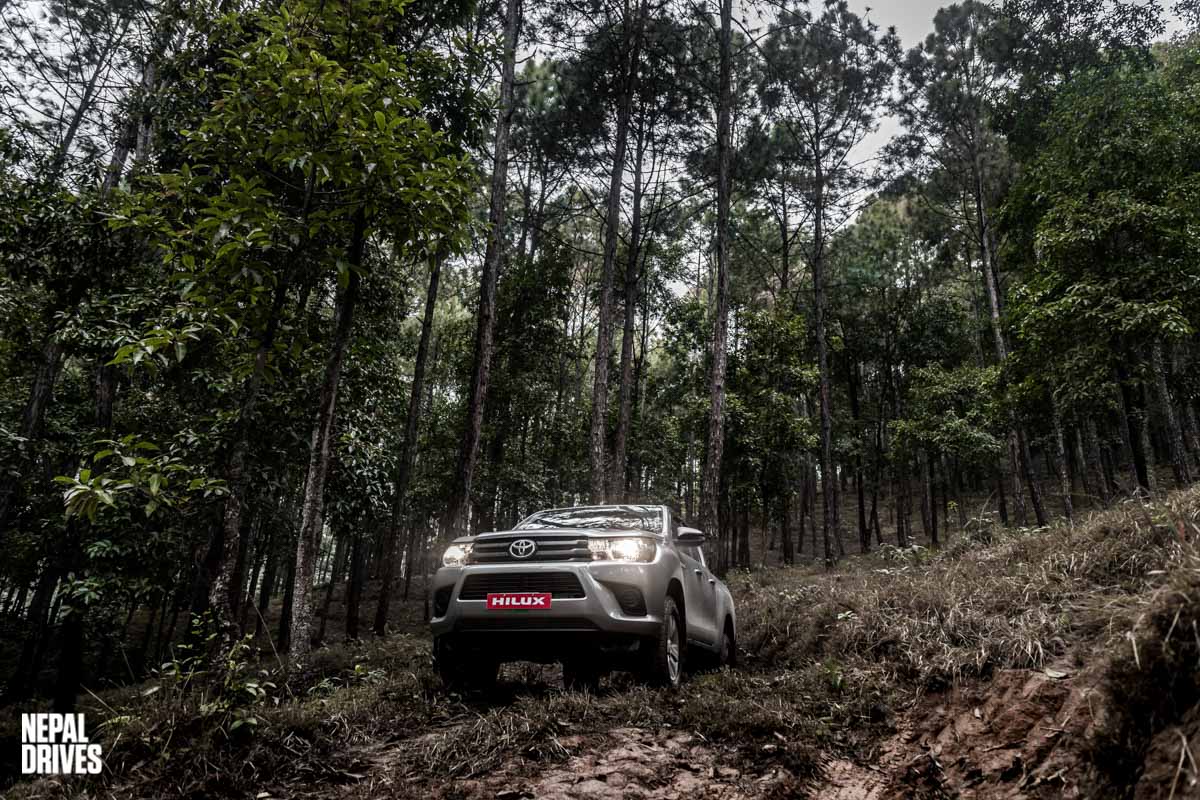 While pick-up trucks and narrow urban roads have never been the best of friends, the Hilux 2.4L is an amazing performer on the highways, speeds pick up rather quickly and silently for a pick-up of this size and you will basically be able to overtake anything in front of you provided you are a veteran.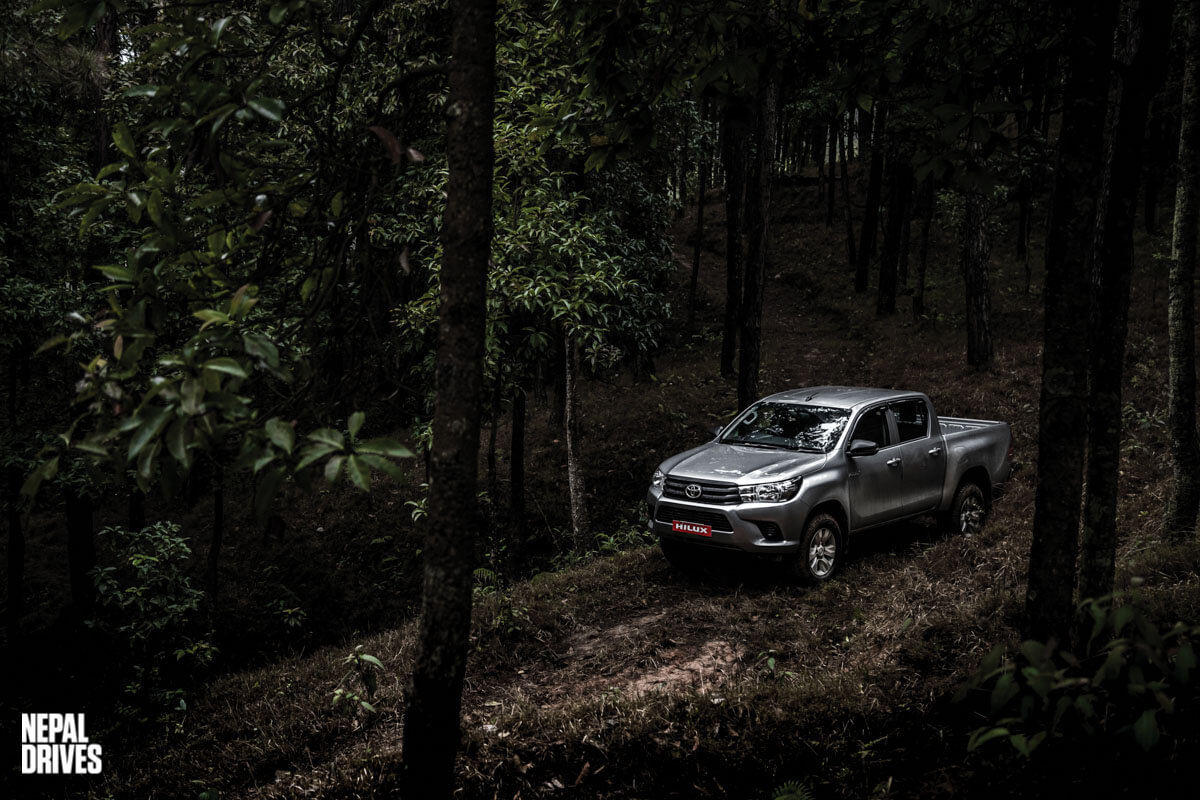 The Hilux 2.4L also comes with a 4WD transfer case located conveniently on the console. With one twist of a dial, you will easily be able to switch from two-wheel drive to four high and four low which multiplies the Hilux's off-roading ability.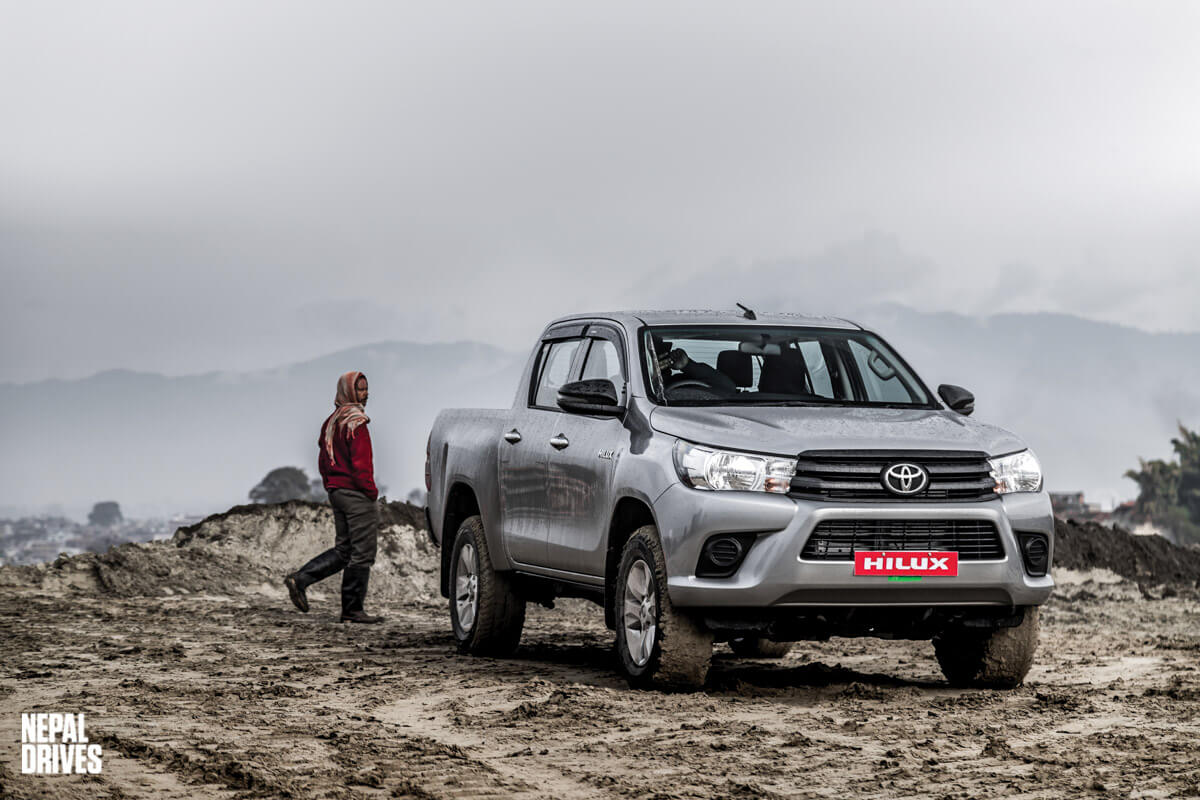 Aside from larger shock absorbers that significantly increase ride comfort and stability, the overall suspension of the Hilux has been greatly enhanced to provide improved roll stiffness, off-road traction, and wheel articulation. Overall, the Hilux 2.4L doesn't feel any different to drive than the regular Hilux, it is still full of power and the capability to overcome any terrain with ease.
The Toyota Hilux 2.4l Edition is for people…
who want a Hilux without paying a mind-blowing sum. As most pick-up trucks in their segment have already crossed the Rs. 90 lakh barrier the Toyota Hilux 2.4L Edition comes as a wise choice when you consider the exceptional reliability and great performance given by the Hilux name tag with a price tag that is still affordable.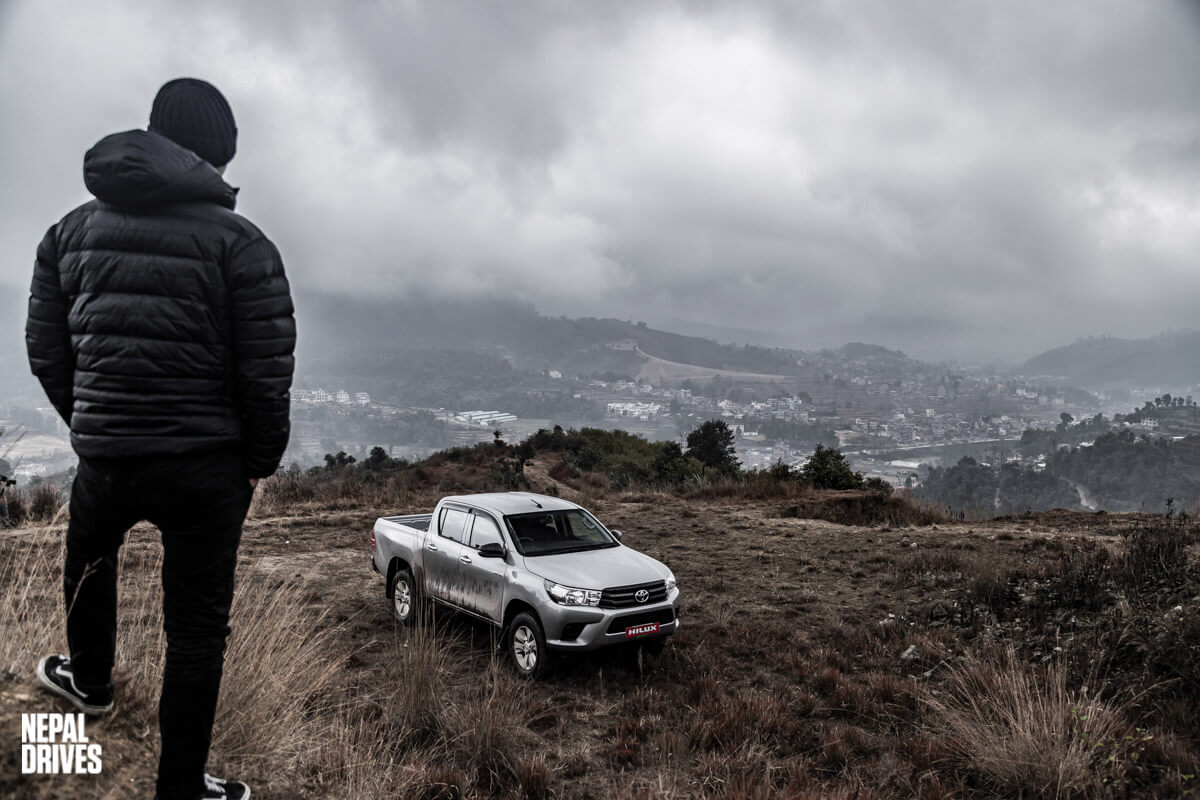 The Hilux 2.4L Edition, at the end of the day, is for those people who want to buy a more affordable Hilux, drive it to the nearest aftermarket workshop and add a whole suite of modifications and slap 20-inch wheels on it.  It is for people who want a Hilux and personalize to make it their very own. All this makes the Toyota Hilux 2.4L a worthy purchase.