Are you tired of watching scooter infomercials where people look like they're having more fun than a dog getting its belly rubbed, but all they're doing is going to the petrol station to top up their tank? Do the ear to ear grins of people scooting around the city seem a little too much for the occasion of accomplishing a daily chore? We don't buy into the "fun scooter" gimmick because we know what scooters are for. Scooters are for the daily grinders, for the no-nonsense operative who gets shit done, for the ones who need to get from one place to another on a budget. Sure, you can spend your college days jaunting around the city, puffing on those godawful vapes and lollygagging with your friends; but once adult life rears its ugly head into your life, the fun pretty much stops. Or does it? The only instance where a scooter or any other mode of transport can be fun for the daily bread earner is if it can impress you on your daily commute. While it is a tall order to fill, we will concede that it can be done.
We have come across a scooter that has managed to impress us, but many others have fallen short. Now, we have the TVS Ntorq in front of us and many people who vouch for it being a "fun scooter". We aren't the type to just take anyone's word for it, so we took it upon ourselves to try the Ntorq out. One thing led to another and we found ourselves splashing through puddles, meeting locals from a nearby village, being airborne on the Ntorq and devouring on some thakali thali that hit the spot. And it appears that we were forced to eat our words too.
THE BOTTOM LINE IS THAT…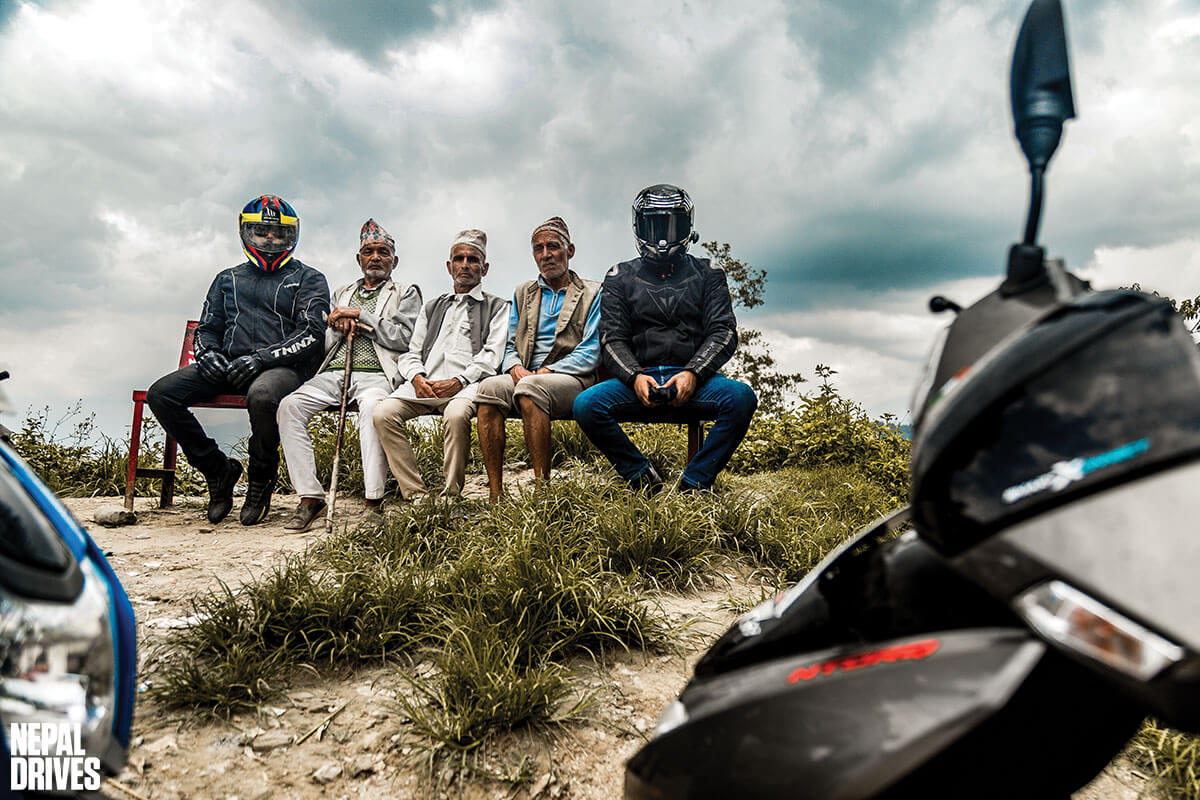 we wanted to have fun on a route less traveled. There are so many places, only a stone's throw away from the city, to help you break free from the monotony of daily life. But, if you want a taste of off-road fun without too many obstacles or with obstacles (more on that below) or a nearby weekend riding getaway, just remember: Nagarkot is right up there.
THE COMPANION.
Our weapon of choice was the TVS Ntorq 125 because we were delighted by its performance from our earlier stint with it inside the city. Hence, we took the scooter off the tarmac, and spoiler alert: It isn't made for off-roading. To begin with, the Ntorq is TVS' first 125cc scooter which embodies a sharp, aggressive styling and is loaded to the brim with features.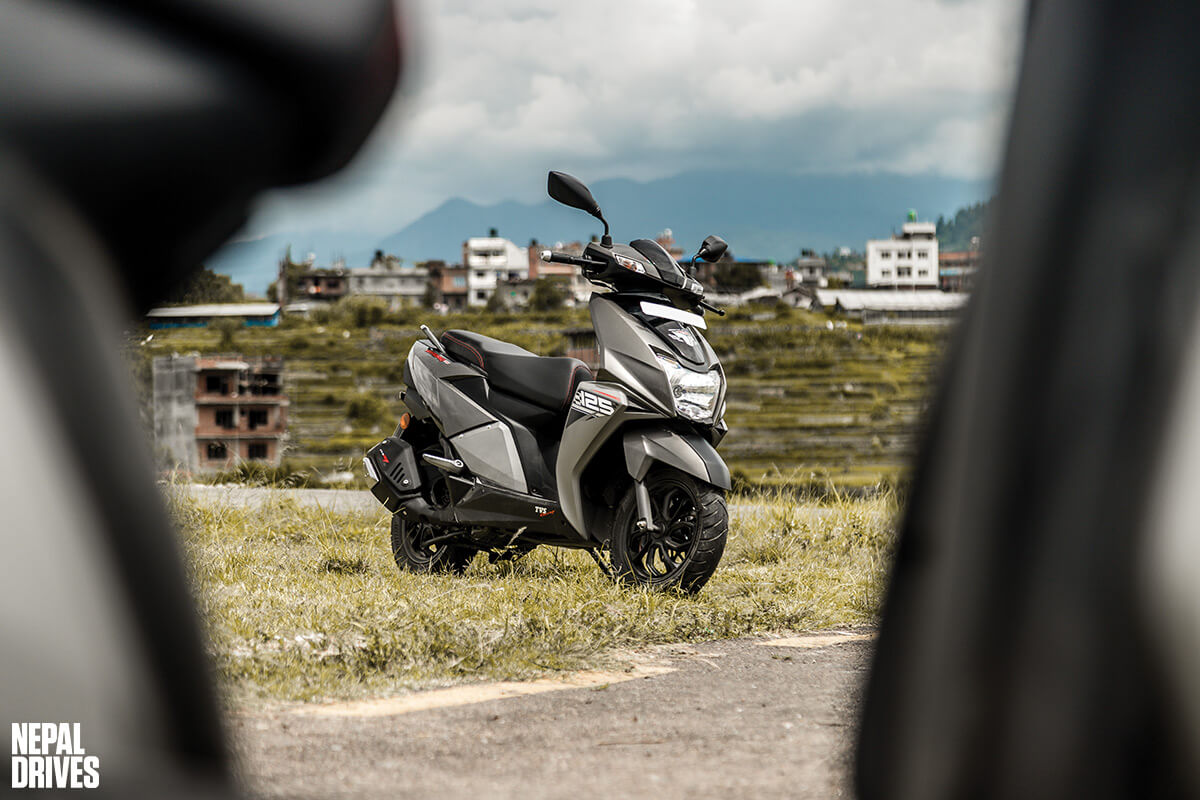 As you sit astride the comfortable and well-padded seat of the Ntorq, the instrument panel comes to your attention. The Ntorq meets TVS' claim of being a "connected scooter". It comes equipped with SmartXonnect, a Bluetooth enabled technology that allows riders to pair their phones with the scooter through the Ntorq mobile app and make use of the 55 features. This is only available on Android so far. The personalization feature of the console also lets you customize your name, and even set automatic reply alerts to incoming messages and calls.
A ROUTE LESS TRAVELLED
Instead of following the same old route, we took an off-beat track from Bhatkeko Paati (via Kamal Binayak) towards Sudal Monastery. A short break followed in a jiffy because one of us wanted to test the Ntorq just for shits and giggles.
Scooters are fairly relaxed machines; they don't set your heart pounding with their attributes, but if you push some of them to their limits, the thrill they bring is…priceless!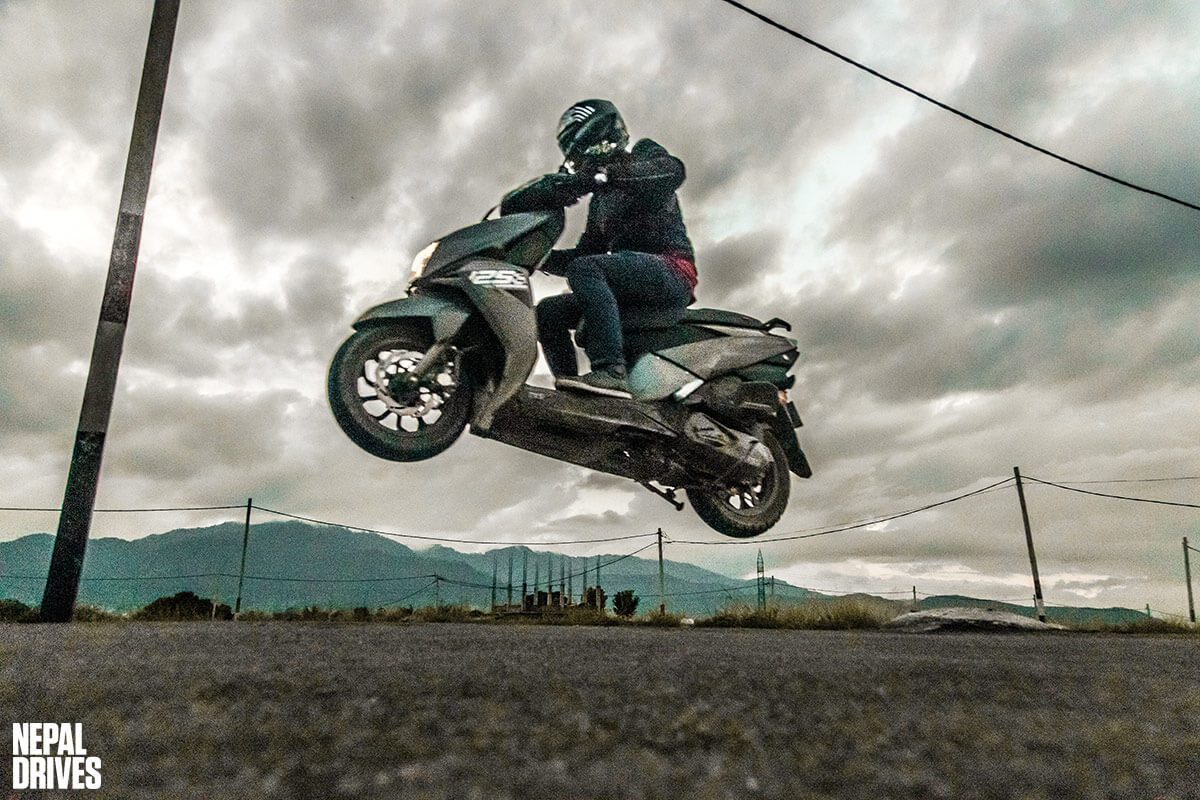 What ensued was wheelie fest on the scooters. While it was a lot of fun popping wheelies and pushing the Ntorq to its extreme, it was time to make our way into the hills for some cornering fun.
FULL GAS. HILLSIDE. KEEP CLIMBING HIGH.
It is a fantastic riding road as most of the route is through small villages and narrow roads, which is perfect for the nimble and agile Ntorq. Lurking under the bodywork is a 124.79cc single-cylinder, an air-cooled motor which delivers 9.3 bhp of power and 10.5 Nm of torque. The journey towards the monastery is a steep climb.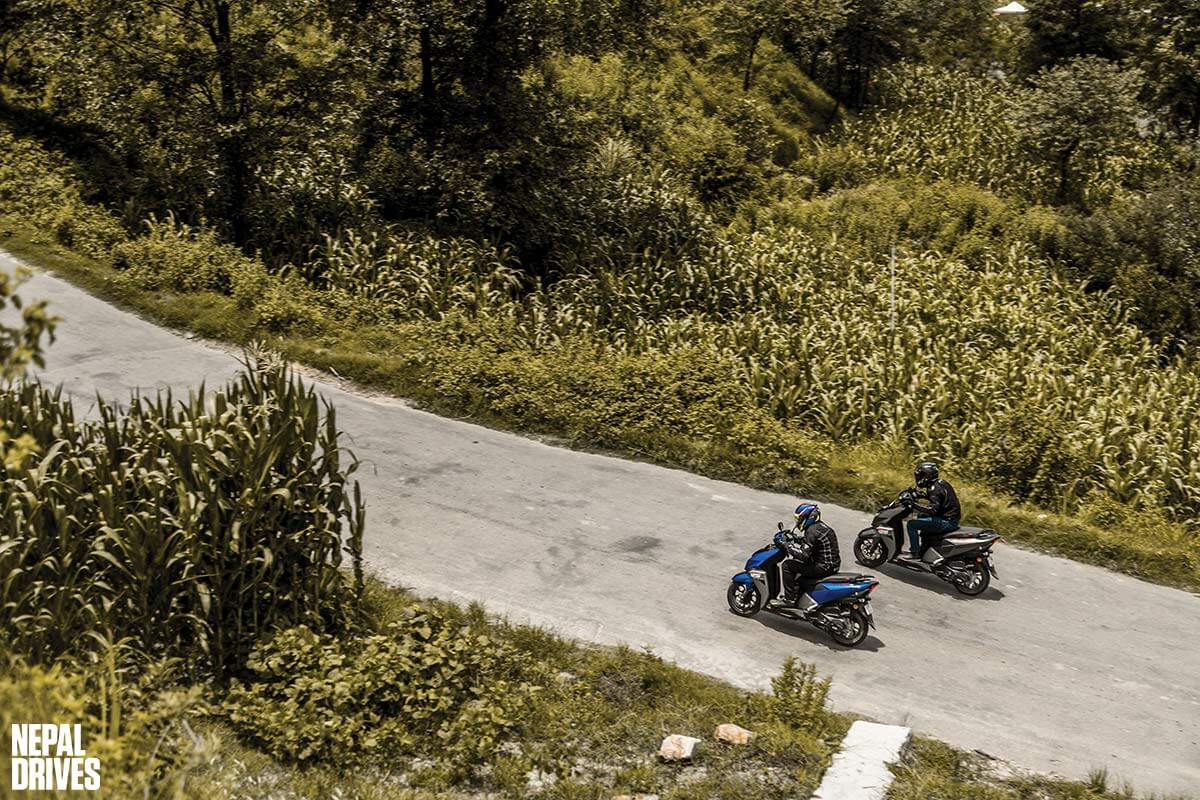 There is not much traffic on the road except for local buses and the odd car or motorcycle. After crossing the monastery, we reached Maha Manjushree, a small one-lane linear settlement developed along the Saraswatisthan Road.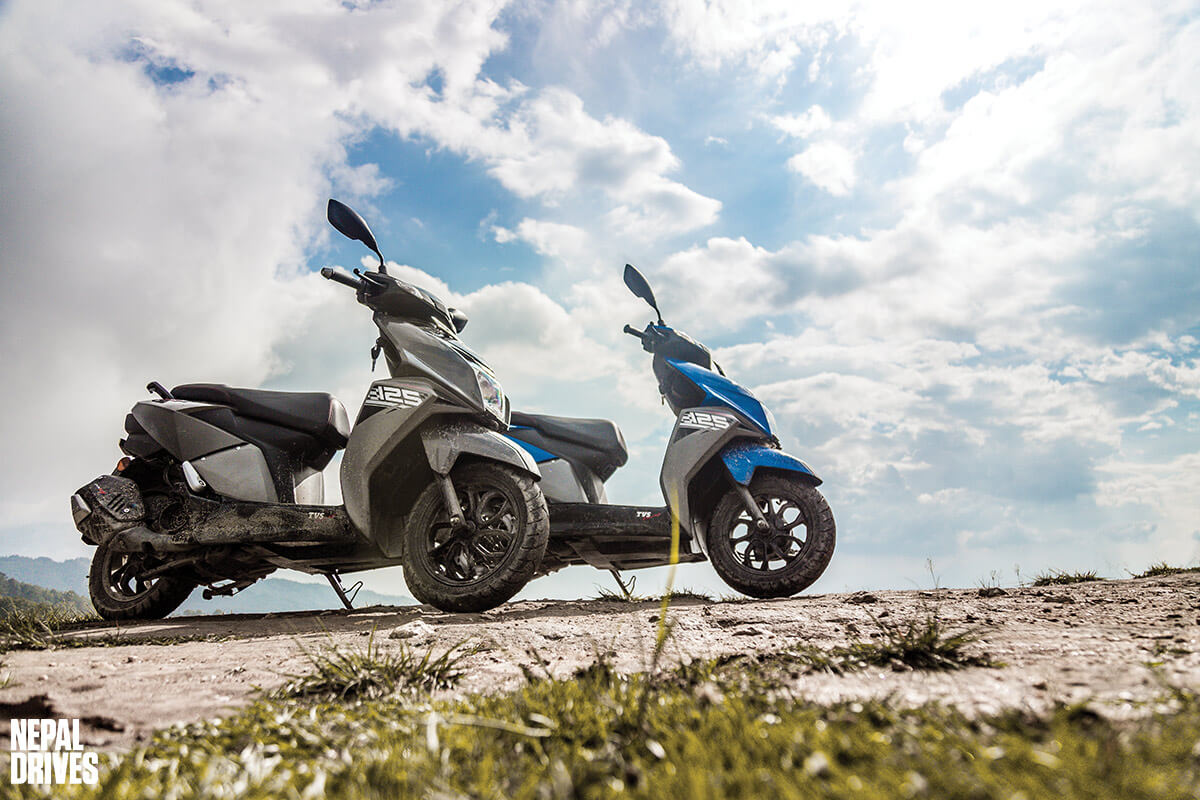 Although the initial plan was to continue along the Bageshwori-Nagarkot route from this town, we had to take a detour towards the old route. Blame the fiscal year-end road repair work being carried out in this stretch.
WHEN YOU COME TO A ROADBLOCK, YOU TAKE A DETOUR.
And this is when the real fun began. In order to reach Nagarkot now, we had to get to Muhanpokhari which was a 4-5 km looping stretch down the hill. Delighted by the greenery and the fresh air, we hit the road hard carving corners and playing tag.
Twisty hill roads, an able companion and the cool summer breeze all came together to make the ride even more interesting before reaching Muhanpokhari. The old route from Muhanpokhari to Nagarkot promised more dirt and more challenges. A lot of road work is in progress, so you will need to be prepared for a bumpy ride. This is when you start making your way up to Nagarkot.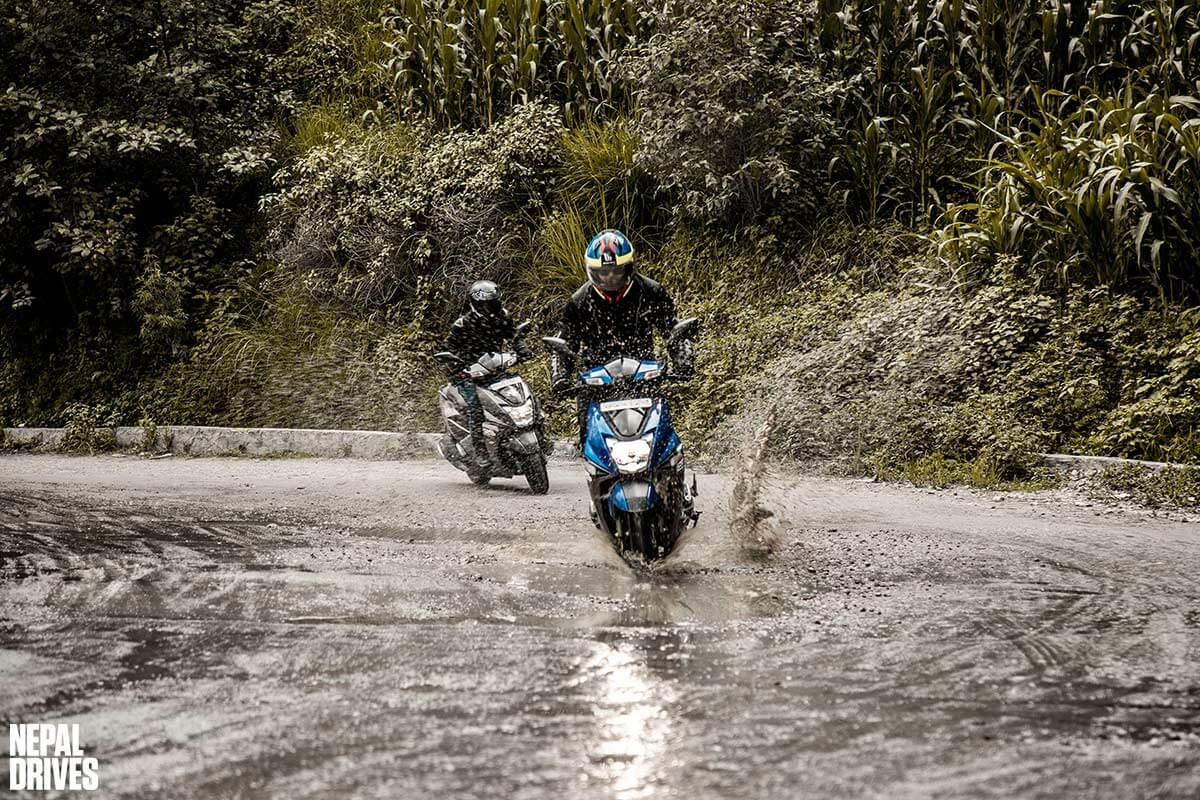 Twist the throttle and the revs climb quickly on the Ntorq's counter. The Ntorq does feel quicker than some of its rivals. The engine is peppy enough for sporty riding and it's stable enough even on broken roads. It's also on this off-road climb that you discover how comfortable the Ntorq really is. Broken roads were not enough to upset the Ntorq's 155mm ground clearance.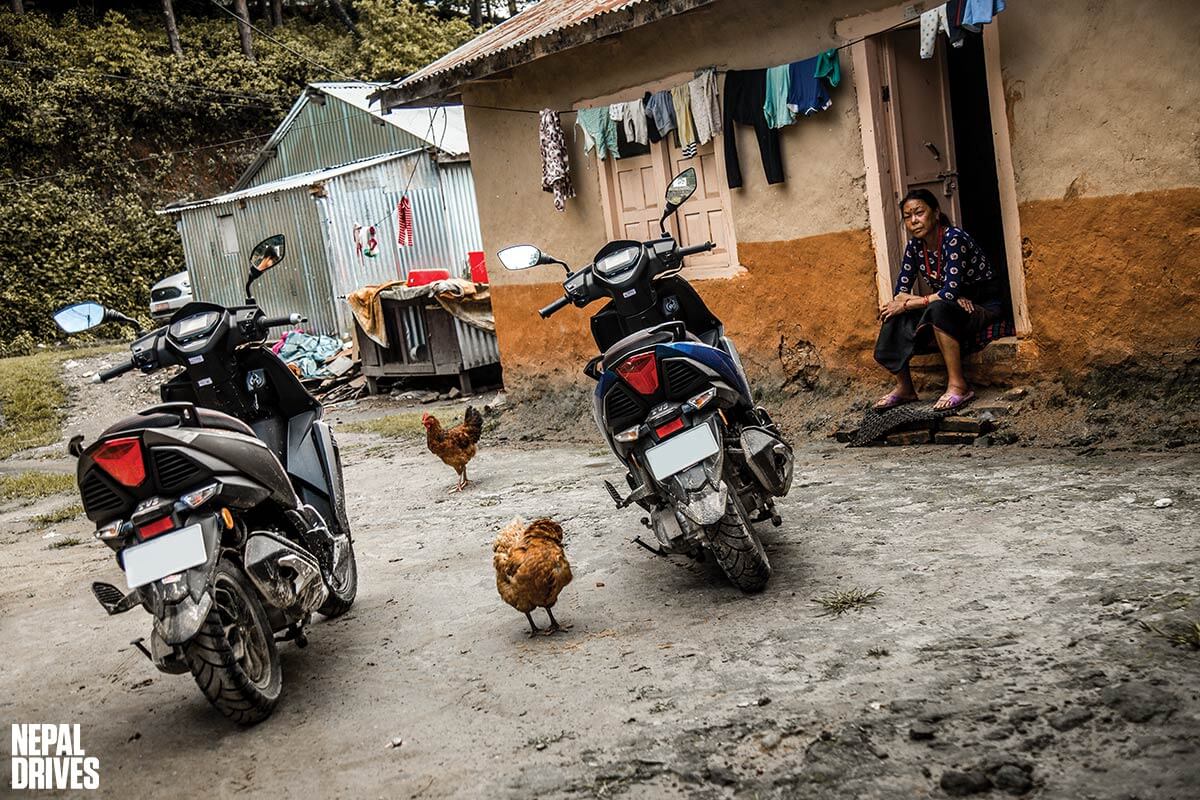 The motor, paired with its seamless, CVT automatic transmission, makes navigating through the rough and rocky road undemanding, without the typical disorientation that comes with smaller- diameter wheels. The scooter gets wider 110x80x12 tubeless tires along with telescopic suspension and least turning radius to facilitate travel across all kinds of terrains.
THE SCOOTER FOR ALL THE FUN…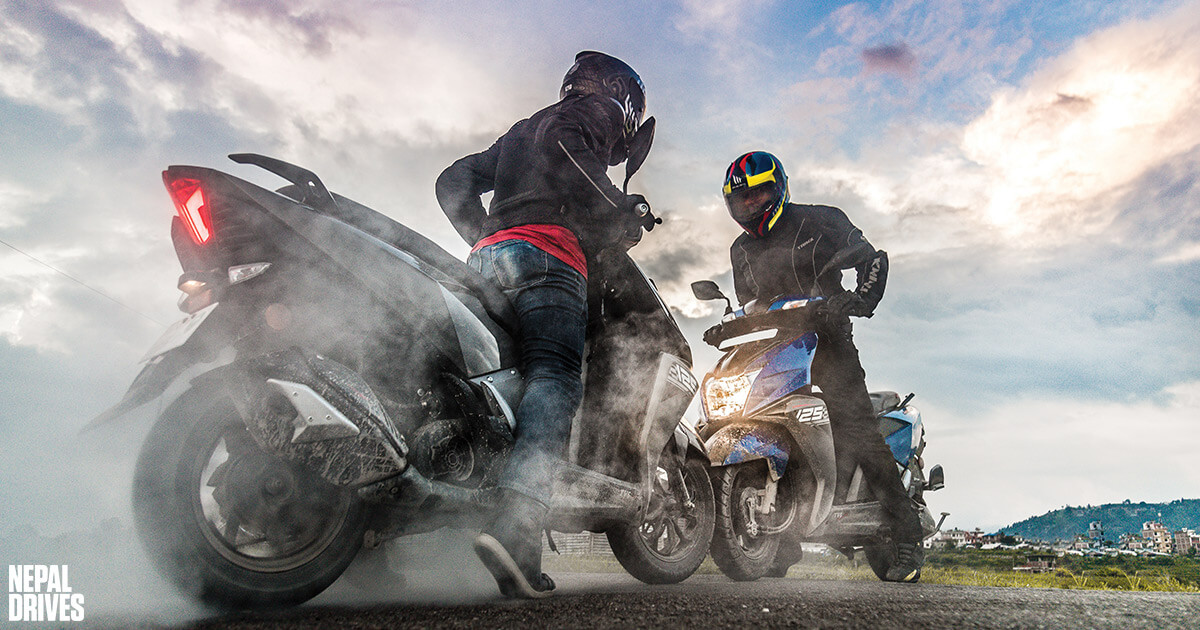 Wheelies? Check. Burn-outs? Check. Fast Cornering? Check. Never has riding uphill with a scooter been so fun than it was with the TVS Ntorq. With the Ntorq, TVS has definitely hit all the right notes to produce a scooter that ticks all the right boxes in terms of styling, performance, and reliability.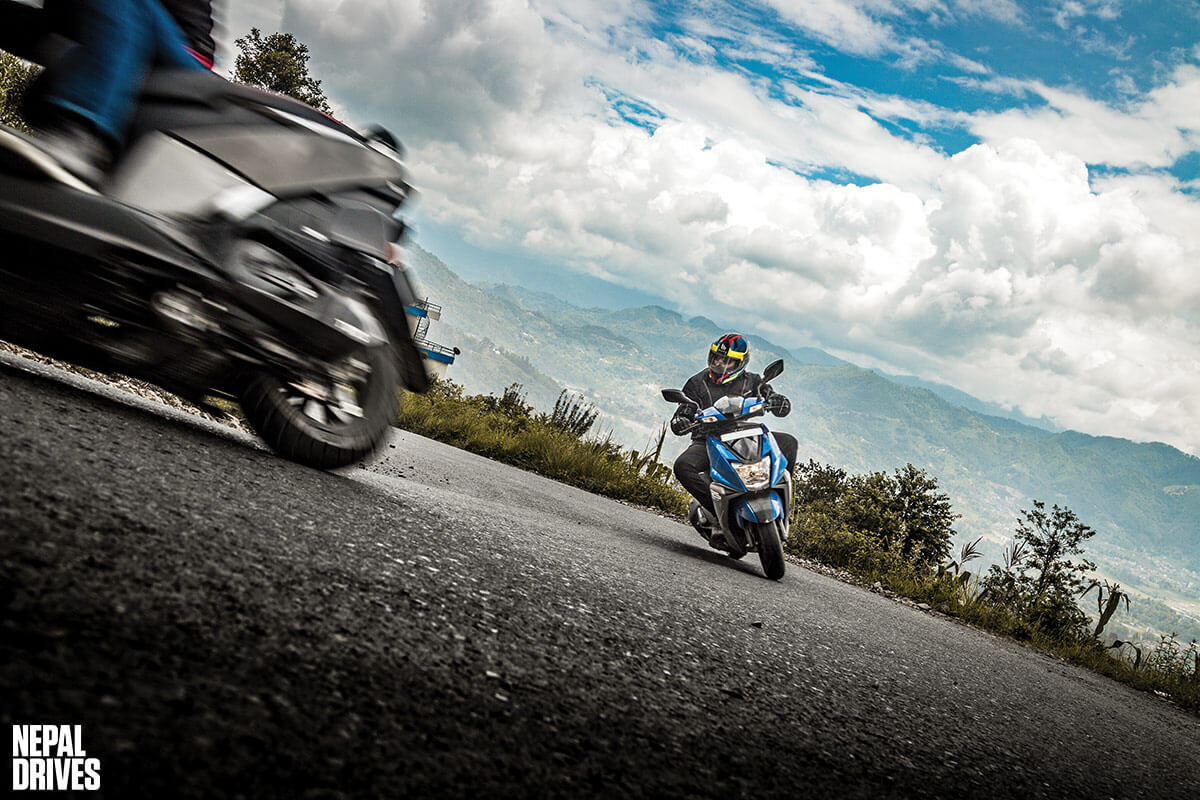 The scooter's amazing handling, substantial power, and extremely comfortable ride quality exceeded our expectations and made for a wonderful experience. Even when we asked it to accompany us off the asphalt, it eagerly complied. And there is a good reason why we put it through something it might not be built for.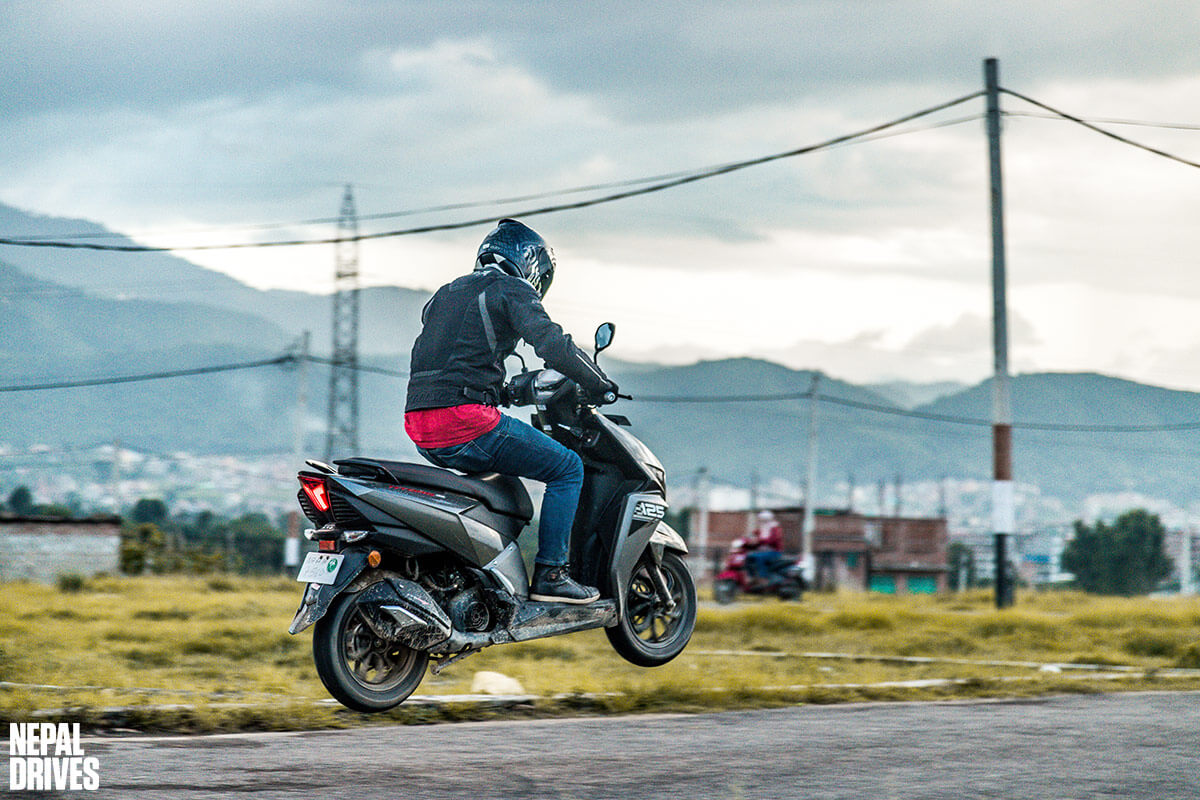 We did it because we wanted to see if it was really a scooter that could deliver fun and enjoyment. We wanted to see if the daily user could enjoy their daily ride on the Ntorq, even if it is just going to the store to buy a packet of milk in the morning. We wanted to see if the Ntorq could brighten your mood on the way home after dealing with your skid-mark of a boss.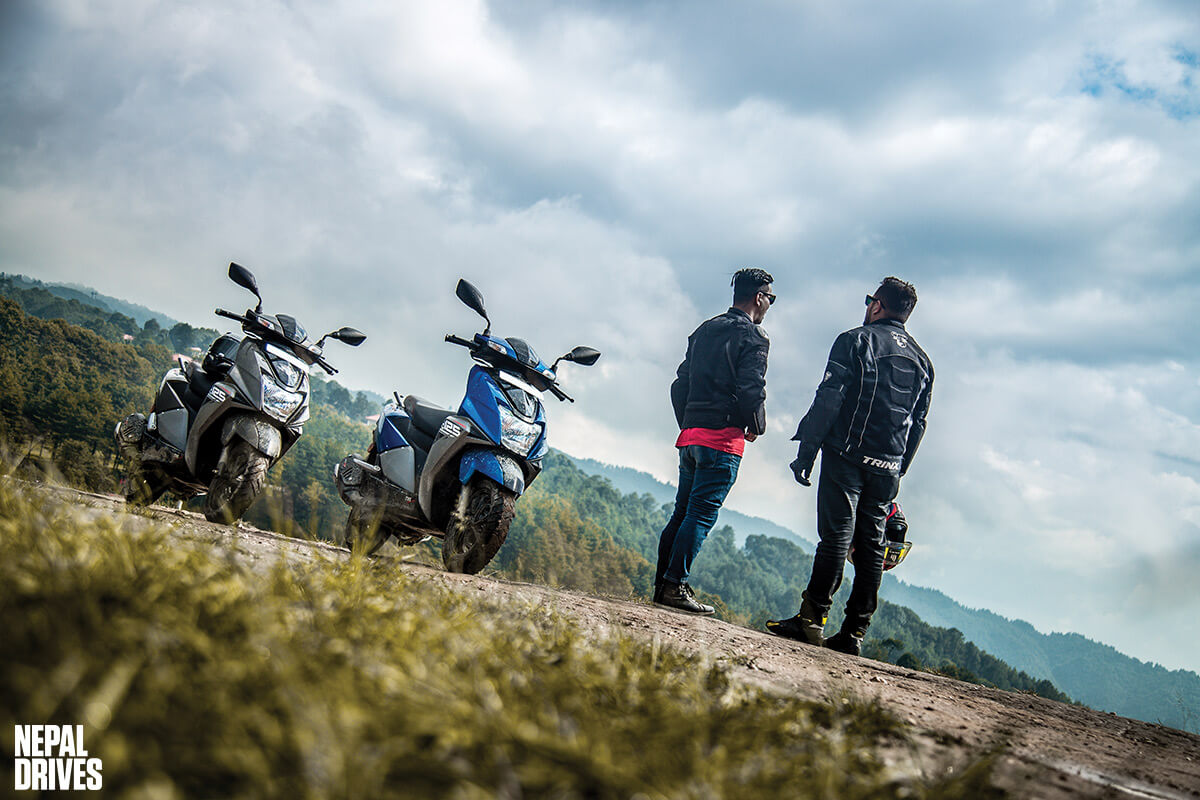 We wanted to see if the Ntorq was worth spending your money on. Turns out it truly was. We aren't saying it is the two-wheeler you should go to if you're looking for a fun ride. But when it comes to fun scooters, this one is definitely one of the forerunners. We can see how TVS India has sold over 1,00,000 units of the Ntorq 125 in just over a year.