The Auto Components Industry in Nepal, over the years, has witnessed a tremendous growth owing to the dynamic growth of Nepalese automobile industry.  As always, the NADA Auto Show provided the platform for components manufacturers to showcase their products. This year too, the show had a range of automotive components, ancillaries and services showcased.
HIGHLIGHTS
Delta, Green: 
Ganpati Tyre International showcased its Delta and Green brand of tyres.
Exide: 
Sipradi Trading Pvt. Ltd showcased the full range of Exide batteries.
ATS-ELGI & Cease Fire: 
Hitco Pvt. Ltd showcased ATS-ELGI brand's auto components and auxiliaries. The company also showcased Cease Fire brand's fire extinguishers.
Nexen: 
Laxmi Intercontinental Pvt. Ltd showcased Nexen tires, a global South Korean brand.
Ultramile:
Delta Distributor Pvt. Ltd displayed the range of Ultramile tires available in Nepal.
Gulf:
Nepal Lube Oil Limited (NLOL) displayed the range of Gulf lubricants and engine oils.
Mobil: 
Mobil lubricants was showcased by Reliance Trade International Pvt. Ltd.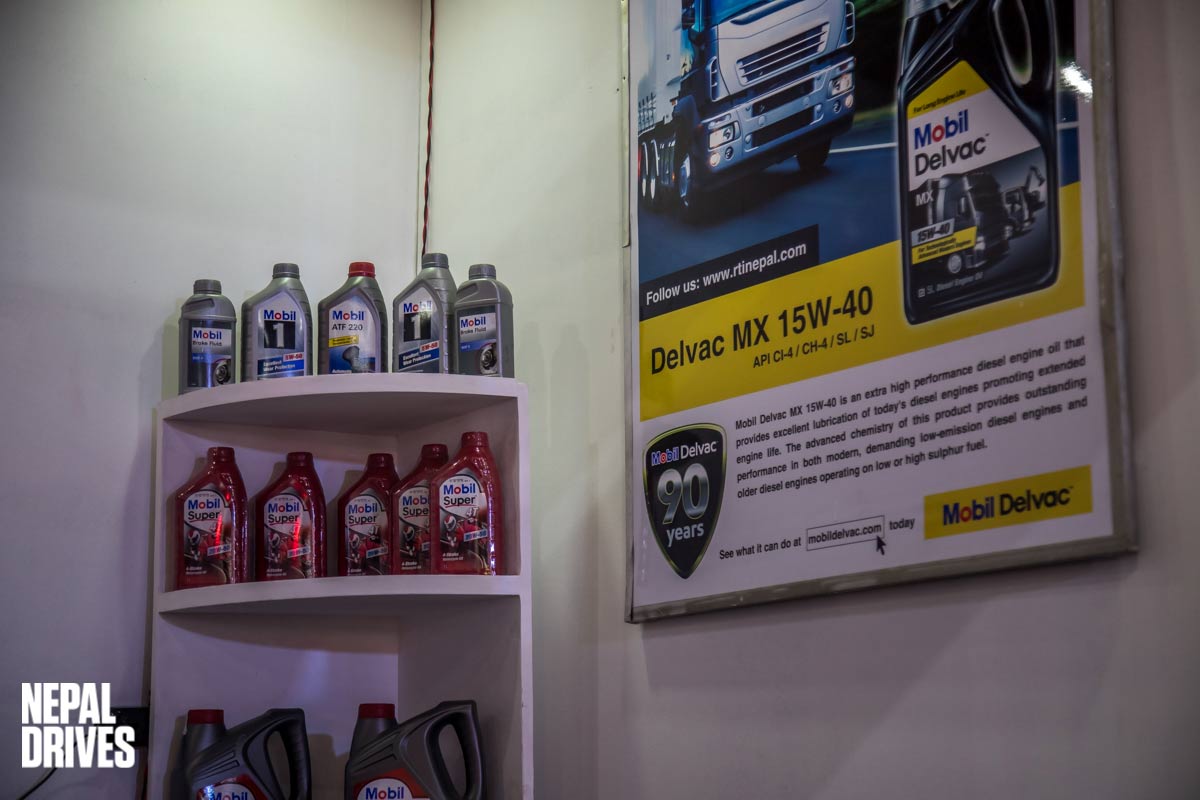 S Oil: 
Laxmi Hyundai Spare and Services Pvt. Ltd unveiled S Oil lubricant products in Nepal at this year's expo. S Oil is a South Korean company which produces petroleum, petrochemical, and lubricant products.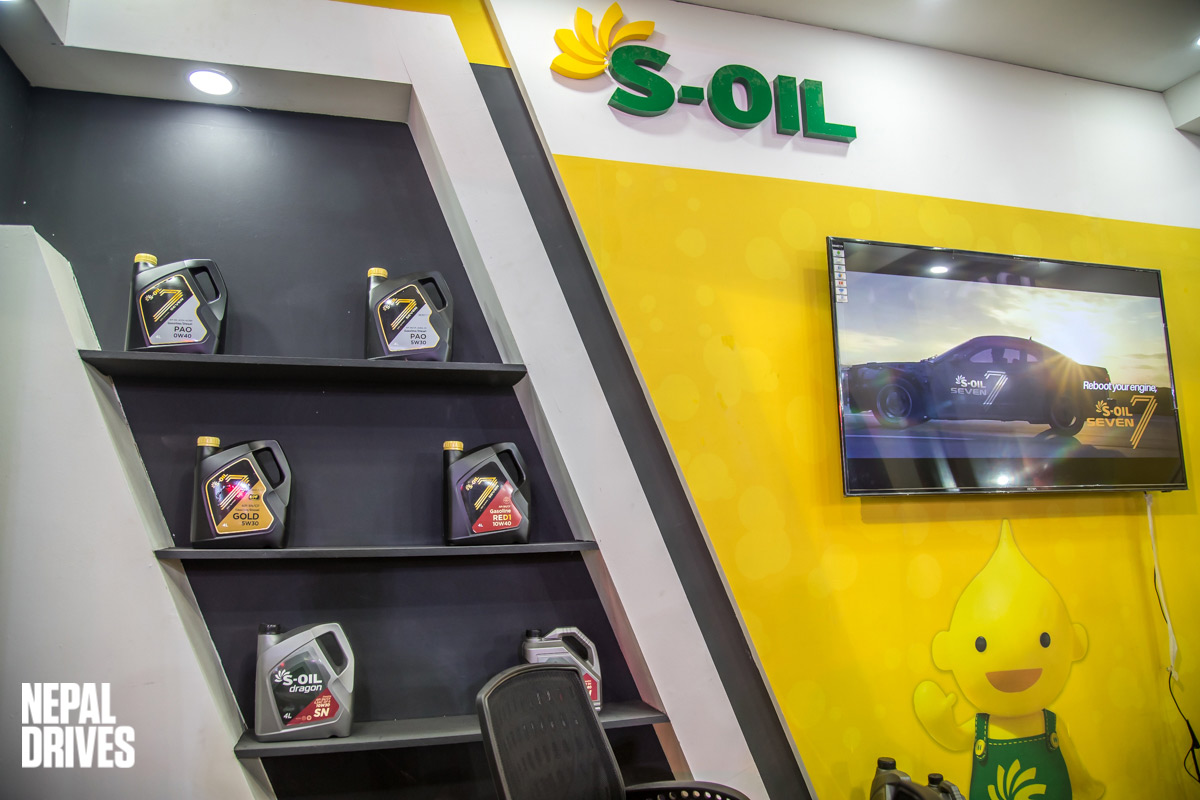 Shell, Amaron and Vega: 
Shell Lubricants, Amaron batteries and Vega helmets were displayed by Auto Parts International.
PLO Lube:
Purbanchal Lube Oil Pvt. Ltd, the popular Nepali engine oil and lubricants brand, showcased the extensive range of their products.
Alpha Riding Gear:
The new range of Alpha riding gear was showcased at this year's show.
Autoking: 
Autoking lubricants and greases were showcased by Shiva Om Shakti Traders.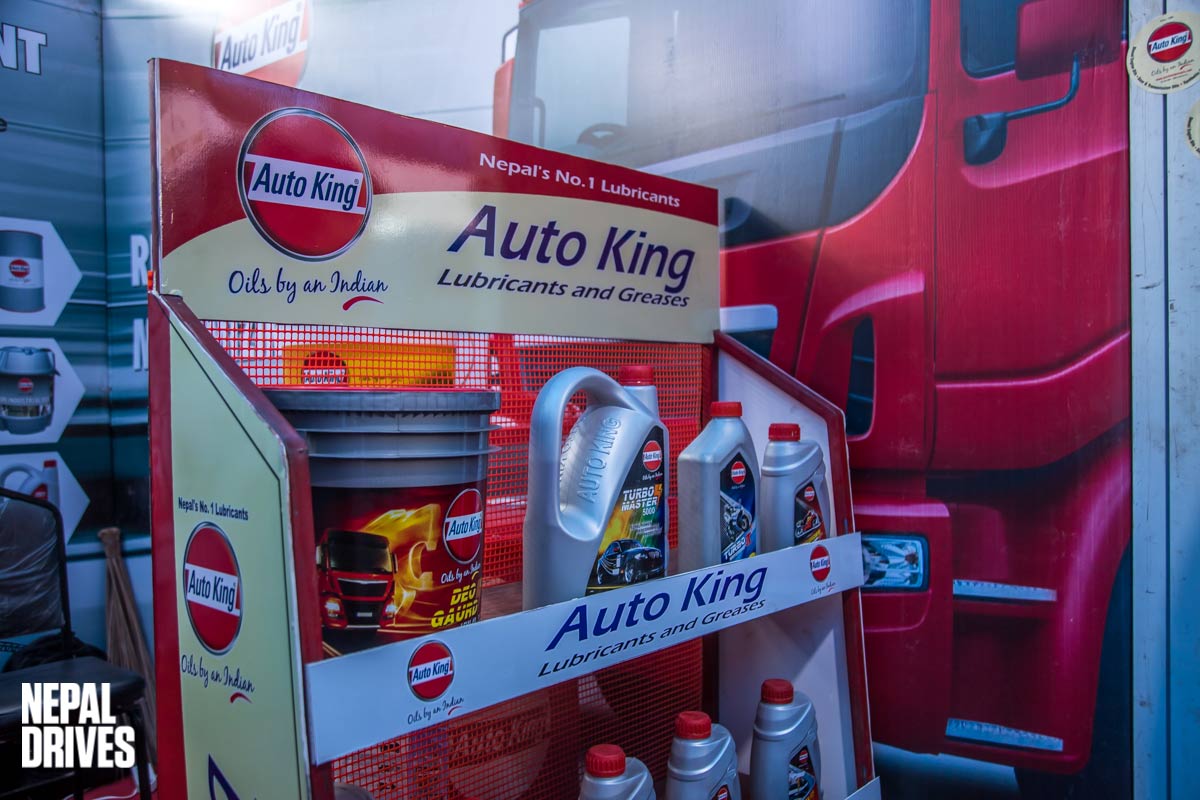 Asian batteries:
Asian two-wheeler and tubular batteries were showcased in an outdoor setup.
Hajurlai Namaste Trade Link:
Hajurlai Namaste Trade link showcased GP lubricants and engine oil.
Veedol:
Pooja Construction Pvt. Ltd displayed the extensive range of Veedol lubricants and engine oils.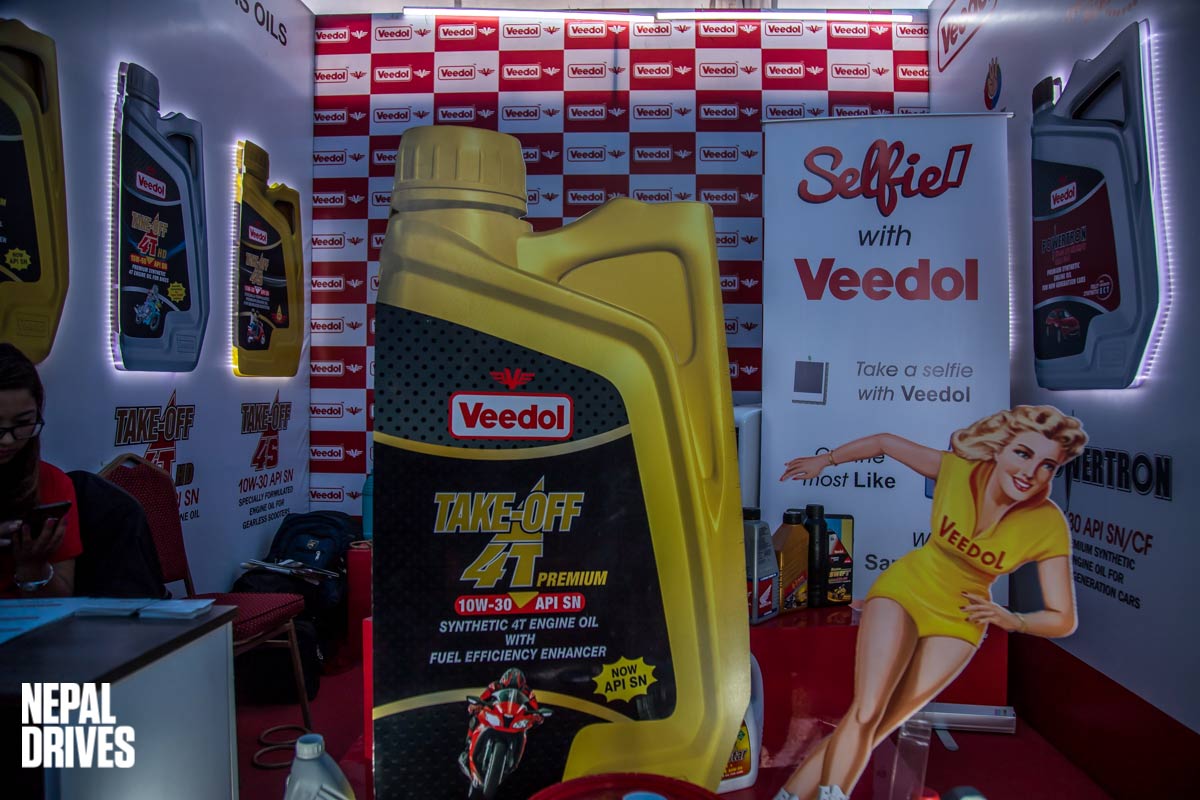 MAK Lubricants:
Sipradi Trading Pvt. Ltd showcased MAK Lubricants.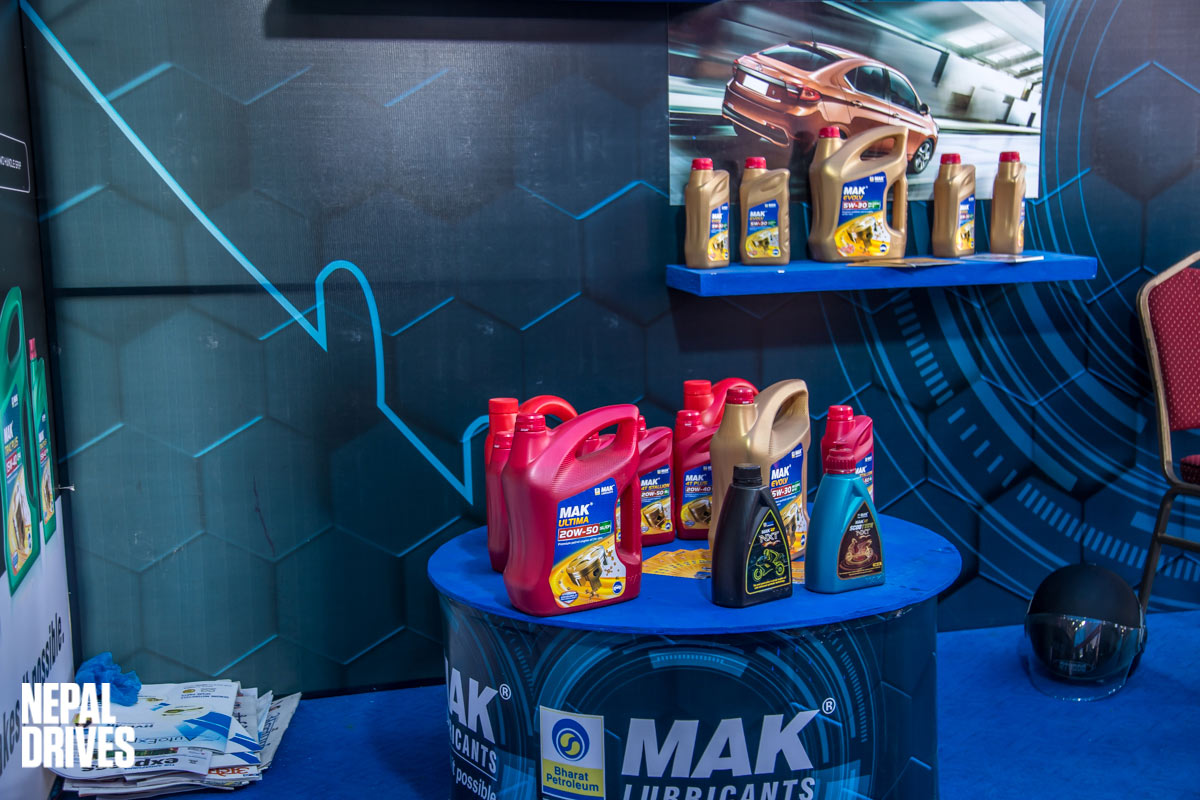 Eurogrip:
Hansraj Hulaschand and Company Pvt. Ltd unveiled Eurogrip tires at this year's show.  Eurogrip serves as the largest supplier for original fitment of all Bajaj two-wheelers.
Unocal-76: 
Energy Power Trading Pvt. Ltd launched Unocal-76 lubricants.
ATG and Bosche: 
Infratech Pvt. Ltd displayed different models of ATG and Bosche power tools.
Aaron helmets:
Different models of Aaron helmets was showcased by  MAW Enterprises Pvt. Ltd.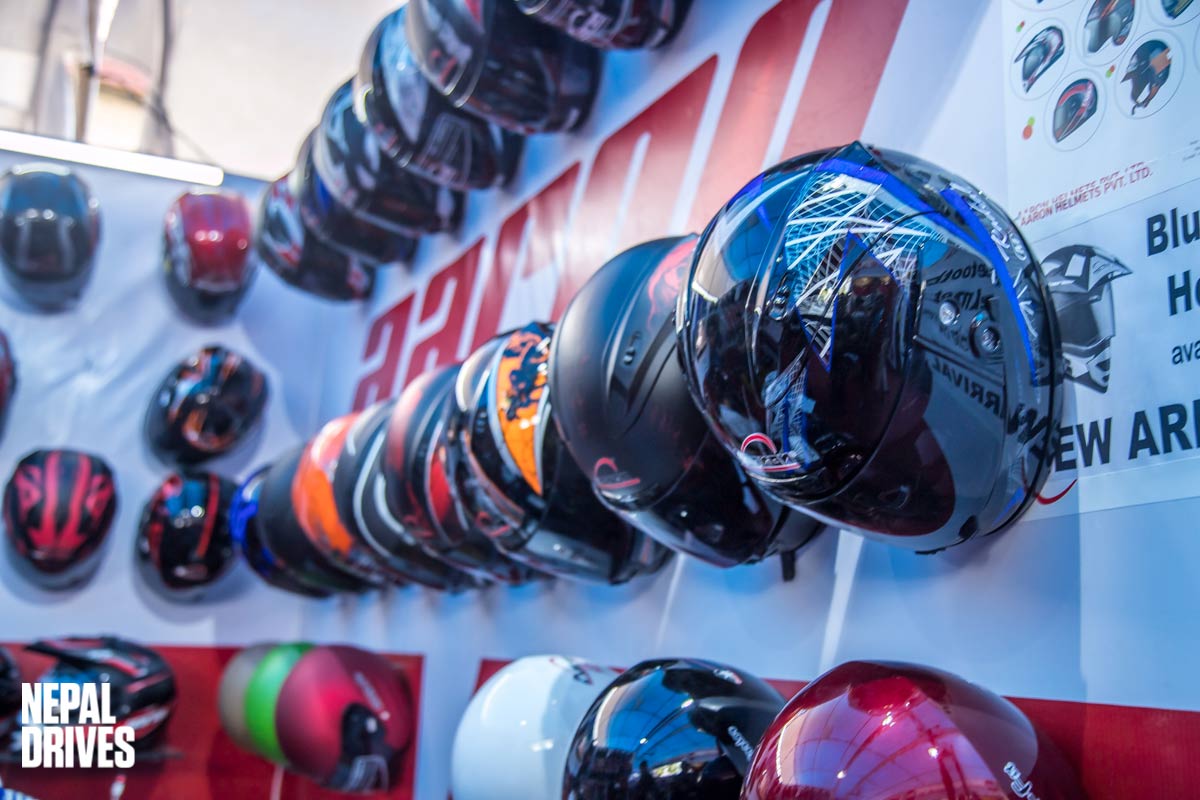 Snap-On:
Shrestha Company Pvt. Ltd showcased Snap-on high-end tools and equipment.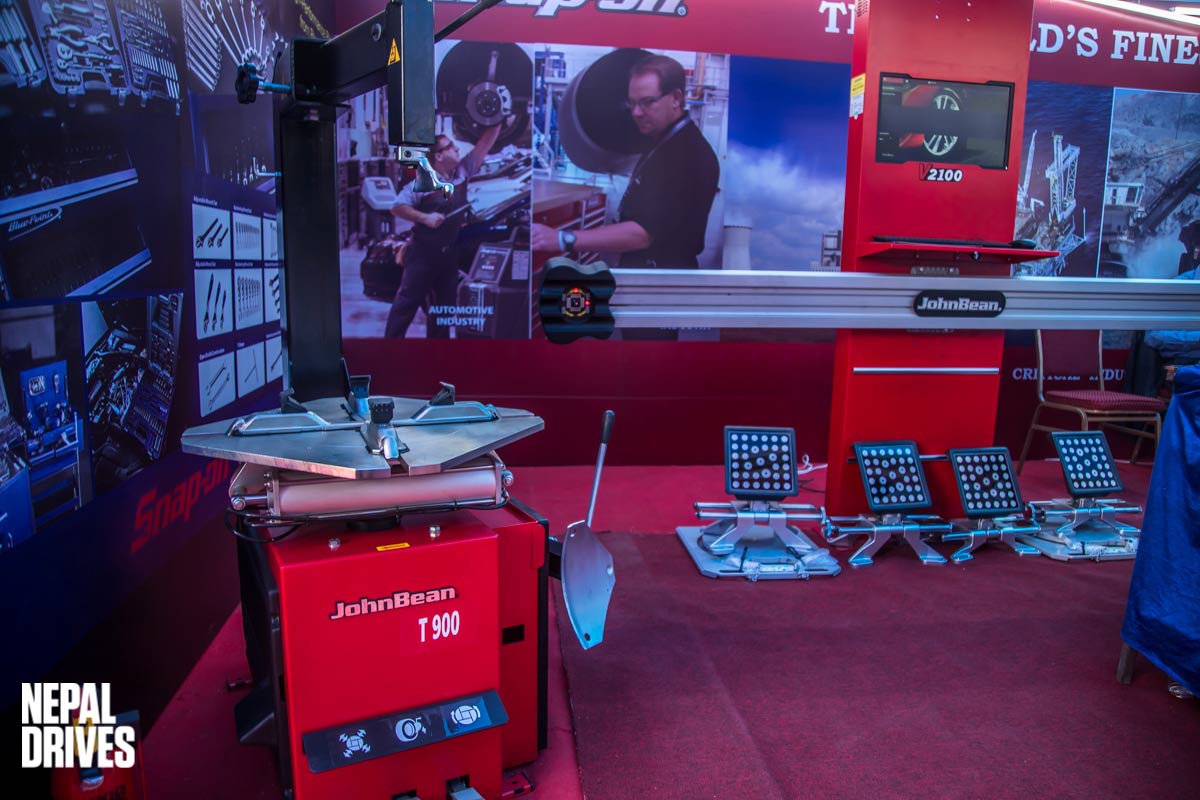 Metafab:
Shrestha Company Pvt. Ltd displayed Metafab garage equipment and accessories.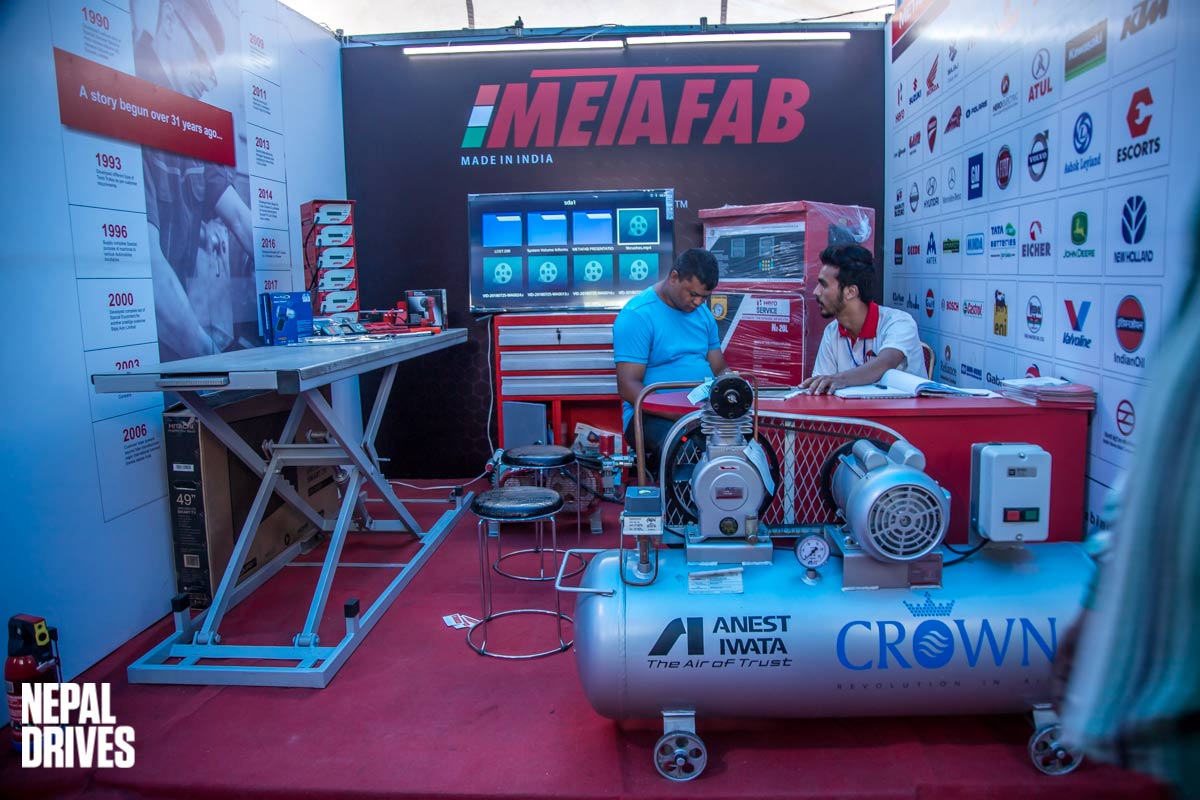 Shark Helmets:
Shark Helmets, Bering and Segura brand of motorcycle gears were displayed by Syakar Trading.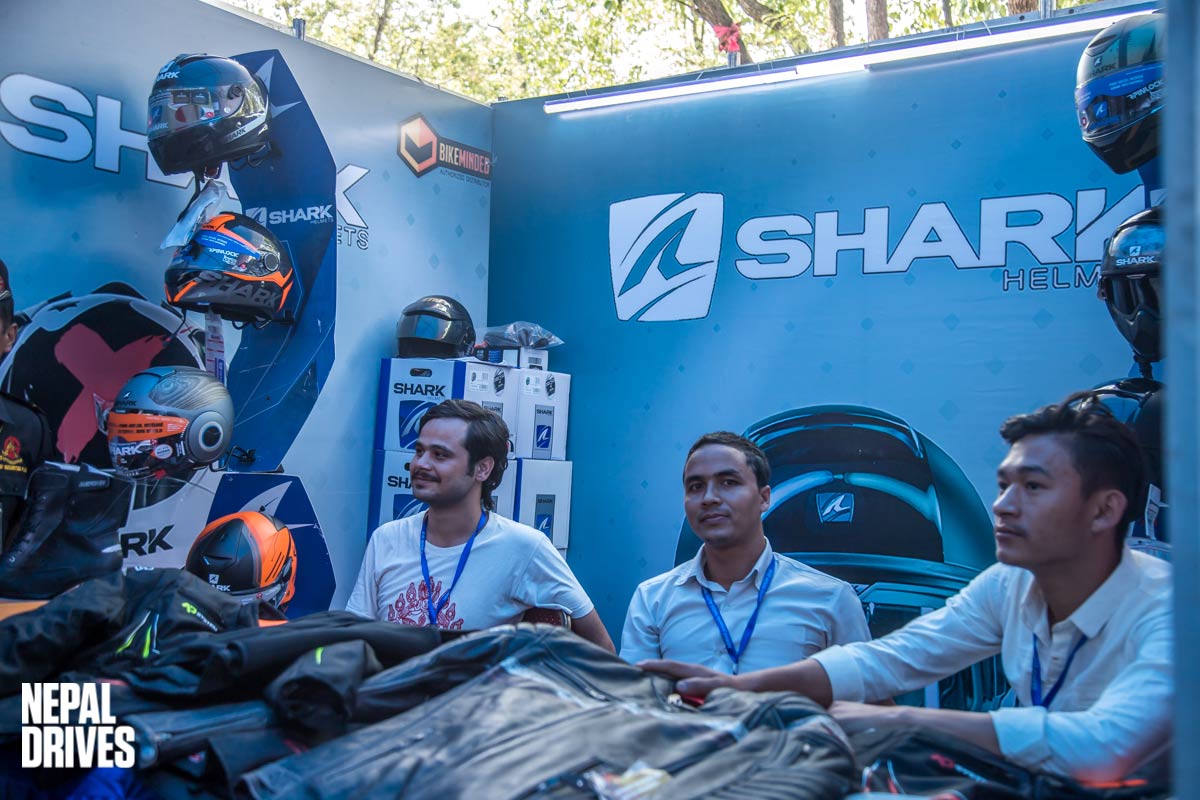 Kaveri Exim:
Kaveri Exim showcased Autoway, Greaves and Waxpol brands of wax, and autoparts.
Rita Automobiles:
Rita Automobiles showcased different brands of OEM spare parts and machinery.
Emtrac:
L.H. Spare and Services launched Emtrac automotive batteries at this year's show.