The construction industry in Nepal is seeing an unrivaled growth and a blossom of business opportunities, and in the midst of it all is ConMac 2018 Nepal. Organized by the Confederation of Indian Industry (CII), the premier industry association in India, this exhibition on construction equipment and technology will be will be the key platform which will provide the strongest foundation to build a business in the country and we are glad that the infrastructure and the construction landscape in the region is going through significant transformation heralding a new paradigm for the development of Nepal.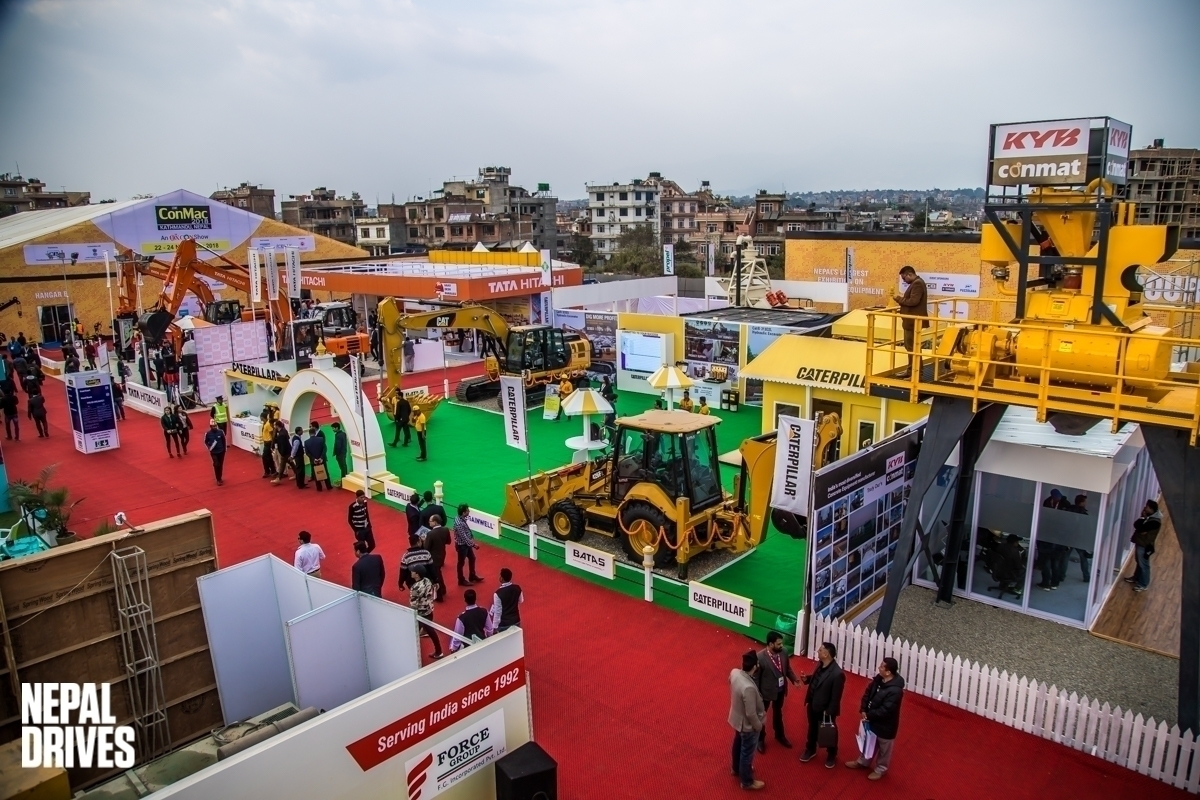 The ConMac 2018 has already begun as we speak and the exhibition will be open until 24th of November. Over 150 exhibitors have participated in this three-day international exhibition which is hosted on a display area of 250,000 square feet. The event is expected to attract over 10,000 business visitors from across the country and given below is a brief information(in no particular alphabetical order) of what you will find there.
Hyundai Construction Equipment:
Hyundai Construction Equipment displayed 80 Smart excavator, Robex 35Z-9 series excavator, R140LC-9 excavator, 220L excavator and 340L excavators. Construction Solutions are the sole distributors of Hyundai Construction Equipments in Nepal. Hyundai Construction Equipment Division is widely recognized as an industry leader for its use of advanced ergonomic engineering and technology.
Case Construction Equipment:
Case Construction Equipment showcased construction equipment including excavators, backhoe loaders, graders, compactors and vibratory compaction rollers. Supported by manufacturing and sales in more than 150 countries, Case combines the best in proven product performance and innovations to serve the needs of customers worldwide.
SANY:
Sany Heavy Equipment Nepal showcased its Series 9 SY210C Hydraulic Excavator, transit mixture and earthmoving equipment.  Sany is a Chinese multinational heavy equipment manufacturing company and tt is the sixth-largest heavy equipment manufacturer in the world, and the first in its industry in China to enter the FT Global 500 and the Forbes Global 2000 rankings.
Macons:
Green Concretech Pvt. Ltd displayed Macons Self Loading Transit Mixer and Mobile Concrete Batching/Mixing Plant. Macons is one of India's leading construction equipment manufacturing company.
Putzmeister:
Putzmeister is a German manufacturer of concrete pumps. The company showcased the P6 and P7 truck mixers, a batching plant MT and BSF-36 Truck-Mounted Concrete Pump.
Komatsu:
Komatsu, the Japanese multinational corporation that manufactures construction, mining equipment, as well as industrial equipment like press machines, lasers and thermoelectric generators displayed its PC500 hydraulic excavator, PC210 hydraulic excavator, GD511A Motor Grader, GD535 Motor Grader and PC71 excavator. Continental Trading Enterprises Pvt. Ltd, is the sole authorised distributor for Komatsu in Nepal.
L&T:
Larsen and Toubro, one of the largest Indian multi-national major technology, engineering, construction, manufacturing, and financial services conglomerate, with global operations, showcased L&T 990HF Tandem Compactor, excavator and rollers.
Ajax Fiori:
Ajax Fiori, a leading concreting equipment manufacturer from India, showcased its compact batching plant, self loading concrete mixer, boom pump, concrete pump and transit mixer. Force Group sells and supports Ajax Fiori's equipments in Nepal.
ACE:
Action Construction Equipment Ltd. (ACE), one of India's leading Material Handling and Construction Equipment manufacturing company, displayed its forklift trucks, backhoe loaders, vibratory rollers, motor graders and wheel loaders.
Manitou:
Manitou, a French firm, that makes fork lifts, cherry pickers, and other heavy equipment, showcased its backhoe loader.
Kobelco:
Kobelco, a leading  Japanese excavators and cranes company, had on display its excavators and crawlers.
Tata Hitachi:
Tata Hitachi, a leading construction equipment manufacturer in India with machines for infrastructure and mining operations, showcased its entire range of equipments – from rockbreakers and backhoe loaders to excavators and wheel loaders. The products displayed were TL340H Wheel Loader, ZAXIS 220LC-M Hydraulic Excavator, ZAXIS33U Excavator, MAX TH86 Backhoe Loader and Alicon Series Rockbreakers.
JCB:
JCB, an English multinational corporation, with products like manufacturing equipment for construction, agriculture, waste handling and demolition, displayed its humongous range of backhoe loader, wheeled loading shovel, excavator, compactor, roller and handler.
Volvo and SDLG:
Volvo Construction Equipment, a major international company that develops, manufactures and markets equipment for construction and related industries, and a subsidiary of the Volvo Group, had on display the EC210D excavator, DD90B and SD110B Drum Compactors. Similarly, Explore Earth Movers also showcased SDLG G9190 Motor Grader and LG936L Wheel Loader.SDLG is a subsidiary corporation of Volvo Construction Equipment.
Caterpillar:
Caterpillar, the world's largest construction equipment manufacturer, displayed its excavators and loaders.
Schwing Stetter:
Schwing Stetter, a manufacturer of concrete mixers and concrete transport systems, showcased its truck mixers and trailer pumps.
KYB Conmat:
KYB Conmat, a leading provider of construction equipment from India, had on display its transit mixers, stationary concrete pump and mobile concrete batching plant.